September 2006
Mitsubishi L200 2.5 DI-D Animal Double Cab
Rounded face is more SUV-like. Animal extras add a layer of glitz and glamour
September 2006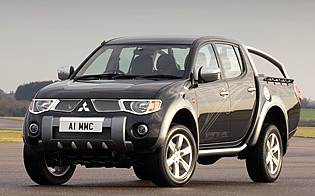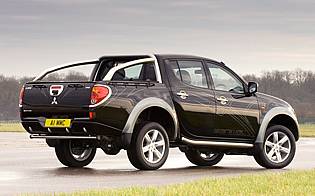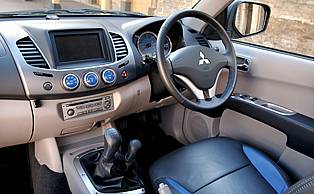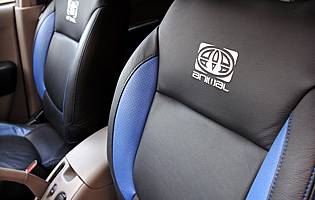 Overall rating

Likes:
Creature comfort count is on a par with a well-specified family car
Double cab model could be an SUV replacement for working families on a budget
2.5-litre diesel engine is a powerful and welcome addition to the L200 range
The L200's off-roading talents shouldn't be underestimated
Gripes:
Access to the cabin requires passengers to be fit and agile
Manual gearshift is long and sometimes a little vague
2.5 diesel engine can sound harsh when pushed hard
Ride quality is a little bouncy and the L200 doesn't cope well with urban potholes
A popular vehicle and an important one for Mitsubishi, the L200 has done much to raise the profile of the lifestyle pick-up. Previous incarnations have been biased towards the utility end of the spectrum, but with the rise in popularity of the compact SUV, pick-ups are now being selected by astute people as a money-saving one-car-fits-all solution.
Along with the Shogun and, more recently, the Lancer Evolution, Mitsubishi is most famous for its L200 range of pick-ups. Like offerings from Toyota and Nissan, smart buyers have chosen Far Eastern products for their perceived and actual higher levels of quality and durability than European offerings.
Many of these vehicles have in the past been biased towards the utility end of the market, but the recent rise in popularity of small to medium size SUVs has prompted manufacturers to build more car-like offerings. This is most obvious with the current L200, as it boasts many car and SUV comparable features.
Sole traders or individuals who can only justify one vehicle have warmed to the current L200 because it doesn't look or behave like a stereotypical light commercial vehicle. Performance from the gutsy 2.5-litre diesel engine is impressive, the L200's cabin - especially in Double cab trim - is built to a high standard and equipped with all the comforts you'd expect from a regular car and there is considerable scope to customise the pick-up's exterior.
That it drives more like a regular 4x4 than an old-style pick is no longer a bonus but something expected by many buyers. If bought as the sole vehicle for the household, such an expectation is understandable as many people are used to higher all-round standards from their family cars. They won't be accustomed to the level of cosmetic customisation offered, but experience has shown that such opportunities are rarely passed up.
Our verdict on the Mitsubishi L200 2.5 DI-D Animal Double Cab
There's no question that the pick-up market has grown rapidly in recently years, with the lifestyle pick-up a dominant driving force. With refinement and performance levels closer than ever to regular family cars and SUVs, many people have taken to ditching the latter vehicles in favour of one mode of transport for business and pleasure. The L200 has become the poster boy for the sector, and rightly so considering its sensible pricing, practicable abilities and stand-out styling.
Costs
At a purely rational level the L200 is a lot of car for the money. In double cab trim you get space - just - for a quartet of occupants, car-like cabin refinement and equipment levels plus that large load bay. Tax-wise you don't get hit as hard as you would with a conventional car, and the diesel engine is pleasingly frugal. A popular pick-up, values should remain strong for some time to come.
Space and practicality
Cabin space is pretty good, but the double cab option is a must if the L200 is to be a family car substitute. Oddment space is on a par with a regular family hatch, although the L200's high-rise stance will require occupants to climb up in to sit down - not something that's required with a conventional family car. At the rear, the load bay is a good size and easily accommodates large and bulky items. A retractable cover is recommended if you routinely carry high value items. Clambering up into the bay might prove a chore for some, but not if you're fit and able.
Controls and display
Much energy has obviously been spent on making the L200's cabin more refined, and it's good to see that the various controls and displays have lost their workmanlike rough edges. The main dials and minor switches are all easy to understand, although the gearshift quality - in true light commercial fashion - remains long and sometimes vague.
Comfort
The car-like seats in the L200 allow plenty of adjustment and prove comfortable. Overall, the driving position is fine, while those in the rear seats benefit from a surprisingly generous amount of legroom. Engine noise is pleasingly low for a commercial vehicle; the L200's large capacity diesel unit is vocal when worked hard.
Car security
It's obvious that you'll need some sort of retractable cover over the load bay if you don't want to be constantly removing belongings from the L200 on a daily basis. Also, it's difficult to hide things in the cabin as it's just big enough for four seats and not much else. Remote central locking is a bonus, but not standard on the very basic variants, thankfully an immobiliser is and also an alarm higher up the model range.
Car safety
Anti-lock brakes and electronic brakeforce distribution are both fitted, and of course there's four-wheel drive to keep you safe in slippery situations. Twin front airbags are standard across the L200 range, while a pair of Isofix mounting points are present in the rear of double cab variants.
Driver appeal
Switchable four-wheel drive and conventional off-roader functionally ensures that journeys across muddy farmland or building sites are straightforward. The L200 is also good on road, boasting reasonable levels of refinement and cabin comfort. The pick-up's 2.5-litre turbo diesel is a strong performer in 134bhp trim, and possesses ample torque. Animal-spec vehicles gain a 26bhp increase, and the overall package cruises quietly - for a commercial vehicle - on the motorway and rarely feels cumbersome around town. Only the L200's long gearshift action, and willingness to pitch and roll when cornered at speed reminds you of its commercial vehicle origins.
Family car appeal
Opting for the double cab specification will help matters as the rear space is not just reserved for children, although adults might find long journeys more comfortable in a conventional SUV or people carrier. That aside, the cabin feels very car-like in terms of refinement. It's no people carrier though, and there's nowhere to store shopping or pushchairs unless you put them in the load bay.
First car appeal
It's not the kind of vehicle that will flatter a novice driver; you do need to be smooth so as not to bounce along the road. Big steering inputs are another no-no, and then there's the L200's size to deal with. Parking isn't always the work of a moment - and a novice might need one or two moments to get it right.
Quality and image
In terms of overall quality, build-wise this L200 is a welcome step up over its predecessor. Cabin materials are more car-like and the exterior finish is on a par with other Mitsubishi products. As for image, the L200 has been a hugely popular product for Mitsubishi, with its practical nature, affordable pricing structure, rugged construction and wide range of extras proving attractive to buyers.
Accessibility
Like most high-rise off-roaders, the L200 requires you to climb up and into its cabin. If you're not that agile this could become something of a chore. The same is true of the rear seat in the double cab configuration, only more so as the rear doors don't open as wide. At the back, lowering the L200's tailgate requires a little strength. Clambering in and retrieving stuff will also be something for the fit and able.
Stereo and ICE (In car entertainment)
The audio provision in the L200 is no different from that of a medium-priced car. As such, you get a good quality combined radio and CD unit located within easy reach of front seat occupants. Upgrades include a CD autochanger and sat-nav, further boosting the Mitsubishi's appeal as an all-rounder.
Colours and trim
Dark colours - specifically black - suit the L200 well. It's probably got something to do with projecting a premium, SUV-like image that makes it work. Also, with so many exterior chrome add-ons available the contrast is a pleasant one. Inside, depending on trim levels, you can have anything from plain but durable fabric upholstery to more stylish but less hardy leather.
Parking
The L200 might be on the large side, but thanks to car-like power steering and a lofty driving position, the physical act of parking it is far from strenuous. However, it does pay to get acclimatised with the pick-up's length, as it can be difficult to judge where it ends - important when reverse parking. The Mitsubishi's large side mirrors help, though.
Spare wheel
Spare wheel fitted as standard.
Range information
One engine option: 2.5-litre diesel engine. Standard tune is 134bhp. Default transmission is five-speed manual; four-speed auto is a cost option. Single, Club and Double Cab are the three cabin options. Trim levels: 4Work, 4Life, Warrior, Animal, Elegance. Animal spec (double cab only) gains a 160bhp version of the standard diesel engine.
Alternative cars
Ford Ranger Flashy exterior hides a refined driving and working tool
Nissan Navara Capacious Navara is big but easy to handle and surprisingly refined
Toyota Hilux Although strong and durable, the Hilux's appearance is a little bland
Land Rover Defender Utilitarian Defender is tough but lacks the refinement of its Japanese rivals