June 2004
Mitsubishi Colt Equippe 1.5
Less pretentious than a Smart ForFour, the Colt still looks similar
June 2004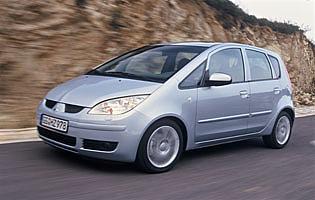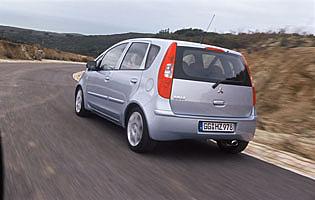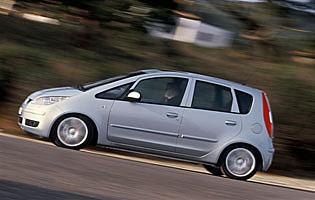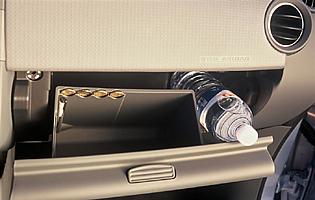 Overall rating

Likes:
Cheaper than the similar Smart ForFour
Rear passenger space is wonderful
Colourful seats lighten interior
AllShift gearbox surprisingly slick-shifting
Gripes:
Has little or no 'wow factor'
Tiny boot with seats in place
Removing rear seats requires muscle
LED display difficult to read
Launched at a time when Mitsubishi is in a fragile global state with an ageing product range and the withdrawal of any future financial support from DaimlerChrysler, the Colt simply must sell in large numbers. Luckily for the 'three diamond' company, the hatchback stands a reasonable chance of doing so due largely to the superior passenger accommodation it offers.
Developed in association with DaimlerChrysler, which uses many of the same underpinnings to produce its Smart ForFour (externally the similarity is obvious), the Colt bears no relation to the forgettable model of the same name that preceded it. It is by far the most contemporary seeming of the Mitsubishi range and feels like more of a finished product than the Outlander SUV, which is compromised by the lack of a diesel engine.
Though the Colt tries less hard than the ForFour to be fresh and funky it still seems like a modern motor. Its simpler body panels and lack of pretence gives it an honest feel that is more appealing to Joe and Josephine Public than the Smart's wannabe attention-grabbing antics.
But this is not a car to take one's breath away, offering little by way of unique selling points. It combines elements of the traditional city car and mini MPV but lacks much of the driving fun of the former and completely misses out on the space-manipulating properties of the latter, unless one is prepared to undergo the process of removing the heavy rear seats.
True, rear passenger space is excellent, but this is achieved by shrinking the bootspace to handbag proportions. People don't generally buy cars of this size to ferry a full complement of passengers around, so the approach is hard to understand. Interior build quality largely keeps pace with Citroen, Fiat and Peugeot but does not match Mazda, Renault or Toyota.
Mitsubishi believes many Colt buyers will be girls about town who are switched on to fashion and chic design, but such people are far more likely to opt for the dearer but much trendier Smart, or even a true girliemobile such as the Ford Streetka. In its favour, the Colt is cheaper - if not an out and out bargain - and the six-speed 'automatic manual' gearbox in the 1.5 petrol version is an unexpected gem.
Our verdict on the Mitsubishi Colt Equippe 1.5
The Mitsubishi Colt is a decent enough car, but brings little that is genuinely new to the marketplace. Finding a good deal and securing exactly the right specification could make it a potential purchase for sociable types who like to travel light.
Costs
Asking prices for the Colt are slightly too high to make it seem a bargain. It really depends how one approaches the Colt. As a city car it is more expensive than a Fiat Panda or Citroen C2 but as an ultra-compact people carrier it is cheaper than a Honda Jazz or Fiat Idea. Mitsubishi does offer a decent warranty and fuel economy is competitive. Ultimately, in costs as in virtually all other respects, the Colt is a reasonable rather than a compelling proposition.
Space and practicality
Given its semi-MPV aspirations, the Colt lacks the proliferation of pockets, stowage areas and hidden knick-knack drawers we have come to expect. For example, all three rear seats must share a single cup/bottle holder and the plastic backs to the front seats do not fold down into trays. Small nets on the side of the front seats are about the right size for a large orange, so at least the Colt promotes healthy eating. The main glovebox volume is small, but that's because there's also a useful slot to keep a large water bottle cool. Folding or removing the rear seats (the only way to create a decent loadspace) is theoretically simple but not actually that easy owing to their considerable weight. If you can be bothered, you'll find yourself with a serviceable delivery van.
Controls and display
A definite step up from previous Mitsubishi efforts, the dials are clearly arranged albeit with a few quirks. The dial surrounds are cut at a sharp angle so that their rims sit just behind the top of the steering wheel. In the centre of the fascia is an LED info screen that is difficult to read in bright light and is recessed awkwardly. With the lights on, dials are illuminated in bilious green. On the plus side, the central stereo controls are attractively grouped and there is a welcome lack of clutter and complication. Incidentally, it may not be a major selling point but the wing mirror control, a single button located on the dash wit, is a tiny gem of common sense design.
Comfort
Seats are one of the Colt's strong points. Not only are they upholstered in fetching bright colours spoiled only by cheap plastic piping, but also they offer good support and are comfortable on long journeys. Legroom is great all round and little short of sensational in the rear. When worked hard, engine noise becomes harsh and penetrates the cabin though there is no accompanying vibration problem.
Car security
An alarm can only be had as a dealer fit option. Remote central locking with an immobiliser and locking wheel nuts are standard issue, but this represents only the minimum acceptable specification, particularly in a car that is to be marketed specifically at women for whom security issues are of considerable importance.
Car safety
The Colt feels solid, even if the standard safety specification is adequate rather than generous with only dual front airbags provided in all models and side airbags from Elegance specification upwards. Expected features such as a passenger airbag deactivation switch and ISOFIX child seat mounting points are present, along with ABS brakes with ESP and EBD.
Driver appeal
Offering more functionality than fizz, the Colt will deliver you to your destination with little fuss and little excitement. It can feel rather remote with very light steering and unexceptional braking characteristics. Ride is comfortable almost to the point of feeling 'floaty' on uneven surfaces and there is a hint of lean around corners. There are plenty of more enjoyable drives out there, but if your intention is simply to get from A to B, the Colt will suffice. Unusually, the automatic gearbox is considerably more involving than the manual version, perhaps because its extra ratio helps keep engine revs higher.
Family car appeal
A young family might make use of a Colt as a primary or - more probably - secondary vehicle. The small boot is a problem and will restrict its ability to swallow bags and shopping bags unless the kids are left at home and the rear seats are folded. Given the flexible loadspace arrangements of alternatives such as the Vauxhall Meriva and Citroen C3, the Colt's 'use it or lose it' approach to the rear seating is likely to put off some potential buyers and it is perhaps too expensive to be treated as an 'occasional' car.
First car appeal
As a first car, the Colt can make a case for itself. There are no nasty surprises or temperamental twists to catch out an inexperienced driver and the modest power on offer means that insurance costs should be manageable. It might be a little too large for some first-timers but will excel at ferrying a group of friends around town and is low-profile enough to avoid the attentions of boy racers.
Quality and image
Compared to older Mitsubishis, the Colt feels like a good quality product, but it fares less well when stacked against its direct rivals in the city car sector. It strikes one as a sort of poor man's Honda Jazz even though the price differential isn't all that great. It is quite hard to pin down exactly where the Colt stands in the new car pecking order owing to its 'in between' size and shape, but its modern lines should enable it to remain contemporary for a good few years.
Accessibility
A slightly raised seating position and cleverly shaped doors make entry and egress to and from the Colt simple. Indeed, this is one of the more passenger-oriented vehicles around at the moment, making very good use of its available space. Doors and boot are also light, making them easy to operate. The rear window doesn't open separately, though.
Stereo and ICE (In car entertainment)
All Colts are issued with a single slot CD with four speakers (six in Elegance and Equippe models). Sound quality is reasonable but nothing special and the fact that station information displays on the recessed central screen can make it difficult to read in some conditions. Buttons are attractively laid out and look like chrome but when one's fingers touch them it is disappointing to note that they are brittle-feeling plastic. Various upgrades can be specified, including a 10-disc underseat multichanger.
Colours and trim
Mitsubishi sticks with familiar Classic, Equippe, Elegance and Sport grades for the class-conscious UK. Coloured seats give the Colt a similarly jolly feel as that found in the Citroen C2, but the preponderance of grey plastics is unfortunate. Some design elements are plain baffling such as why the cigarette lighter/power socket is housed in a white plastic column that matches nothing else. Mitsubishi seems inordinately proud of the fact that the dashboard wrapping has raised plastic squares on it, too, a significance that must be lost on the rest of us.
Parking
The Colt's simple wedge shape is conducive to easy parking, as the driver can be confident where the front and back of the vehicle are. Steering that can seem over-light at higher speeds is much better suited to low speed parking manoeuvres, while the slightly stubby shape of the doors allows the driver and passengers to squeeze out readily in a tight spot.
Spare wheel
Standard issue is a space saver.
Range information
Engine range consists of 1.1 petrol (75bhp); 1.3 petrol (95bhp), 1.5 petrol (109bhp) and 1.5 diesel (95bhp). The default gearbox is a manual five-speed unit but the optional six-speed 'automated manual' AllShift is well worth checking out.
Alternative cars
Smart ForFour Trendy, but you'll pay handsomely for the privilege
Vauxhall Meriva Competent and surprisingly good to drive everyday transport
Fiat Idea Visually dull with robust, reliable Punto underpinnings
Citroen C3 Cheap, flexible and common as muck in UK