August 2014
Mini Paceman John Cooper Works
Down-turned grille does the styling no favours, but is at least distinctive
August 2014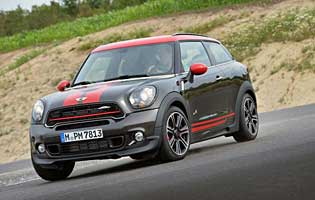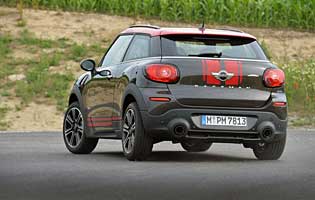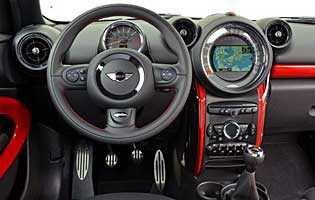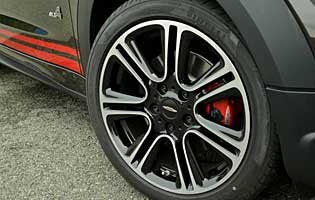 Overall rating

Likes:
Distinctive looks set the Paceman apart in a car park
Smooth engine is surprisingly refined at low speeds
Big mirrors afford an excellent view into neighbouring lanes
Impressive body control when being driven hard
Gripes:
Lack of rear doors hampers rear access even for children
Sloping roof line cuts down rear headroom
Engine sounds bland for a John Cooper Works model
Poor boot and interior storage space
The idea of building a practical, high-riding SUV-inspired crossover car and then taking two doors away in favour of a raked, coupe-style roof is one that has invited controversy ever since the Paceman's inception. However, among its followers it's a uniquely appealing car, so Mini hasn't changed much for this mid-generation update.
While the Paceman's global sales trail those of the five-door Countryman, on which it's based, by 90% or more, Mini has judged that the model has enough buyers to warrant an updated version. The premise remains the same, with a raised seating position, lots of customisation potential and a sportier look in place of the Countryman's more practical approach.
Sitting higher gives a driver greater confidence because it's easier to judge the car's positioning on the road, and in John Cooper Works guise the Paceman threatens to become a rival to true hot hatchbacks like the Volkswagen Golf GTI. In truth, it launched its own sub-niche and has since been joined by cars like the Nissan Juke Nismo.
Its position in the market sits between three-door hatchbacks and crossovers. As such, a buyer interested in a Paceman might also look at cars like the Seat Leon SC and the Renault Megane Coupe, as well as larger options like the Suzuki SX4 S-Cross, but the styling, relative scarcity and personalisation options make the Mini a clearly defined choice.
It is marketed as a more premium alternative to the Countryman, for those people who don't have the need for regular access to the rear seats but still want the larger body and higher driving position than the Mini hatchback can offer. Its relatively limited practicality versus the Countryman combined with higher prices could explain its slow sales.
Our verdict on the Mini Paceman John Cooper Works
Enthusiastic drivers looking for thrills should look elsewhere, because the Paceman John Cooper Works can't match hot hatchbacks. It is, however, a brisk and capable statement car that identifies its owners as people who look beyond the norm. It's comfortable and can cruise around town effortlessly, while offering good body control when the pace rises. It's well suited to singles and young couples who value the Mini image.
Costs
Any petrol-powered performance-biased car will struggle against its diesel counterparts in terms of bare running costs. Fuel economy is acceptable, but will require a disciplined approach behind the wheel. Road tax is impressively affordable, but insurance is pricier than average due to the desirable and expensive nature of the model. Mini offers fixed-price servicing packages to reduce the chances of any shock annual bills.
Space and practicality
The presence of the four-wheel drive mechanicals between the rear wheels means that the boot floor in this model is higher than it might be. It results in a flat load lip, for ease of loading and unloading heavy objects, but there isn't very much luggage space. Practicality is also in short supply in the cabin, where the door pockets are too small and shallow, and the glove box could be bigger.
Controls and display
The controls and displays match those of the defunct second-generation Mini hatchback, so there is a huge speedometer in the centre console that is made all-but obsolete by the presence of a digital readout on the main instrument cluster. A sat-nav and media interface screen sits in the middle of the speedometer dial, and can sometimes seem too small. It would also benefit from being turned more towards the driver.
Comfort
Mini's familiar leather seats with piping at the edges are initially comfortable, but lack support under the thigh and are quite short in that respect. Longer journeys can get tiresome thanks to the firm suspension in combination with the taller ride height, and although the Paceman John Cooper Works is very stable for its height, it's not as comfortable for passengers as a well set-up hatchback. There is, at least, enough space for four adults to be content, as long as those in the back aren't too tall.
Car security
Plain for all to see is the darkened glass around the rear of the car, which makes it harder for prying eyes to see anything left in view on the rear seats. Two remote central locking key fobs are supplied as standard.
Car safety
As well as a full complement of airbags, the Paceman has tyre pressure monitoring sensors on each wheel, and run-flat tyres to allow drivers to slowly make their way to a garage for repairs instead of being stuck by the roadside. Stability control forms the basis for a suite of active safety systems including brake force distribution. An additional feature on the John Cooper Works model is ALL4 four-wheel drive complete with an electronic differential lock to overcome localised slippery patches, for example at junctions.
Driver appeal
The John Cooper Works model should be the cream of the crop when it comes to driving pleasure, but it suffers from numb steering that transmits almost no information from the road's surface. The engine sounds unexpectedly bland, too, simply droning under power and fading into the background at a steady cruise. Cornering is better, with good body control resisting lean in corners, and as a brisk all-rounder this is a very competent and stable drive. It just doesn't deliver the thrills that its hatchback namesake does.
Family car appeal
The Paceman is more expensive than a like-for-like version of the Countryman, less practical and less likely to be sought-after when selling it on, so despite the cursory inclusion of ISOfix child seat mounts this model is simply the wrong choice for families. Squeezing a child seat past the forward-folded front seats would be an arduous task without a sleeping infant in it, let alone with. The boot is also too short on space for pushchairs.
First car appeal
With the smaller, cheaper and cuter Mini hatchback in the range, there's little reason why a new or young driver would ever look the way of the Paceman for their first car. Such reasoning is all the truer for this higher-performance model, which is not only way beyond the purchasing power of a typical first-time car buyer but would also prove extremely difficult to insure. Visibility is restricted and it's not the most confidence inspiring to park, so first-time buyers will overlook it.
Quality and image
Mini has largely maintained its quirky, fun-loving image over the years despite its many divergences from the core hatchback model, and many people still look at that as an essential. Indeed, cars like the Paceman came about from a desire to give those customers whose lives outgrew the three-door hatch something more suitable, so there is a direct family link to the model that makes Mini what it is. Materials quality is good with a definite sense of solidity, but some finishes fall behind those of the new hatchback model.
Accessibility
The obvious problem here is that the Paceman lacks rear doors, which does make it significantly more difficult to get to the rear seats. People with larger feet may find it tough to get them past the front seat back without scuffing it while they duck right down and pull their way in. Once seated, the small windows, encroaching roofline and dark upholstery make it feel more cramped than it is, but legroom is ample for most people.
Stereo and ICE (In car entertainment)
Music is an integral part of the Mini Paceman's fun image, so the standard stereo uses a modestly powerful amplifier and speakers all around the cabin to fill the space with good quality sound. There are options to connect music players via USB and Bluetooth, while the main unit also accepts CDs and receives both traditional analogue and DAB digital radio. An aux-in port is also provided for older connections.
Colours and trim
The Paceman normally comes in a broad enough spectrum of colours to keep the vast majority of buyers happy, but the John Cooper Works model reduces that to a handful of monochrome options. White and silver have previously been popular, for good reason. The interior trim is based on the second-generation Mini platform, which the hatchback model has now ditched for a new layout, but the Paceman's classy and dark, if busy, combination of shapes and finishes successfully achieves a premium look.
Parking
Being raised up and fitted with shallow windows, especially around the rear of the car, the Paceman can be more awkward to park than its size suggests it should be. Fortunately there are parking sensors at both ends to make it easier to judge the distance to an obstruction. The height that the driver sits at offers an advantage in terms of placement of the car, though, and once the distance at which the parking sensors start to operate becomes second nature, manoeuvring into and out of spaces becomes easy.
Spare wheel
Run-flat tyres fitted as standard.
Range information
Petrol engine options - 1.6-litre (120bhp, 181bhp, 215bhp). Diesel engine options - 1.6-litre (109bhp); 2.0-litre (141bhp). Transmission options: six-speed manual gearbox plus auto option (Cooper and Cooper D models only). Trim levels: Cooper, Cooper D, Cooper S, Cooper SD, John Cooper Works.
Alternative cars
Nissan Juke Five-door-only model offers more practicality, similar driving dynamics and a much lower price
Volkswagen Golf Range-topping versions are cheaper, more practical and better to drive, but lower
Subaru XV Sporty styling and four-wheel drive underpin a practical, if slightly dull option
Mazda CX-5 Larger, but surprisingly good to drive with lots of interior space and a good-sized boot