August 2013
Mini Paceman John Cooper Works
Paceman uses a three-door layout and displays all the usual Mini design cues
April 2013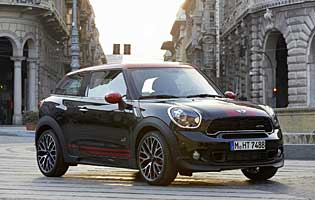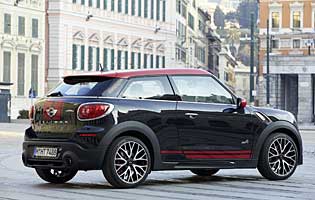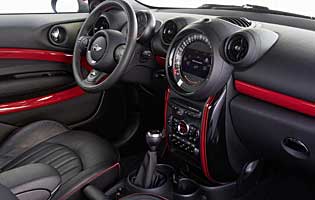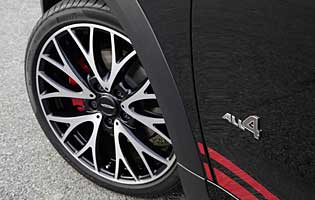 Overall rating

Likes:
Poised stance and good proportions make for an attractive car
Composed ride at higher speeds builds confidence on winding roads
Strong engine has a measure of character through the rev range
Driver-friendly low-speed behaviour is easy to live with
Gripes:
Small boot and a high load lip reduce luggage capacity and practicality
Rear seats are too small to be effective
At medium speeds the ride can seem too bouncy
Permanent four-wheel drive under most conditions reduces fuel economy
The Mini Paceman John Cooper Works, or JCW as the cars of Mini's performance sub-brand are usually known, has divided opinion among the press and public alike. Based on the four-wheel drive Countryman platform, the Paceman switches to three doors and features a lower roof line for a sleeker silhouette while maintaining the favourable higher driving position.
The unusual combination of a substantial compact SUV body, a coupe-like roof line and a 215bhp petrol engine has raised plenty of eyebrows, and it is difficult to think of any other companies that have gone quite so far down such an odd road. Nonetheless the Paceman JCW has a lot of technology with which to make itself known.
An uncommon four-wheel drive system is at the heart of it. It is always four-wheel drive at below A-road and motorway velocities, which ensures traction at all times around the city and suburbia. But at higher speeds the rear wheels disengage for increased cruising efficiency and reduced heat generation, making it a very clever and practical system indeed.
The engine is an ever-more familiar one as the JCW range continues to expand. This 1.6-litre turbocharged unit is punchy and useful throughout its rev range, although it can sound and feel a little breathless at times after pushing past a strong, slightly throaty midrange. The power it offers is arguably a good match for the chassis.
Although the car is mechanically happy in many driving environments, from motorway cruising to B-road blasting and milling around town, the physical layout does restrict practicality and despite the presence of rear seats and a hatchback boot this isn't an especially versatile car. Buyers also have the Countryman JCW to choose if family matters are of more concern.
Our verdict on the Mini Paceman John Cooper Works
The Paceman JCW is quite a large car, but while it has plenty of talent to keep keen drivers interested it lacks the interior space to allow an owner to expand their needs over time. It's great to look at and will suit buyers seeking presence and style without the need for practicality, but the niche into which Mini has placed the hottest Paceman might have limited real-world appeal.
Costs
The most immediate and obvious question over the Paceman JCW's costs is its purchase price. There are many very worthy and much more versatile competitor cars at this level, especially if buyers are willing to compromise on the raised driving position. Emissions are not especially low so this is a poor choice for business users, and fuel economy can drop sharply with enthusiastic driving.
Space and practicality
There can be few less favourable ways of looking at the Paceman JCW than by examining its practicality. Thanks to the presence of the four-wheel drive system and style requirements the boot lip and load floor are unusually high, reducing capacity to no better than supermini levels. The sloping roof means that a roof rack is not an option, either. There is little better news inside, with generally inadequate cabin storage aside from a deep glove box.
Controls and display
Mini always manages to create an engaging driver interface and the main instrument cluster is excellent. It's large, clear and fits perfectly with the style of the car. There are John Cooper Works logos splashed around many of the control areas to remind you of the car's premium standing in the range. This car also had a satellite navigation system that, although blessed with a fresh and modern layout, suffers badly in direct sunlight.
Comfort
For the Paceman JCW's relatively large exterior there is precious little space inside for occupants, and although those in the front seats will be happy enough with their supportive and comfortable positions, people in the rear won't be so happy. The sloping roof encroaches on rear passengers' headroom, and there isn't an awful lot of legroom either. Wind noise around the windscreen is noticeable, along with obvious roar from the low-profile tyres. At higher speeds this is not the most refined place to be.
Car safety
Safety is well taken care of in the Paceman, and this JCW model has the benefit of four-wheel drive to increase traction and safety when pulling away briskly from junctions or roundabouts. Every occupant has a measure of protection from the front, side or curtain airbags and the Paceman has scored highly in the standard Euro NCAP crash tests. Electronic stability controls and traction aids are rarely needed but are standing by just in case.
Driver appeal
This JCW model may be brisk when called upon, but it's also very happy making slow progress through town. Mini expects the Paceman's buyers will be younger, urbanised people who spend much of their driving time in built-up areas before going for a drive out of town at the weekend. The car's abilities suit that balance well, with an initially imbalanced ride becoming composed, compliant and stable as speeds rise. The engine also has a slightly throaty character.
Family car appeal
The Paceman platform simply isn't designed for family duties. The five-door Countryman, whose chassis and engines the Paceman shares, is the one to consider if children will regularly be onboard. However there are some convenient touches in this model, like Isofix child seat mounts and a switchable front airbag for when a child seat is in place. The lack of rear doors and space in the back, not to mention the small boot, are all prohibitive factors for families.
First car appeal
In the eyes of a freshly qualified driver, compared to the standard Mini hatchback the Paceman could be seen as too big, too expensive to buy and run, and most importantly it's not cute enough. A new driver is likely to find the Paceman JCW a particularly poor choice because of its high power output and equally lofty price tag.
Quality and image
Mini, owned as it is by BMW, puts itself forward as a premium small car brand and the strong fashionable element in every Mini backs up this assertion in people's minds. Its pricing structure, especially relevant in the surprisingly costly Paceman range, also makes it clear that the car should be seen as a premium product. The Paceman JCW enjoys some high-quality materials in tha cabin, but some plastics within reach are not so impressive.
Accessibility
This area must be one of the Paceman JCW's weakest suits, because with a three-door layout, heavy main doors and a large and sometimes inconvenient tailgate it is not the easiest car to get in and out of. The raised seat height works in its favour though, making it easier to drop into a seat or raise yourself out of it again. The boot lip is high and lifting luggage in and out becomes a pain, especially if it's heavy.
Stereo and ICE (In car entertainment)
The Paceman shares the same audio package as the rest of the Mini range, which means the usual radio and CD combination. Crucial to the car's appeal is ease of use, with its clear display and intuitive controls allowing quick access to the major functions. Extra features include the ability to connect an MP3 music player and mobile phone, while the car's navigation function offers the same ease of use as the rest of the audio system.
Colours and trim
The Paceman JCW is only available in one colour scheme, which uses a black base with red detailing including stripes and trim surrounds. The lack of choice is no real problem because the colour scheme has been tried and tested on a wide array of previous JCW models and looks ideal. The interior is typically Mini, with a range of quirky trim features that make it stand out from the crowd.
Parking
One reality that could be guessed before even getting into the car is that there is very little rear visibility. Thick rear windscreen pillars and a tiny glass area sometimes make it difficult to see what's close behind the car. Fortunately there are parking sensors fitted as standard, helping to offset the poor rearward view. Being based on the larger of Mini's two platforms the Paceman makes its size felt in tighter car parks, but for the most part it slots into typical spaces with ease.
Spare wheel
Tyre repair kit fitted as standard.
Alternative cars
Audi Q3 Similar power available from a petrol engine, less enjoyment but more practicality
Skoda Yeti Less powerful but much cheaper and great fun, with five seats and a useful boot
Ford Kuga Style-focused compact SUV lacks driving enjoyment but is a sensible option
Mazda CX-5 Great looking and excellent to drive, the CX-5 is also relatively efficient