September 2011
Mini Coupe John Cooper Works
Styled with performance in mind, the Coupe boasts a rakish profile
September 2011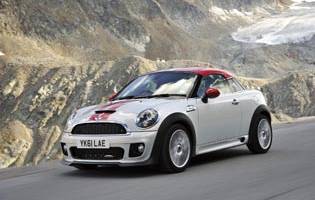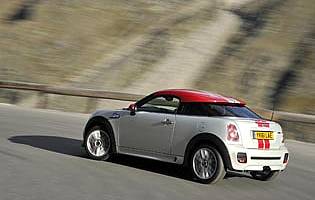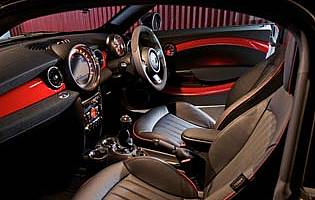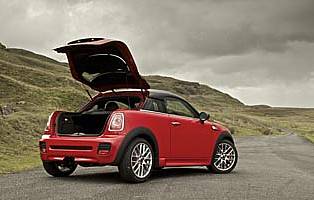 Overall rating

Likes:
Distinctive looks set it apart from other Mini variants
Despite sporting bias ride comfort is acceptable
Rear load space is surprisingly generous
No shortage of cost options to help personalise your purchase
Gripes:
Rear three-quarter vision is poor thanks to thick pillars
Car can struggle to manage the engine's power in the wet
Those tempting options can prove costly if you don't exercise restraint
Modest amount of cabin oddment storage options
New Mini variants don't come along every day, and this Coupe variant is a radical departure from the successful template. It's a strict two-seater with a decidedly sporty bias. And it's a car that further extends the Mini brand.
From humble beginnings at the start of its life under BMW's stewardship, the modern day Mini has gone from strength to strength. With a range now including a hatch, convertible, estate and SUV crossover, it was only a matter of time before the concept was developed in a different direction; which has resulted in the Coupe.
Another, different bodystyle is also key to the brand's longevity. It's hoped it will also attract a different buyer profile, further boosting sales in the process. And with Mini keen to emphasise its sporting character, the Coupe makes a lot of sense. Its streamlined profile and steeply raked screens ensure that its stance looks suitably purposeful.
This policy is backed up by a stiffer and lower suspension set up plus Mini's least powerful engines have been dropped from this performance 'halo' model. The coupe also boasts an active rear wing, which pops up at speed to help stabilise the car - a first for any BMW Group car.
Mentioned in the same breath as Renault's Megane Coupe, Peugeot's RCZ and even Porsche's Cayman, Mini executives hope the Coupe can further enhance the brand's profile. This is the first that's deviated from the cuddly, warm character of existing Minis. It's selfish approach - only two seats -and more direct involving driving experience has it challenging other more established marques in the popularity stakes.
Our verdict on the Mini Coupe John Cooper Works
Although it might look familiar from some angels, this particular Mini offers buyers a more focused and performance orientated driving experience. That's clear from the moment you step inside thanks to the intimate dimensions of the cabin and the car's firmer ride. As a sporty car it performs well, but it pays to be realistic - this Coupe will still be mainly bought by those who want a Mini. The car's various styling features and burgeoning options list will see to that. And in John Cooper Works trim it's a rapid and enjoyable Mini for to people to enjoy.
Costs
The level of standard equipment might be gradually increasing on Minis but there's still plenty of potential to load you car up with attractive options. Just be aware that few will directly influence its future market value. Purchase costs aside, the Coupe - like most Minis - should prove affordable to run. With the promise of low CO2 and fuel consumption figures you'll be spending less time at the pumps and paying less tax, too.
Space and practicality
Although a strict two-seater the Coupe could easily be your only car - so long as you planned ahead once in a while. Cabin oddment storage options are modest but where the car excels is with its load capacity. At 280 litres it's more than the Clubman estate variant, and there's a handy through-load slot for skis, snowboards or golf clubs.
Controls and display
To fans of BMW's range of Mini products the Coupe's interior will be familiar. The car's large speedometer and multimedia display dominate the fascia, and the toggle switch minor controls are logically laid out and easy to operate. The car's chunky steering wheel can be a home for the supplementary audio controls, while many rivals could learn from stubby manual gearlever's delightfully short and accurate shift action
Comfort
Despite the car's sports orientated suspension set up, the Coupe's ride is reasonably supple on the open road. You're more exposed to urban road imperfections, though, than you would be in a conventional family hatchback. Optional sports seats are particularly supportive, while road noise is minimal on all but the roughest of Tarmac.
Car security
Covered cabin storage options are limited but there's plenty of room in the Coupe's boot if you want to keep tings out of sight. The usual alarm and imobilisor package is present for complete peace of mind.
Car safety
As you would expect there's no shortage of airbags and electronic stability controls here. The latter can be switched off if you're suitably competent, although there's a surprisingly high margin of slip before it all kicks in if you leave it one, which should please the keen drivers.
Driver appeal
This is where Mini hopes the Coupe can be different from the other cars in the range. Lower, wider and stiffer than a regular hatch or convertible, the Coupe's sporty personality has been accentuated by inclusion of higher power engine options - there's no One or One D for example. In the real world the Coupe's firmer suspension minimises body roll and the weighty steering aims to boost driver confidence. And while the Cooper SD diesel is quick enough, the flagship John Cooper Works petrol variant adds an extra dimension thanks to its powerful turbo motor and tuned suspension.
Family car appeal
As a second car the Mini Coupe might just work but on it's own it's something of a non starter for all the obvious reasons. That said, its decent load carrying ability does put it ahead of some other coupe rivals.
First car appeal
There's little doubt that, assuming you can afford one, a Coupe would a pretty reasonable first car. You might initially struggle with the poor rear vision when parking, but everything else about the car makes it easy to drive and own. The Cooper SD and John Cooper Works models might prove a little too quick for some, though.
Quality and image
Still going strong despite initial cynicism from the critics, the Mini brand remains one of the few modern day automotive success stories. The clever marketing strategies, the ability to personalize your car and the relatively low cost of ownership all make for a compelling package.
Accessibility
Being a strict two-seater, there's no real problems getting in or out of the Coupe if you're of average height. Those over six foot will have to bend a little, although the cutouts in the roof lining help maximise headroom. The view rearward is compromised a little thanks to a small rear screen and, due to the steeply raked windscreen , the view forward is more sports car than family hatch. In contrast, the car's tailgate lifts to reveal an accommodating and practical loadspace.
Stereo and ICE (In car entertainment)
The basic audio offering is a good one, and includes a DAB radio tuner for good measure. The car's physical controls are reasonably straightforward, although they're not all in one place. Upgrading to a more powerful unit plus MP3 player connectivity enhances the experience. An easy to use Internet radio function can also be specified, although you will have to keep an eye on your mobile phone bill.
Colours and trim
Shy, retiring types won't like the Mini Coupe. In a clever twist to its base specification, you get contrasting stripes that run from bonnet to boot. And, predictably, it's the bold colours that present the car in the best light. You can emulate some of this on the inside with optional colour coordinated trim, otherwise it's familiar Mini black for the cabin.
Parking
Although straightforward in a regular Mini hatch, reverse parking in the Coupe requires more skill as rear three-quarter vision is poor thanks to its sloping roof and thick C-pillars. The steering is pleasingly light at low speeds though, and the parking sensors help considerably.
Spare wheel
Tyre mobility kit or spare depending on wheel size.
Range information
Petrol engine options - 1.6-litre (122bhp, 184bhp, 211bhp). Diesel engine options - 2.0-litre (143bhp). Transmission options: six-speed manual gearbox depending on model, plus six-speed auto gearbox as a cost option. Trim levels: Cooper, Cooper S, Cooper SD, John Cooper Works.
Alternative cars
Fiat 500 Although cute-looking, Abarth variant offers some serious performance
Peugeot RCZ Bold coupe is possibly a better all-rounder and capable of pleasing keen drivers
Renault Megane Coupe Stylish Renault has the edge if performance is the main attraction
Porsche Cayman Price-wise it's in a different league but it's another coupe you buy with your heart