Mini Countryman Cooper S E Countryman ALL4
Impressive powertrain with solid build quality
June 2017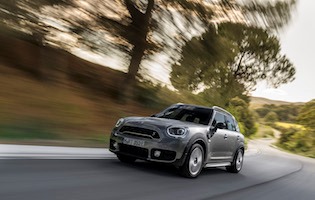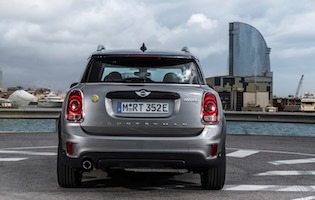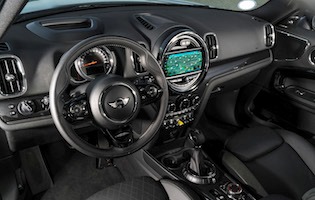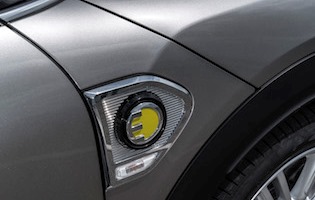 Overall rating
Likes:
Impressive powertrain
Solid build quality
Grown-up looks
Decent practicality
Gripes:
Relatively expensive
Battery weight can be felt at times
Options list can add a lot of cost to car's overall price
Doesn't feel as quick as petrol alternatives
The Countryman has been a real success for Mini. Offering good practicality levels as well as those all-important retro styling cues, it's easy to understand why it's been so popular. Now, the Countryman has been electrified – in the form of the Cooper S E Countryman ALL4. With hybrid power now on board, the Countryman is more environmentally friendly than ever before.
From the outside, you'd be hard-pressed to distinguish this hybrid Countryman from the rest of the range. The only tell-tale signs are yellow 'E' badges on the car's flanks and rear, but that's about it. It's a good choice, then, for those who want a car with hybrid power but don't want to shout about it to other road users.
The Countryman's powertrain is a three-cylinder petrol unit coupled to an electric motor. It's capable of a claimed 134.5mpg and should be able to run on all-electric power for up to 25 miles at speeds of up to 78mph. It makes it ideal for those who have an inner-city commute, or those who want to keep fuel costs to a minimum.
Inside, it's business as usual. There's the large central display that is de rigeur in Mini cars, while the retro look is extended throughout the cabin with the use of large toggle switches and chrome highlights. It's a solidly built cockpit, and one that should hold up to daily use. The starter button has been changed from its usual red to yellow, mirroring the exterior badging.
Three separate driving modes make it easy to adapt the car's settings to the type of road you're on. 'Auto eDrive' allows for all-electric driving up to speeds of 50mph, with the petrol engine only coming in when needed. 'Max eDrive' mode allows all-electric power to be used up to 78mph, while 'Auto eDrive' is the setting to be most likely used during day-to-day driving.
Our verdict on the Mini Cooper S E Countryman ALL4
The Mini Cooper S E Countryman ALL4 is a smart choice if you're looking to lower your fuel costs. It still has lots of character – as is so common in Mini cars – but this is backed up by decent economy and an effective hybrid powertrain. For urban drivers it's a car that makes sense, but it'll be just as useful for those who find themselves driving longer miles, too.
---
Costs
Here's where the S E Countryman comes into its own. Despite costing close to £40,000, the Mini qualifies for the government's £2,500 low-emissions car grant bringing its price down by a fair margin. Add to that the car's excellent fuel economy and low CO2 emissions and you have a vehicle which won't cost the earth to run. Taxation costs will also be low thanks the Countryman's 52/km CO2 emissions.
Space and practicality
Because the S E Countryman uses a host of heavy, bulky, batteries, you could be fooled into thinking that there wouldn't be much luggage space. However, this couldn't be further from the truth as it is able to offer a surprising amount of practicality. With the rear seats in place, there's 405 litres of boot space to play with, rising to a respectable 1,275 litres with them folded down – more than enough for a large amount of shopping or a few suitcases.
Controls and display
All of the Mini's controls have a good degree of weight to them, with everything turning or operating with a solid action. The main infotainment screen is also impressively clear, and is equally easy to operate. The satellite navigation has a good degree of intricacy to it, though is never difficult to read or understand. The multifunction steering wheel also makes accessing media and audio controls a lot easier, and means you very rarely have to take your eyes off the road ahead.
Comfort
Thanks to nicely padded seats and well-judged suspension, the Mini makes for a comfortable place to be. Of course, thanks to large alloy wheels it does have a tendency to crash through larger potholes, but for the vast majority of the time it feels refined and never too firm – an ideal middle ground between a sporty ride and a comfortable one. There's not too much body roll either, which shows that the car is managing the extra weight from the batteries well.
Car security
The Mini comes with all manner of alarms, as well as an interior motion scanner and immobiliser. Save for the yellow badges denoting the car's hybrid nature, the S E looks for the most part like any other Countryman, which should make it a less appealing target for thieves. It also has remote central locking as is customary with cars in this segment, which should take a little of the worry away from leaving it out at night.
Car safety
As with any modern car, the S E Countryman comes with a full suite of airbags, as well as dynamic stability control and anti-lock brakes.
Driver appeal
Despite it being a hybrid, there's still plenty of driving appeal to be found in the S E Countryman. Both the petrol engine and electric motor combine to allow the Mini to sprint to 60mph in just 6.5 seconds – not bad for a car in this class. The petrol unit sends power to the front wheels, while the electric motor drives the rears – meaning that there's plenty of grip at all times, which is ideal for slippery driving conditions.
Family car appeal
The S E Countryman is a good choice for those families who want plenty of practicality but who are looking to decrease their fuel costs too. There's plenty of space inside, while the exterior design will appeal to those who are more looks-conscious than others. The Countryman's all-wheel-drive system will also suit those who want a little more security in poor weather conditions, while its high ride height is bound to inspire confidence in drivers.
First car appeal
Mini cars have been a 'premium' first car option for some time now. Despite using relatively powerful engines, they have been immensely popular for young drivers, and you'll likely see droves of them parked outside schools across the country. The S E Countryman may be less popular, however, as it is a fair amount more powerful than the base Mini cars, as well as costing a lot more too.
Quality and image
Even when you first sit in its interior, the quality of the S E Countryman is obvious. There are solid materials used throughout, and everything feels remarkably well built. There's still plenty of Mini character to be found too, and this is something that will appeal to buyers who are looking to key into the brand's 'image'. The Countryman can back this up with real usability levels, however, meaning that it isn't all show and no go.
Accessibility
With its relatively high seat and good visibility levels, the Countryman is a great car for those who feel a little more confident when sat higher up. All the doors open widely allowing for easy entry and exit to the cabin, while the boot isn't that heavy either, making it simple to operate. If you're after a user-friendly car the Countryman is a smart choice, then. The large windows make the cabin feel a lot airier, which make it a less oppressive place to be than with some rivals.
Stereo and ICE (In car entertainment)
The Mini Cooper S E Countryman ALL4 is priced at £31,585, and for this you get satellite navigation as standard, as well as Bluetooth connectivity and cruise control. The infotainment system is clear and easy to operate, incorporating media functions as well as the previously mentioned satellite navigation. The standard stereo system also produces a quality sound, though this can be upgraded at additional cost.
Colours and trim
As is typical with all Mini cars, there's a huge amount of customisation available with the S E Countryman. A wide variety of colours are there to choose from, and the same goes for interior finishes too. Modern Mini products are far more grown-up than those that were first released back in the early 2000s, but there's still plenty of character to be found – though they're looking more like their BMW counterparts than ever before.
Parking
Thanks to being quite square in shape, the Countryman isn't all that difficult to park. Yes, its large size does mean that tighter spaces require a little effort, but for the most part it's a car which doesn't put up too much of a fight when it comes to positioning. You do get rear parking sensors as standard too, which makes reversing that little bit easier. Large wing mirrors and good levels of visibility add to the car's ease of use.
Spare wheel
Emergency tyre repair kit supplied as standard.
Range information
Petrol engine options: Three-cylinder turbocharged petrol with electric motor. Transmission options: Six-speed automatic.
---
Alternative cars