September 2004
MG Rover MG ZT-T ZT-T+ 135 CDTi
Striking nose hints at ZT's sporty personality
September 2004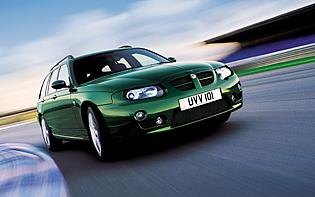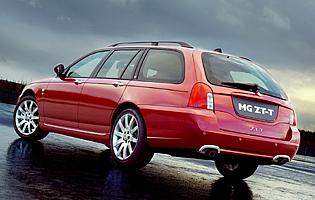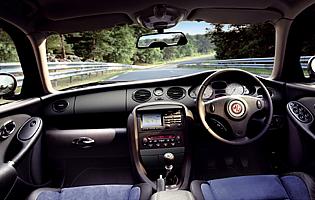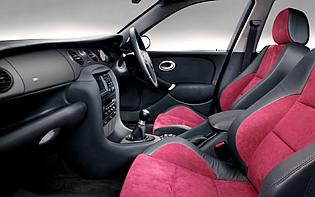 Overall rating

Likes:
Racy styling is not overdone but gives the car a pleasing visual 'edge' over rivals
Build quality is, on the whole, good and the cabin design is pleasing to the eye
Ride and sporty handling compromise has been well judged
Flexible diesel is all you'll ever need, unless the V8's sonorous tone proves too hard to resist
Gripes:
Brand still suffers from negative image despite company's recent efforts
Despite strides made in ride performance, urban undulations can catch ZT-T out
V8-engined car may be a hoot to drive but it's a thirsty beast
Cruise control only gives you the option to accelerate - not decelerate
MG Rover may be wrestling with a varied and aging range, but it has shown a knack for revitalising cars that are often worthy of more attention than they've received in the past. When the MG-badged range of 25, 45 and 75 models first appeared, cynics thought the job was purely a cosmetic one. How wrong they were. The company's ZT-T estate is a prime example.
Proof that a flagging brand can be brought back from the brink, the arrival of an MG brand within Rover's stable has done wonders for the company's image. Sure it was attacked by purists who that the exercise was nothing more than hollow branding stunt, but the truth was that the cars displaying the famous octagon badge had been fettled in a way to make them genuinely appeal to buyers seeking a sportier drive but not at the expense of traditional, British-built values.
The firm's newly christened ZT (also known as the 75) was the biggest surprise. Here was a car branded old before its time by sections of the press - more pipe and slippers than family motor, if you like. Transformed into the ZT, it boasted a sharper ride and more aggressive looks. When MG Rover's 75 Tourer estate appeared the ZT-T was born; mixing practical attributes with a street presence that none of the usual German executive motors could match.
In mildly revised form the ZT-T loses none of its aggressive kerbside stance but does gain a touch of maturity by virtue of a softer nose. The effect is subtle but looks dramatic when matched with a dark exterior body colour. More stealth bomber than motorway cruiser, the menacing edge this combination adds to the car is just what it needs if it is to help transform the company's less than sparkling image.
There is a practical side to the ZT-T, which is entirely predictable considering its estate car underpinnings. The car's voluminous loadspace and split opening tailgate make it an ideal purchase for anyone who works during the week and plays at the weekend. Engine options include the usual spread of petrol and diesel motors, with the latter especially good value. However, keen to show its mischievous side, MG will happily sell you a ZT-T (and ZT) powered by a rumbling American V8 motor driving the rear wheels. For enthusiasts, brand reinvention doesn't get any better.
Our verdict on the MG Rover MG ZT-T ZT-T+ 135 CDTi
The critics may ridicule the 75 Tourer but it's a good car, good enough to form the basis of a sporting estate with all the refinement of a Rover but the added sporting edge of an MG. The ZT-T is grossly underrated but does face stiff competition from the likes of BMW, Audi and even the high-end products of volume marques such as Ford and Vauxhall. Bigger than the German offerings at the same price point and more distinctive that the mainstream stuff, the MG ZT-T expertly performs the dual role of sports tourer and practical family estate. And whoever thought of shoehorning a V8 into the car deserves a medal.
Costs
The ZT range starts of at a remarkably low price point; an impressive feat given what you're getting for the money. Top models, especially the V8s, are more comparable with cars from BMW and Audi, but you have to remember that 3 Series' and A4s will lack the MG's generous levels of standard kit. The downside for ZT buyers is that the German cars will retain more of their value. If you plan on holding onto your purchase for some time this issue will be of little concern. Being a mainstream model, running costs are unlikely to be hair-raising, and the diesels are especially frugal if you plan on covering serious miles.
Space and practicality
As estate cars go, the ZT-T is a solid performer. Its load bay is flat and devoid of obstructions, and the rear seats fold to release a welcome extra amount of space. They don't fold completely flat but it's good enough in most situations. Lashing eyes are present to help stop things from moving around and a clever hidden compartment allows you to store valuables out of sight. The split opening tailgate adds to the number of welcome convenience features. Elsewhere in the cabin you can expect the usual number of cubbyholes plus a handy storage area inside the front armrest.
Controls and display
A subtle shift away from the Rover 75's stately home-influenced instruments and fascia trim, the ZT range boasts dials and finishes more in tune with its racier exterior. They're no less legible, but the blue backlight chosen for when you switch on the headlamps might be off-putting to some drivers. Cabin switchgear is sensibly placed and easy to understand - especially the ventilation panel on cars equipped with climate control. The same is true of the Highline sat-nav with its large screen, although inputting addresses can become tiresome as you constantly twirl the unit's small knob this way and that.
Comfort
Despite the car's emphasis firmly on sportiness, ride and bump absorption doesn't fall apart when you hit a pothole - unlike it does in certain German rivals. Make no mistake though, if you're not a fan of figure hugging sport seats you won't enjoy the experience. If you're not put off, at least getting comfortable is easy thanks to a wide range of steering and front seat adjustments.
Car security
There are no surprises in the MG ZT-T's security inventory, although all of the features are welcome. Remote central locking is backed up by an immobiliser and an alarm. A locking fuel filler cap completes the list of frontline items.
Car safety
As you would expect on a car of this standing, twin front and side airbags are standard fit, with curtain airbags as optional extras. Braking is boosted by ABS plus electronic brakeforce distribution. To help you see better at night, xenon headlamps are standard on flagship V8 models and optional on other cars.
Driver appeal
The ZT-T is blessed with a solid base, as the Rover 75 is a decent car to drive - if only the critics would admit as much. For the MG range engineers tweaked suspension settings so the car delivered a more responsive experience, and it shows. Far from being a flabby executive motor, cars in the ZT range can be driven enthusiastically. High-speed poise is good, cornering behaviour is rock-solid and both steering and brakes feel measured and accomplished. The catch is a firm urban ride, which is not as bad as it sounds and more a product of poor road surfaces than the car. Engine-wise all units perform well but the 131PS CDTi diesel and muscular V8 deserve particular praise. The former is a fantastic all-rounder, the latter nothing less than a riot.
Family car appeal
If people carriers are not your style then the ZT-T could be a worthy alternative. Performance MPVs are scarce, making the MG ideal if you have children and lead a busy life but don't subscribe to the seven-seat ethos of other families. The ZT-T is certainly more stylish than most MPVs, but you'll need to be sure that the MG's lack of seating permutations and ability to accommodate cycles whole won't be a barrier to a positive ownership experience.
First car appeal
It's doubtful that the ZT-T, or any ZT variant for that matter, will be top of a novice's shopping list. If performance is important, MG's smaller ZR is likely to be more attractive, and cheaper, too.
Quality and image
MG Rover has suffered of late, thanks in part to an aging Rover range and periodic rumours discussing the health of the company as a whole. Look past the mutterings and the car's themselves are not only good value but also good performers. It's amazing what has been achieved with modest resources. And that goes for quality, too. Rough edges are few and far between, and the ZT-T's cabin is trimmed in a modest style that's in keeping with the car's potential buyers.
Accessibility
Front occupants will have no trouble getting in and out of the ZT-T. Rear passengers will have to be a little more circumspect but access is rarely a problem. Once inside, legroom is agreeable and headroom is good for a car of this size. At the back, access to the loadspace is by one of two ways: either raise the tailgate as one unit or open the glass rear screen separately if you just want to deposit small items.
Stereo and ICE (In car entertainment)
Basic provision in the ZT-T is a factory-fit head unit accepting cassettes in the ZT-T and CDs in the ZT. These can - and should - be upgraded to one of the many options, which start with a boot-mounted CD changer and lead up to extra premium speakers dotted around the cabin. The flagship option is a Highline sat-nav unit incorporating a premium sound system. The navigation works well, the fascia screen is clear and the audio function is a noticeable step up over the standard equipment.
Colours and trim
Dark exterior colours give the ZT-T an impressive, menacing look that its rivals find difficult to match, and seems a fitting way to compliment the firm's masculine advertising campaigns. Inside, the figure-hugging sports seats complete the sporting theme with their contrasting centre sections. MG Rover's Monogram programme allows you to choose from a wider range of exterior colours and trims, including some desirably but costly metallic paint schemes. All the usual tactile surfaces are pleasing to the touch and appear well made and durable.
Parking
Although a big car, parking a ZT-T is not that difficult. Even without parking sensors, distances can easily be judged thanks to the car's larger rear screen and good size mirrors. That said, those sensors do make it easier. Along with the car's well-weighted clutch and communicative steering, manoeuvring in tight spaces is rarely a stressful activity.
Spare wheel
Full size spare fitted as standard.
Range information
Seven engine options - 1.8-litre (120ps) petrol; 1.8-litre turbo (160ps) petrol; 2.5-litre (177ps) petrol auto; 2.5-litre (190ps) petrol; 4.6-litre V8 (260ps) petrol; 2.0-litre (116ps) diesel; 2.0-litre (131ps) diesel. Five-speed manual gearbox across the range as standard; ZT-T 180 gets an auto'box, available as option for ZT-T diesel. Trim levels: ZT-T (base) and ZT-T+, plus SE on 180, 190 and 260.
Alternative cars
BMW 3 Series Touring Similar money will get you a much-coveted 3 Series, but it will be smaller and less well equipped
Audi A4 Avant Handsome A4 is built well but is another car that can't match the MG for value for money
Honda Accord Tourer Voluminous Honda is another sporty option but some find its looks to angular
Ford Mondeo Estate Fleet favourite is a fine car boasting entertaining handling, although it's hardly a rare sight