August 2012
Mercedes-Benz SLK 55 AMG
More muscular styling than the last version improves its appeal
August 2012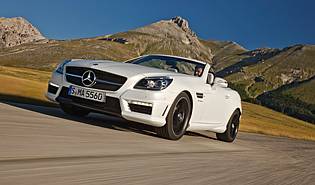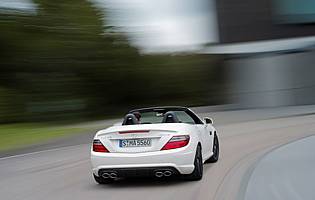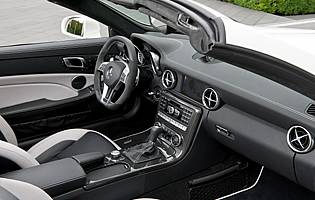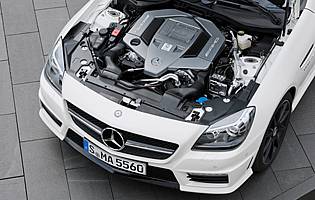 Overall rating

Likes:
Wonderful V8 rumble makes every drive a pleasure
Instant throttle response and stunning performance
High-quality leather trim throughout the interior
Sharp lines and perfect proportions turn many heads
Gripes:
Roof occupies too much boot space when folded down
Suspension can be unforgiving even on the softest setting
Low seating position makes it harder to judge where the car's corners are
Little storage space for oddments inside the cabin
On the surface this generation of SLK 55 AMG looks very similar to the previous one, with a slightly larger V8 engine and revised styling. The reality is that this, designated the R172 model, is entirely new inside and out. It has more power from a new engine, higher-quality interior materials and the latest infotainment equipment.
The basic intent of the car is unchanged, being a compact roadster with a large, powerful engine at the front. Rather than compete directly with the Porsche Boxster S, the car is much more expensive and appeals to buyers in a very different way; the SLK 55 AMG being more brutally fast and the Porsche more poised.
It uses a new engine developed from a twin-turbo unit already used by Mercedes in several other AMG models, but for this application the turbochargers were taken off to leave a power figure that is much increased over the old model but not too much for the car's chassis to handle safely. It also helps deliver the iconic AMG sound.
Although the car's performance is huge, efficiency is also a priority for Mercedes and the R172 SLK 55 AMG features a cylinder deactivation system that automatically cuts fuel to four cylinders when only low power is required. They cut back in under power or in Sport mode, but driven gently this generation is more efficient than the last.
Mercedes positions its range-topping SLK as a small Grand Tourer rather than an out-and-out sports car, emphasising comfort and luxury just as much as its performance. As such the interior materials are typically high Mercedes quality. The trade-off is that as standard the car is missing some key features that turn out to be costly options.
Our verdict on the Mercedes-Benz SLK 55 AMG
The SLK 55 AMG is a car defined by its driving experience thanks to a combination of a folding hard-top roof and a hugely impressive engine and gearbox. The rest of the car is built around those two factors and in most respects it lives up to its own high standards. Restricting factors appear in its practicality and usability, but the SLK is brilliant at what it's designed for.
Costs
While you could only call the SLK 55 AMG cheap to buy and own if you're rather wealthier than the average car owner, some credit has to be given to its engineers in making it as efficient as it is. Driven gently it returns palatable fuel costs, but insurance and road tax are both extremely expensive. Residuals will be reasonably good for the class, but servicing is likely to be costly.
Space and practicality
As a two-door convertible with a folding hard-top roof, neither space nor practicality was high on the list of requirements when the designers put pen to paper. Even so, the SLK has no cupholders, very little centre console storage and bizarrely small door pockets. There is a net pocket against the bulkhead in between the seats, but it's not much. The boot is not the most practically shaped and is best suited to soft, malleable cases.
Controls and display
Other than a minor bugbear in that the two ancillary stalks on the left hand side of the steering column can too often be mixed up by accident, the control layout is common and easy to grasp. The optional Comand interface is particularly effective, using just one dial to navigate through menus and change settings. The instrument cluster is clear and easy to read, albeit less stylish than it could and perhaps should be.
Comfort
When the car is stationary the seats are surprisingly comfortable, with very well shaped backrests and long bases that support the backs of the occupants' legs. They stay comfortable at all times on the move, but the suspension is firm and gets crashy and noisy over patchy road surfaces. Rapid successions of harsh bumps can unsettle it and pass on a lot of unpleasant vibrations into the cabin.
Car security
The security equipment present is fairly unremarkable at first glance, including an alarm with interior protection to pick up people reaching into the cabin when the roof is down, immobiliser, locking wheel nuts and remote central locking. However, the systems are state-of-the-art and security experts Thatcham give the SLK five stars for preventing theft, and four stars for preventing theft from, making the SLK every bit as secure as the best hard-top cars.
Car safety
Mercedes includes a large spread of safety equipment as standard, including dual front and large side airbags protecting occupants' heads and bodies. A common set of electronic aids includes stability control and ABS, but there is also a brake pad wear indicator, a tyre pressure warning system and an active 'pop-up' bonnet to help protect pedestrians. Safety is a prime concern for Mercedes and a large portion of the car's cost is attributable to it.
Driver appeal
Many people who buy this car won't look any further than its attributes in this area, and there are many. The engine provides amazing performance, a wonderful sound, thrilling engagement with the process and a level of character typical of AMG-built cars. The automatic gearbox won't be to all tastes but it will satisfy almost all SLK 55 AMG owners completely. It's not easy to drive as quickly as it can go, but trying is huge fun.
Family car appeal
There's very little going in favour of the SLK platform when it comes to family duties, but one handy touch is that when drivers use a transponder-equipped Mercedes child seat the car automatically recognises its presence and turns the passenger-side front airbag off. For average families, only two seats and a restrictive boot would make life too difficult or even impossible. To make matters worse the expensive interior materials would not respond well to innocent but potentially aggressive hands.
First car appeal
Few other cars of any kind turn more heads than the SLK AMG, so it will undoubtedly have the appeal of the exotic to new drivers. Unfortunately for them, the purchase price is far beyond what a typical first-time car buyer could afford, and it's way above any insurance group threshold applied to those without no-claims bonus or plentiful driving experience. Combined with its epic power output and restricted visibility, this would be desperately inappropriate as a first car.
Quality and image
Although Mercedes' reputation for build quality took a few hits after the turn of the millennium, the company has pulled out all the stops to inspire feelings of quality at every chance. Its reputation has been thoroughly fixed and is among the finest in the industry as far as materials and perceived quality goes, and despite the SLK being the smallest and least expensive convertible Mercedes makes, it feels extremely premium.
Accessibility
Long doors make accessing the SLK harder than it might be, because you have to step a considerable distance forward into the foot well and that tends to require having the doors open reasonably wide. It's not ideal for people without a certain degree of agility, because once that step has been taken the seats are low and require dexterity to drop into gently. The boot aperture is not ideal for allowing large cases in and out.
Stereo and ICE (In car entertainment)
There are several options included to allow owners to play music however they wish, from a six-CD changer in the centre console to MP3 player input ports. Bluetooth is also standard and will allow wireless playback. The standard stereo has an eight-speaker layout, DAB radio and a 5.8-inch colour screen for displaying track listings and the like. It's all controlled by a central control dial and is both intuitive and quick to use.
Colours and trim
Four silvers and two greys are among the rather muted colour palette, giving some idea as to the target audience. There is one bright red, though, and the car looks especially good in either that or black, which has the effect of accentuating the four large exhausts at the rear. The interior trim is convincingly high quality as standard and looks stylish, mature and expensive, matching perfectly with the exterior.
Parking
The low seating position and relatively restricted visibility that comes as a result means that parking can be awkward. The SLK has a long bonnet that slopes down and a good way out of sight, so first-rate spatial awareness is a prerequisite for car parks. Parking sensors are not standard and must be specified as part of a package that includes sensors at the front and back along with visual guidance via the central display screen.
Spare wheel
Emergency tyre repair kit supplied as standard.
Range information
Petrol engine options - 1.8-litre (181bhp, 201bhp); 3.5-litre (302bhp); 5.5-litre (415bhp). Diesel engine options - 2.1-litre (201bhp). Transmission options: six-speed manual (1.8-litre 181bhp engine only) or seven-speed automatic gearbox depending on model, plus seven-speed sports automatic gearbox (5.5-litre 415bhp petrol only). Trim levels: SLK, SLK AMG Sport, SLK 55 AMG.
Alternative cars
Porsche Boxster S More agile, poised and tactile but less bombastic and explosive
BMW Z4 Most powerful model offers all-round ability but less excitement
Audi TT RS Roadster Four-wheel-drive traction and characterful five-cylinder engine
Jaguar XK Sleek lines and comfortable driving dynamics make the Jag very desirable