Mercedes-Benz SLC 250d AMG Line
High-quality cabin gives an expensive look and feel
April 2016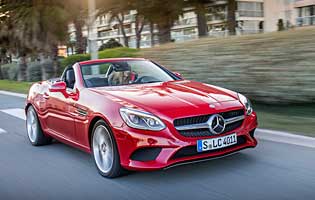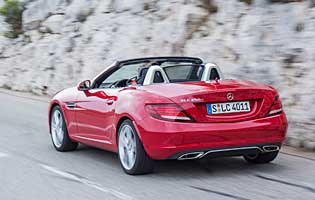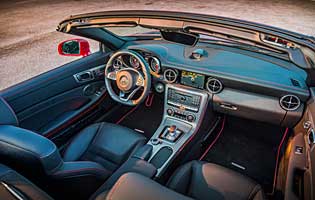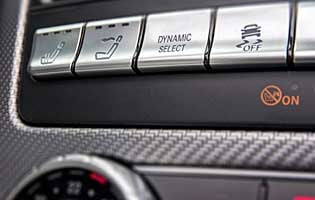 Overall rating

Likes:
High-quality cabin gives an expensive look and feel
Impressive handling puts a smile on a driver's face
Strong engine provides relatively sporting performance
Tall higher gears keep revs and fuel consumption low for cruising
Gripes:
Diesel clatter still clearly audible at low speeds
Compromised luggage space in boot
Expensive versus stylish diesel saloon alternatives
Too much buffeting and wind noise with the roof down
The Mercedes SLK has been a huge sales success in the UK, combining an easy-going nature with sporty styling and high quality materials. The introduction of a diesel engine in 2012 reinvigorated the sales figures, making the model more profitable and more suitable for business users. As part of the latest naming structure, the refreshed version becomes the SLC.
While the front end design has been updated in line with the latest styling trends within the company, Mercedes has not seen fit to change the rear end in any significant way. The high-performance AMG version has a new downsized and turbocharged engine, which is the biggest change across the range.
The diesel engine remains the same, albeit with some revisions to increase refinement and deaden the diesel clatter that the ageing 2.1-litre unit has become known for. As the SLK the diesel made up 70% of UK sales owing to its surprising efficiency, fuel tank range and comparatively low running costs. The latest upgrades are not likely to diminish this success.
Mercedes is directing its cars more clearly towards comfort than ever before, in an attempt to deliver what drivers really want on everyday roads, but that hasn't stopped the SLC delivering an impressive showing in early dynamic tests. In spending more money on suspension the company has hit on a compelling formula spanning sporty driving and long-distance comfort.
The car has a unique place in the market, distanced from its rivals as a rear-wheel-drive sports car with the efficiency of a diesel saloon. It has a certain appeal as a concept no matter how a buyer actually intends to drive it. A standard automatic gearbox will also be convincing, although the SLC does look expensive compared to more practical mid-sized diesel cars.
Our verdict on the Mercedes-Benz SLC 250d AMG Line
A diesel convertible will always irritate people who believe sports cars should be petrol-powered and have more than four cylinders, but as much as any driver may try to dislike it, the SLC 250d proves extremely adept in almost all the important ways. It handles winding roads with poise and pace, cruises comfortably and efficiently, and feels extremely high quality from the first contact. It's difficult to argue against it.
---
Costs
The diesel model's unique advantage is its low running costs, which don't come at the cost of performance. Road tax, fuel and insurance will all, in most areas, be cheaper than for the equivalent petrol-powered SLC. Residual values will remain high for those reasons, but the diesel model is more expensive to buy in the first instance so potential buyers should calculate whether this or a petrol model will be cheaper over their expected ownership period.
Space and practicality
Getting bags out of the boot when the roof is down and the luggage cover is in place can be awkward, as the remaining aperture is very shallow. With the roof up and the cover moved away, the boot is actually quite spacious and useful. Mercedes' trademark Airscarf is a practical feature that helps you feel warmer by blowing warm air on your neck.
Controls and display
Two dials feature for road speed and engine speed, with a highly effective screen between them. Its graphics are a little dated but it does an excellent job of conveying important information. The new seven-inch screen is also excellent, with sharp enough graphics and excellent sat-nav mapping. The centre console is too busy, with far too many buttons, and there is also an over-abundance of control stalks on the left hand side of the steering column. The cabin could be better laid-out and is an unfortunate inheritance from the SLK.
Comfort
There is surprisingly little legroom. With the seat backs pushed against the bulkhead, people over six feet will be cramped. It means that when pushing the seat backwards, the seat back is pushed more upright to make room for the base to retreat further. The seats themselves are multi-layered; soft on the very top but firmer underneath for a welcoming but supportive feel. It's just a shame that some drivers won't be able to find their ideal driving position because the cabin is too short.
Car security
A folding hard-top roof is an obvious advantage when it comes to security, presenting as impermeable a defence as any coupe or saloon. There is an alarm and an immobiliser, but Mercedes publicly reveals no details about its systems.
Car safety
There is a host of active safety equipment available for the SLC, including the now-standard Active Brake Assist, previously known as Collision Prevention Assist Plus. Adaptive LED headlights are an option along with automated main beam selection. Blind Spot Assist and Active Lane Keeping Assist are also available. Traffic Sign Assist can even warn when a driver indicates to turn into a no-entry junction, as long as it is clearly signed.
Driver appeal
While the 2.1-litre diesel isn't the most dynamic of engines it still pulls strongly and can punch the SLC out of corners effectively, using the smooth nine-speed automatic gearbox to good effect. The 250d is surprisingly brisk in most circumstances, and thanks to well-executed adjustable driving modes the suspension can adopt softer or firmer attitudes according to need. The car is never crashy, though, displaying the excellent work done by the chassis engineers. It drives far better than many sports car purists will dare imagine.
Family car appeal
Sports cars like the SLC are better suited as weekend cars or playthings for keen drivers. It's possible to mount a rear-facing child seat in the car and to turn the passenger side's front airbag off, but it's unlikely that many parents will bother.
First car appeal
Dreams of a sporty convertible that's affordable to run might be familiar for many aspiring drivers, but the SLC is too expensive to be the one they'll choose. It would also be tricky to find insurance cover, and the low-slung sports car shape might cause problems for somebody only used to driving L-plated superminis.
Quality and image
From the first moment of sitting down in the car it presents a high-quality façade of leathers, plastics and, in some trim combinations, metals. There is an intangible sense of solidity about it, lending the feeling that the SLC is actually much more expensive than it is. While the SLK before it often struggled for respect in some quarters, where it was accused of being inadequate as a sports car, the SLC 250d performs so well that its detractors will only decrease in number.
Accessibility
This is a low car and will always be more difficult to access than something less sporty. The doors are long, meaning they need lots of space to open into before they are easy to get past, and getting into the seat does ultimately require you to simply drop the last few inches. The boot lid is lightweight and easy to flip up or down.
Stereo and ICE (In car entertainment)
The main infotainment unit is optionally CD- and DVD-compatible, and for MP3 players there are two USB slots beneath the centre armrest. An SD card slot, internet radio and Bluetooth round out the main connectivity options. Adding the Smartphone Integration Package allows iPhone users, which accounts for the vast majority of Mercedes owners according to the company's research, to mirror their screen to the car's using Apple CarPlay.
Colours and trim
There are a total of 12 colours available for the SLC, including two reds and a blue. The rest are variations on black, white, silver and grey. All of them work very well, pointing to a job well done by the design department. The paint finish is deep and lustrous. The interior of the higher-spec AMG Line version displays high quality at all points, with supple leather, solid materials and excellent aesthetics.
Parking
As with most convertibles, reverse-parking in the SLC is easier with the roof down. The steering is light and the distance between the driver and the front wheels has the effect of making it easier to reverse-park into spaces but harder to go in forwards. A reversing camera is optional, as is the semi-automated parking system Parktronic.
Spare wheel
Emergency tyre repair kit supplied as standard.
Range information
Petrol engine options – 2.0-litre (181bhp, 241bhp); 3.0-litre (362bhp). Diesel engine options – 2.1-litre (201bhp). Transmission options: six-speed manual (2.0-litre 181bhp petrol only), nine-speed automatic. Trim levels: Sport, AMG Line, Mercedes-AMG.
---
Alternative cars
Audi TT  Diesel convertible has great looks and lots of grip, but is not as good to drive
Porsche Boxster Petrol-only and more expensive, but a far superior chassis
Vauxhall Cascada Cheaper front-wheel-drive diesel cabrio is better equipped but less enjoyable
BMW Z4 Heavy model is good for cruising but offers petrol engines only