August 2004
Mercedes-Benz M-Class ML 500
The M-Class is an imposing sight
August 2004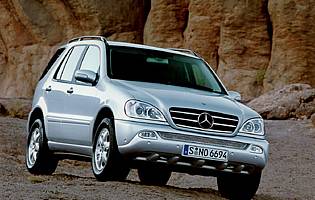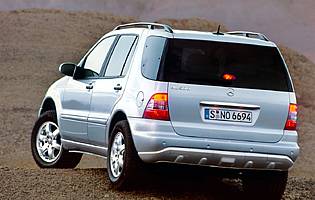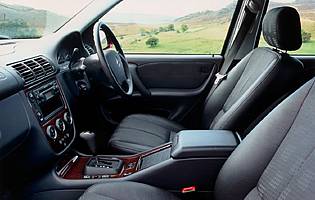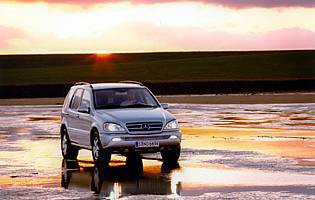 Overall rating

Likes:
Styling has held up remarkably well
Brilliant off-road ability
Image among the best in the business
Driving position feels powerful
Gripes:
Some interior build quality is questionable
Large size and too-light steering make for uncomfortable city driving
Tendency to roll around corners
High carbon dioxide emissions
Despite its age (launched in 1997), Mercedes' M-Class has lost surprisingly little of its appeal. Classy and gritty in equal measure, it remains among the front rank of luxury 4x4 vehicles.
Today's high-grade SUV market is a much more crowded and varied one that it was when the M-Class first appeared. Modern competitors such as the BMW X5, Volvo XC90 and Porsche Cayenne all offer slightly different takes on the premium off-roader ownership experience personified by the M-Class and Range Rover. Therefore it is hardly surprising that in some respects the Mercedes' simple formula of a luxury car interior inserted into a rugged 4x4 frame is less compelling than it used to be.
Nevertheless, the M-Class's design has stood the test of time surprisingly well. That's partly down to the fact that some of the funkiest modern SUVs owe a design debt to its clever mixture of elegance and aggression. The Toyota Land Cruiser, Kia Sorento and Honda CR-V all borrow elements of the M-Class look in their efforts to look 'premium'.
As is frequently the case with 4x4s, the interior has dated rather more quickly than the exterior. Though made from high-quality materials, it looks a little boxy by modern standards and lacking in clever space utilisation features. The M-Class is built in the USA, and the standard of internal fit and attention to detail is sometimes unworthy of such an expensive vehicle.
Mercedes has rather underplayed the M-Class's considerable off-road abilities, no doubt because they are perfectly happy that well-off suburban families continue to use them for school runs and shopping trips. In truth, buying an M-Class for such purposes reveals a fundamental misunderstanding of what this vehicle is all about, as it is at its worst in a crowded urban environment. Similarly, owning an M-Class without ever exploring its go-anywhere potential is a complete waste.
Our verdict on the Mercedes-Benz M-Class ML 500
The three pointed star on the front and back counts for a lot. This is undeniably a classy vehicle and one that gives the owner a rosy glow every time he climbs into the cab. With a replacement pencilled in for the end of 2005, now could be a very good time to secure a discount on a car that rarely makes such concessions.
Costs
Fuel costs will be high on all models bar the relatively frugal 2.7 turbo diesel. Bear in mind that the 19mpg figure quoted for the ML 500 will be significantly reduced once passengers and boot loads are added and that high carbon dioxide emissions make the M-Class unsuitable for business use. Servicing costs are also considerable but thanks to the onboard ASSYST system, service intervals are variable. The car tells the driver when it needs another visit to the garage, which Mercedes claims reduces costs by a third.
Space and practicality
Despite its bulk, the M-Class seems less roomy than might be expected. That's not to say it is actually cramped, but because it was originally designed when clever tumbling seats and modular loading bays were still a twinkle in a Japanese car designer's eye. The second row bench seat can cater for three passengers and has a 67/33 split. The two elements can be moved 80mm fore-and-aft either separately or together to increase either legroom or luggage space. A pair of removable forward-facing rear seats can be added from the options list.
Controls and display
Attractive Mercedes dials are pleasant to behold and the chunky switchgear feels durable and trustworthy. It's not quite the saloon interior Mercedes aimed for, but it's not far off. Real wooden elements, plenty of those all-important cup holders and some subtle courtesy lighting combine well. The central control unit's red LEDs, black dials and silver bezels are very Mercedes-Benz.
Comfort
The steering column is adjustable for height but not reach, making it difficult for some drivers to find a suitable driving position. Front seats are generously proportioned. Later models are much more tightly screwed together than early examples after Mercedes carried out a thorough quality audit. Even so, they aren't quite of Range Rover standard. The tinted windows that look so cool on the outside can make the interior seem dark.
Car security
An alarm system, immobiliser and central locking with radio remote control are all standard items, and they'll probably be needed as an M-Class would make a tempting proposition to a car thief.
Car safety
From 2001, Mercedes upgraded the M-Class's safety by adding two side impact window airbags to the existing four driver and passenger bags. Front and rear seats are fitted with three-point inertia reel seatbelts and good-sized head restraints. Rear seats are reinforced with sheet metal to protect passengers against sliding cargo but rear side airbags are an optional extra (standard on ML55 AMG).
Driver appeal
Accomplished and entertaining off road, the M-Class demands more wariness when on asphalt. Drivers need to be keenly aware of its dimensions and while visibility is generally good, plenty of braking distance needs to be allowed as the brakes lack bite. On anything other than a dead straight road, this high-sided vehicle displays a tendency to roll from side to side. Execute a U-turn and you'll soon see what we mean. It's no coincidence that the M-Class is built in the US, where transcontinental highways are more the norm than urban rat runs. If you do see a straight, the awesomely powerful ML 500 and ML55 AMG will eat any boy racer for breakfast.
Family car appeal
With room for up to seven seats, the M-Class would make a fine family wagon and is far more exciting than an equivalent luxury people carrier such as the Renault Grand Espace or Chrysler Grand Voyager - try fording a stream in one of those and you won't get very far. Isofix seat attachments are provided. Family buyers would be well advised to invest in the extra rear airbags for added peace of mind.
First car appeal
Big, expensive, costly to insure, poor fuel economy, hugely powerful; take your pick of reasons why the M-Class is a complete non-starter as a first car.
Quality and image
Having a Mercedes badge is a boon, and the more expensive models look more dashing with their chrome grilles and extra body parts, but despite its best efforts the M-Class doesn't quite match the E-Class or S-Class for perceived quality. But it does manage to gain respect from badge snobs and serious off-road aficionados in equal measure, a rare achievement indeed.
Accessibility
Doors and boot are heavy but open wide and allow easy access before closing with a satisfying clunk. Though not the cleverest interior design in the world, anything you're taking along for the ride will be within easy reach and there's always plenty of spare capacity.
Stereo and ICE (In car entertainment)
Perhaps the most obvious betrayal of the M-Class's ancient origins is the provision of a radio/cassette player with a paltry four speakers. You have to go to the top of the range for the luxury of a CD player. Having spent in excess of GBP40,000 for an ML 500, that's simply not good enough. The available upgrade is a BOSE nine speaker system. A DVD screen can be installed into the roof for entertaining back seat passengers.
Colours and trim
The standard kit list is okay but at M-Class prices you should expect a comprehensive specification as standard, and there are numerous notable omissions. For example, you'll need to step up to the ML 500 model to get an automatic dimming rear view mirror, trip computer and leather steering wheel. Only the ML55 AMG has metallic paint as standard. Compared to a Lexus RX300 or Volkswagen Touareg, it smacks of stinginess.
Parking
It may rule the wide, open spaces, but cajole an M-Class into the city and it is less confident, mainly because of its size. True, the driver sits up high and is in a commanding position, but fitting into a standard parking space is akin to squeezing a quart into a pint pot. Parking sensors would be extremely useful, but not even the ML55 AMG has them fitted as standard.
Spare wheel
It's fairly common practice for proper off-roaders to have a full size spare wheel in order to cope with the strain wheels are subjected to in the wild. So it comes as something of a surprise to learn that all models in the M-Class come with a temporary space saver. Don't get a puncture unless you're on a nice flat road.
Range information
Four engines are available. Entry-level ML 270 CDI models have a 2.7-litre (163bhp) diesel engine, but all other models are petrol powered. Buyers can choose a 235bhp 3.7-litre V6, a 292bhp 5.0-litre V8 or the range-topping 5.5-litre V8 powered ML 55 AMG model. All models bar the 270 come with a five-speed automatic gearbox with low and high gear ratio settings. The 270 has a six-speed manual 'box as standard with the auto as an option. There are no specification-level badges per se - each engine comes with its own designation.
Alternative cars
BMW X5 Great package, though increasingly common
Range Rover True luxury, truly horrible fuel economy in petrol V8 form
Volkswagen Touareg Large, underrated VW is well worth a look
Lexus RX300 Petrol-only SUV has unbeatable kit list and is keenly priced