June 2013
Mercedes-Benz GL-Class G63 AMG
AMG version is even tougher-looking than the standard G-Class
June 2013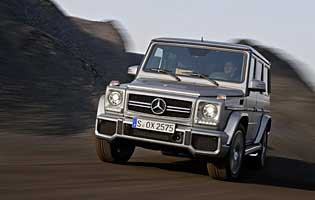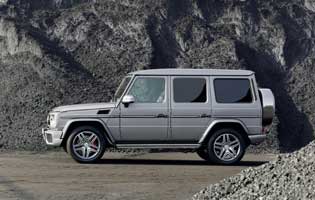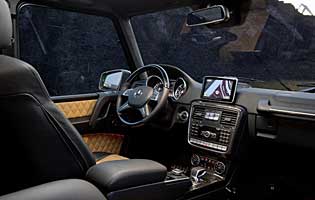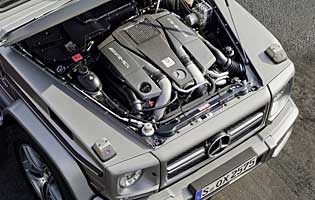 Overall rating

Likes:
Immensely powerful and characterful engine
Presence and image to rival almost anything
Bulletproof build quality
Surprisingly capable as a family car
Gripes:
Hugely expensive to buy and to run
Could easily be seen as vulgar by some
Not as spacious inside as its exterior dimensions would suggest
M-Class AMG is faster, cheaper, more spacious and more comfortable
One of the most unusual models in the Mercedes-Benz range is the G-Class, or G-Wagen as it was historically known. Originally design and built as a military vehicle in the 1970s it has since then become something of a status symbol as a passenger car thanks to its unique look and tough demeanour.
Few cars make such a bold statement as the G-Class. The 1970s-era design means it is tall and squared off, the shape having barely changed in the intervening years. It also has a relatively long overhang at the front with quite a short one at the rear. It's easy to understand why some people would think it unattractive, but conversely it has an honest and rugged charm that others find highly appealing.
The simplistic design is mirrored on the inside too. Although this latest version of the G-Class has all the modern luxuries expected from a top-line Mercedes-Benz, there are still many ways in which it betrays its age. Opening and closing the doors is the most obvious: you need to thumb a large button and pull a big handle, whilst shutting them requires a big heave and is met with a heavy thud.
Underneath the tough exterior the G-Class is just as robust. It has a body-on-frame construction, like many older 4x4s and opposed to the unitary construction of modern cars. While this is generally less beneficial for on-road performance it allows the G-Class much better performance off-road. All versions also come with three locking differentials as standard, a feature only ever seen on serious off-road machines.
However, in range-topping AMG form the G-Class is much less about off-roading - the tyres are high specification types design for performance cars and hence useless off-road - and much more about power and speed. Under the bonnet the twin-turbocharged V8 engine offers up prodigious power and torque, even though the size and mechanical layout is far from ideal for sporting performance.
Our verdict on the Mercedes-Benz GL-Class G63 AMG
The G-Class, particularly in AMG form, is an acquired taste. By any normal measure it is expensive, extravagant and fundamentally flawed compared to modern rivals, but that is its appeal: it has enormous presence, looks like nothing else on the road and is hilariously fast.
Costs
This is not a car for the light of wallet. An unquestionably expensive car to start with, the powerful engine will drink fuel at a prodigious rate even if you're careful and insurance is likely to be sky high.
Space and practicality
For its size the G-Class is moderately spacious - the boot is almost perfectly rectangular with not much in the way of wheel-arch intrusion, but for passengers there is only an average amount of room; from the outside it looks a good deal more spacious than it really is.
Controls and display
Thankfully the G-Class inherits much of the standard layout used across the Mercedes range, including the centre console, screen layout and steering wheel. The instruments are clear and informative, it is only the menu system and control wheel that is beginning to show its age.
Comfort
Once again the G63 benefits from modern elements whilst still being a little compromised by the age of the basic design. Wind noise is not helped by the squared-off proportions and the separate chassis design does not help ride comfort. However the seats are very comfortable and the cabin is very highly specified and is a pleasure to spend time in.
Car security
There's nothing fitted as standard beyond an alarm and immobiliser system and with a car this valuable and sought-after a tracking system is an essential purchase. On the plus side the privacy glass is extremely effective and the substantial rear cover will keep the contents of the boot well hidden.
Car safety
The G-Class is packed with safety aids as well as being clearly well built. It's also blessed with plenty of power, grip and immense brakes which are all just a crucial to safety.
Driver appeal
The G63 AMG offers a curious but intriguing blend of driving characteristics which will make or break any kind of purchasing decision. For one thing, it is less refined than a more modern conventional car, and the recirculating-ball steering system requires sizeable inputs before there is any meaningful response at the wheels. Yet the engine is clearly a modern unit, offering savage and seemingly unending performance with very little effort.
Family car appeal
Even though it's not a perfect SUV by any means it would probably be a hit with the family. There's enough space in the rear for smaller children and the optional rear entertainment will keep them happy. The boot is generous and the huge performance and crackling exhaust note will probably keep them entertained too.
First car appeal
No novice driver would be capable of managing the G63's immense power and vague steering, let alone be able to afford the six-figure price tag.
Quality and image
There's no doubt about the quality of the G-Class. Created in the era when Mercedes-Benz reputation for quality was the best in the world, the G-Class still has the 'bank vault' feel to it. Image is a very subjective issue in the case of the G-Class however. Some will feel it is ostentatious and even offensive, while others will think it is one of the coolest things on four wheels.
Accessibility
The G-Class rides quite high - even in AMG form - and getting aboard does require a climb upwards. Also the doors are not very big given the car's overall size, another result of its age, which means a little care is required. The large running boards down each side do help however. The rear is a similar story: the side-opening door offers a big aperture, but the door itself is heavy and needs careful parking in a car park to avoid being prevented from opening.
Stereo and ICE (In car entertainment)
The standard issue system is already well specified, although the Mercedes take on the 'turn and push' interface is getting on a little now and could do with being updated. But with useful buttons on the wheel it's a straightforward system to operate.
Colours and trim
A generous range of colours and trims are somewhat irrelevant on a car like this; the test vehicle's matte black paint is not an uncommon choice and is in keeping with its military background. On the inside the choices range from tasteful to garish, but the mainly black interior is attractive.
Parking
The G63 is loaded up with parking sensors front and rear plus a reversing camera, and although a big car its squared-off proportions make it relatively easy to see out of and park.
Spare wheel
Steel spare fitted to the rear door in a separate carrier
Range information
Petrol engine options - 5.5-litre (544bhp). Diesel engine options - 3.0-litre (211bhp). Transmission options: Seven-speed automatic fitted as standard. Trim levels: BlueTech and AMG.
Alternative cars
Land Rover Defender A similarly old design but no performance car
Porsche Cayenne Turbo S A conventional SUV with huge power and a remarkable driving experience
BMW X6M Extremely fast and very capable on-road, off-road performance negligible
Audi SQ5 Diesel-powered but still fast and even relatively frugal