August 2011
Mercedes-Benz G-Class G 350 BlueTEC 5dr
Squared-off looks drop a major hint as to its age
August 2011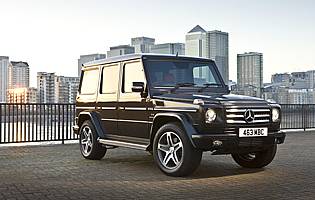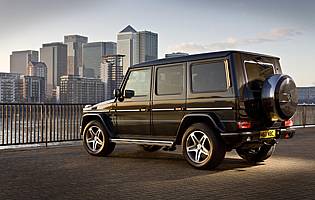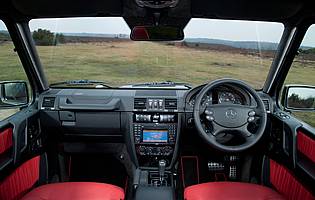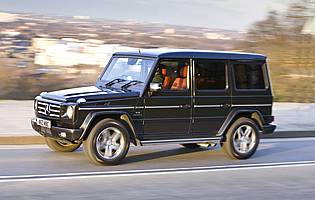 Overall rating

Likes:
Solid build quality and a premium feel in the cabin
Interior refinement is good considering the car's age
Off-road performance is on a par with products from Land Rover
Rear load space is generous
Gripes:
G-Class is a big car and can prove tricky to park in town
You need to be agile to climb up into the cabin
The options list is long and potentially expensive
Newer SUVs are more refined and accomplished on road
The Mercedes G-Class is not like other SUVs. It's not a new model either, but a programme of subtle cosmetic revisions and the transplanting of a modern Mercedes fascia in the cabin has helped drag it into the 21st century. Far from being a 'soft-roader, the G-Class delivers a highly technical experience for buyers seeking a genuine 4x4.
The popularity of SUVs continues to rise, although as time has passed it's the smaller, more fuel efficient ones that have started to become more attractive. There is, however, a strong demand for more capable 4x4s. The range Rovers of this world have dominated the scene for years but there's more to choose from if you look hard enough.
One such car that easily rivals anything from Land Rover's stable is the Mercedes G-Class. Anyone with a good memory will know it as the G Wagen. Its German maker has chosen to modernise the off-roading icon in a bid to cash in on the demand for high-end 4x4s that are often viewed as style and status icons.
There's no question that, alongside the popular Range Rover, cars like the G-Class are bought by those seeking to make a statement rather than engage in any serious off-roading activities. As such, it's possible to spend a lot of money personalising the car to your liking. From exterior trim to enhanced audio-visual kit and plush cabin trim, there's no shortage of options.
If you do view the G-Class as a potential tool, albeit an expensive one, its performance is unlikely to disappoint. Although an often overused description, this vehicle is a genuine 'hard core' off-roader. With the ability to switch from two to four-wheel drive and lock the car's differentials to further enhance traction, there's very little this car can't do. With the choice of potent AMG-tuned petrol variant or hard working diesel option you'll never be short of power.
Our verdict on the Mercedes-Benz G-Class G 350 BlueTEC 5dr
The G-Class is not a car for shy and retiring types. Visually distinctive and a substantial financial investment, its abilities have been well documented and proven over the years. It might not be a new car but the changes made to bring it up to modern standards help make the ownership and everyday driving experience a pleasant one. Its real skills are only revealed when you chose to go off road, and in this context the G-Class is almost unstoppable.
Costs
There's no mistaking the fact that the G-Class is an expensive car. If you need to exploit its abilities then there's very little else on the market this side of a Range Rover to choose from. Opt for the diesel if you want to save a few pounds as the petrol variant is a thirsty beast. Also, despite the generous levels of standard kit, the options list is long and tempting.
Space and practicality
Being a little on the narrow side compared to more modern machinery, the car's cabin isn't quite as spacious as some similarly priced rivals. Rear legroom is acceptable and overall headroom is good. There's no shortage of oddment space in the cabin, and the rear load bay is a very good size - it's deep and you'll need to stretch a bit to reach the extremities.
Controls and display
As one of the last of the 'old school' Mercedes cars, the cabin layout will be familiar to anyone who's owned a Mercedes in the last decade or so. Chunky buttons and easy to read dials make for a pleasant experience. Only the car's Command audio and combined sat-nav unit requires a bit of learning - it's could be more intuitive and access to the various features requires more than one or two button pushes.
Comfort
When up against more modern machinery the G-Class shows its age with its narrow cabin, modest levels of soundproofing and narrow door apertures. If the ground is smooth then so is the car's ride, but even undulating Tarmac can prove tiresome on a long journey. The diesel engine is also quite vocal when pushed hard.
Car security
A deceptively expensive car, it's good to know that the G-Class is equipped to the same standard as all other high value Mercedes products. A distinctive machine when parked and on the move, it will pay to keep belongings out of sight, and the sturdy rear load shelf does just that. For added peace of mind you could invest in an electronic tracking device, something some insurers my recommend.
Car safety
In keeping with most modern cars the G-Class comes with enough airbags and electronic stability aids to keep you safe when on the move. The car's comprehensive all-wheel drive system can be manually activated, and makes light work of slippery conditions both on and off road.
Driver appeal
In the context of its rather utilitarian roots, the G-Class of today offers users a Land Rover-like go-anywhere experience. With its numerous transmission controls, high ground clearance and powerful engines, it's a genuine 4x4 for harsh environments. All of which makes it something of a sledgehammer sent to crack a nut when driven on the road. It's more refined than you might think and surprisingly easy to drive, but an ML or GL would require less steering effort and ride more smoothly. Still, as a compromise, it's a very good one.
Family car appeal
Like so many large SUVs the G-Class will no doubt prove attractive to active families. It's at the upper end of the affordability scale but there's no denying its abilities if you genuinely want to go off road or tow. The car's cabin is a plush one, which will likely be a drawback for anyone with small children. At the rear there's no shortage of boot space for all your clobber.
First car appeal
There's little reason to choose the G-Class as a first car due to its size and what's its capable of. For the novice it will likely be an intimidating experience, and something smaller would be a much better option.
Quality and image
Along with the Unimog, the G-Class - or G Wagen as it used to be called - is one of a select few timeless models from the Mercedes stable. Realistically the G-Class won't suit everyone, but if you have a hankering for a rugged on the outside, luxurious on the inside car the G-Class could be for you. Over the years it has cultivated something of a cult following, thanks in part to its traditional Mercedes styling inside and out.
Accessibility
Make no mistake, this is a genuine off-roader and, as such, boasts the appropriately useful ground clearance - read high. Also, its doors don't open that wide and the driving position is higher than your average SUV. The narrow rear door opening is another sign of this car's age, while the tailgate requires a suitably manly shove to shut properly.
Stereo and ICE (In car entertainment)
The basic set-up in the G-Class is a good one, and delivers a high quality experience from familiar and intuitive controls. Predictably there are a number of upgrade paths; full colour sat-nav, hands free telephone facility and headrest-mounted screens for rear seat passengers. Basic audio controls are duplicated on the car's steering wheel to make life easier when on the move.
Colours and trim
For some reason the G-Class doesn't appear to be colour sensitive. You can opt for white or a more somber colour and it will still look good. Inside it's a different matter, as light coloured trim and upholstery help promote an airy, spacious ambience if that's what you want. Alternatively, a black interior coupled with privacy glass can be a little oppressive.
Parking
It might be a big car but low speed maneuvering is made easy thanks to its large side mirrors, light steering and parking sensors. Rearward visibility will depend on how many passengers are obscuring your view, plus the car's rear screen isn't that big - either that or it seems a long way from the driver's seat.
Spare wheel
Full size spare wheel mounted to rear door.
Range information
Similar proportions to the G-Class but a newer and more refined alternative
Alternative cars
Range Rover Equal off road and more refined on road
Audi Q7 More sporty on road but lacking any hard-core off-roading talent
BMW X5 Benchmark performer on the road but can't compete off road
Mercedes-Benz GL-Class Similar proportions to the G-Class but a newer and more refined alternative