October 2010
Mercedes-Benz CL-Class CL63 AMG
AMG bodykit is aggressive and stylish
October 2010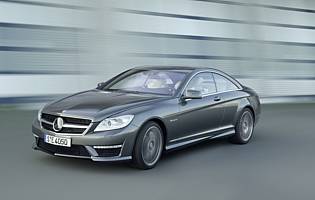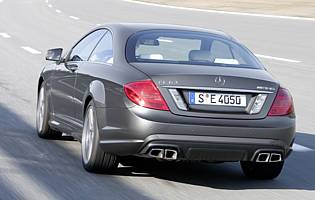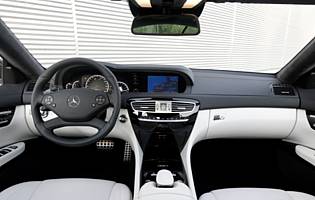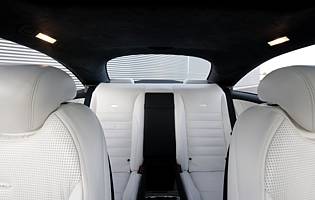 Overall rating

Likes:
Outrageous performance from powerful engine
Impressive array of safety and convenience features
Improved economy from powerful engine
Surprisingly tractable nature makes it an adaptable model
Gripes:
Interior is stylish and functional but uninspired
Rear seat access is modest
Unconventional exterior is still slightly awkward from some angles
Lacks immediate impact of showier competitors
Mercedes-Benz's CL-Class is one of the most exclusive and luxurious vehicles in the German manufacturer's wide range and has been refreshed with changes to the exterior and new engines. Mercedes' in house tuning department, AMG, has also been let loose on the new model, resulting in a revised variant of the powerful CL63 AMG.
It's easy to get lost within Mercedes-Benz's exhaustive model line-up, and it's niche models such as the CL-Class that make that the case. Effectively a four-seater, two-door coupe version of the S-Class, the CL has traditionally been available with powerful petrol engines allowing it to compete with premium GT models from exclusive manufacturers.
This also puts it firmly in the territory of Mercedes' in-house tuning division, AMG, which has produced exhilarating sports versions of the model in the past. With Mercedes having revised the CL-Class with a raft changes inside and out, AMG has taken the opportunity to introduce a new V8 engine. The twin-turbocharged V8 is smaller than that of the outgoing CL63 AMG model at 5.5-litres and fuel economy has been improved 25 per cent, yet power is actually increased. The same can be said of the 6.0-litre V12 present in the range-topping CL65 AMG model.
Direct injection, clever turbocharging, weight reduction and the introduction of start-stop technology are responsible for the performance improvements, but the CL's kerb appeal has been improved with revisions to the head and tail lamps, bumpers and bodykits. New alloy wheels also feature for the AMG models. On the road, a Torque Vectoring system allows the large model to outperform expectations in the corners.
Inside, new technology includes Active Lane Keeping Assist and a Blind Spot Assist system, both of which add to the already impressive array of safety features present on the luxurious CL-Class models. Comprehensively equipped, the coupe models continue to feature a spacious interior capable of accepting four adults.
Our verdict on the Mercedes-Benz CL-Class CL63 AMG
Drivers of the previous generation Mercedes-Benz CL63 AMG may have disputed that there were areas for improvement, but AMG has uncovered some regardless and the result is a car that's largely similar, but undeniably better. Fuel consumption is improved to an extent worthy of note and the new model looks subtly smarter but, crucially, performance is improved with the more powerful, impressively tractable engine and the likes of Torque Vectoring.
Costs
Despite the impressive improvements made in terms of fuel consumption and CO2 emissions, the CL63 AMG will prove a highly expensive car to own and run. It will maintain a thirst when driven hard and perishable items such as tyres and brake consumables will not be cheap to replace. Insurance costs will also be high and the purchase price immediately places it in exclusive territory.
Space and practicality
You won't have to worry about space if you're a front seat occupant in the CL - there's plenty of it. Rear seats are for more occasional use, but the CL-Class's large platform means they're more accommodating than those of some rivals. There are plenty of clever touches in the cabin and storage space is reasonable. The car's boot is another plus point. It will easily swallow the golf clubs, and the load lip is low enough to make lifting heavy items easy.
Controls and display
Considering the volume of gadgetry and informative systems encompassed within the CL63 AMG's cabin, the instrumentation and control layout is remarkably concise. Rotary controls on the centre divide eliminate the need for a button overload and the menu-based systems are easily navigated. Steering wheel controls also add to the functionality. The computer generated dials and displays are crystal clear and highly communicative. For non-Mercedes drivers the single stalk layout may take some acclimatisation, however, and the myriad of functions and systems makes it worth scanning the manual to familiarise with the various warning symbols.
Comfort
The AMG models naturally feature a firmer ride, but the adaptive suspension and large platform manage the road surface effectively to offer a relaxed and comfortable ride. This transfers well to the cabin where there's a peaceful ambience even with the ferocious V8 burbling in the distance. The AMG sports seats are cosseting and highly adjustable in the front and luxurious provision in terms of climate control and electronic gadgetry such as voice control and automated lights and wipers means the car does the hard work for the occupants in nearly every area. The stop-start is refined, smooth and speedy in its operation.
Car security
You get the full-house alarm and immobiliser treatment with the CL, which is nothing less than you'd expect given the car's value. An added bonus is the option of Keyless Go, a feature that allows you to leave the key on your person, walk up to the car, get in and go without any fumbling.
Car safety
A generous array of airbags is present and advanced traction and stability aids keep the power in check where required. Of greater interest are the advanced systems including the Pre Safe package that ensures that occupants are restrained in advance of an impact. Also, as part of the car's active cruise control, the CL63 AMG will detect a decelerating car in front and apply measured braking power in a bid to reduce the chance of an impact. Equally impressive is a driver monitoring system that can detect signs of weariness and Blind Spot Assist function and the excellent Lane Keeping Assist, which gently steers the car back on track should it wander between lanes. Finally, and crucially, phenomenal braking is delivered through the right foot.
Driver appeal
The CL boasts something of a Jekyll and Hyde character with its ability to perform as a refined and sedate cruiser one moment and an accomplished sports car the next. With more than 530bhp available from the twin-turbocharged V8 it comes as no surprise that acceleration is startling both from rest and in gear, and the CL63 AMG demonstrates roadholding and cornering prowess that belies the vehicle's considerable size, aided by a Direct-Steer system and Torque Vectoring that brakes the inside rear wheel to enhance cornering ability. The AMG Speedshift MCT seven-speed automatic gearbox is responsive to input through the gear change paddles but proves perfectly relaxed and tractable at town or cruising speed. Three shift settings increase or blunt ferocity.
Family car appeal
It's got a big boot, making it attractive at first glance, but rear seat access is modest despite the car's size. Although a possible candidate if you have a very young family, when they start to grow you'll struggle to accommodate them in the back. And if nothing else, the CL63 AMG's cabin is too plush as you'll risk soiling the upmarket interior.
First car appeal
Only a very luck few will be in a position to consider the CL63 AMG as a first car - even then the model's power and performance would not necessarily make it a smart choice.
Quality and image
As solidly built as anything from the manufacturer's over-engineering glory-days, the CL63 AMG should inspire the utmost confidence in customers. In terms of image, car fans will instantly recognise the AMG badges as requiring plenty of respect. The CL is reasonably exclusive model, adding to the kerb appeal.
Accessibility
The benefits of being a large coupe are obvious: the car's two doors open wide for easy access. This coupled with the airy cabin make getting comfortable easy. It also means that few people will have problems getting in or out, especially when the electrically adjusted steering column moves out of the way with the ignition off. Remote access for the boot comes via the keyfob, which can also be specified to act as Mercedes' Keyless Go system. Simply keep the key in your pocket and the car unlocks automatically.
Stereo and ICE (In car entertainment)
The CL63 AMG model is exhaustively equipped in terms of entertainment and office functionality. A top quality sound system is almost as pleasing on the ear as the V8 soundtrack, a six-CD changer, 7.2GB hard drive, SD card reader and iPod compatibility are all included with the Comand multimedia system. Voice control is standard and works extremely well, Bluetooth is also supplied although a harness can be hardwired for a specific phone model. 3D mapping is present on the sat-nav and multimedia system's crystal clear eight-inch screen.
Colours and trim
Silvers and greys dominate the palette of available exterior colour choices, but with the aggressive AMG bodykit the CL-Class benefits from bolder choices such as white or very dark shades. Leather is naturally standard inside, and CL63 AMG customers can opt for different types of wood inside although the standard dark wood and aluminium finish is exemplary.
Parking
Although a large and unconventionally proportioned car, the CL63 AMG's parking sensors employ a range of techniques to make parking simple. Advanced parking guidance uses visual and audible steering guidance and measures parking spaces to assess suitability. Information is displayed on the large screen and variable rate power steering helps make light work of tight spaces.
Spare wheel
Spare wheel located in boot.
Range information
Petrol engines: 5.0-litre (429bhp); 5.5-litre (536bhp); 6.0-litre (621bhp). Transmission options: seven-speed automatic gearbox with sequential manual override, five-speed automatic gearbox with sequential manual override. Trim levels: CL, CL AMG, extensive options list available.
Alternative cars
BMW M6 Less expensive but high performance and technically advanced
Bentley Continental GT Luxurious and powerful coupe with desirable badge
Porsche 911 Turbo Less GT, more sports coupe, but astonishing performance
Aston Martin DB9 Extremely glamorous GT with huge brand appeal