March 2007
Mercedes-Benz CL-Class CL 500
Imposing CL is more than just a two-door S-Class
March 2007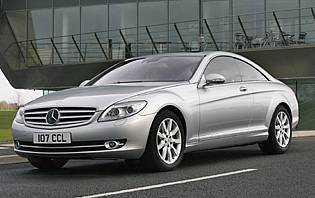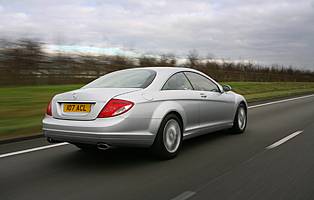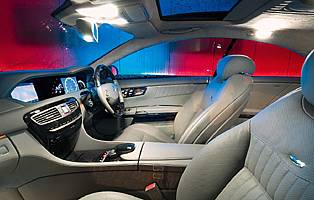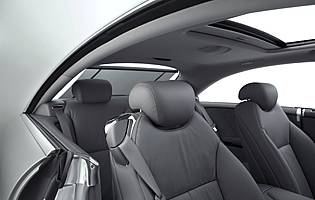 Overall rating

Likes:
High levels of overall refinement
Reassuringly comprehensive suite of active and passive safety equipment
Base CL 500 is a pleasingly competent all-rounder
High performance CL 63 AMG is huge fun to drive
Gripes:
CL 600 can prove unruly in wet conditions - a lot of power is being channelled through its rear wheels
Rear seat access is modest
Critics might say the S-Class influenced interior lacks imagination on such a pricey car
Lacks the traditional exclusive feel experienced by owners of lower volume cars from Bentley and Aston Martin
For some, cars from the likes of Aston Martin, Porsche and Bentley simply don't appeal. Such cars are too flash, brash and attract the wrong kind of attention. The same people are more likely to choose something from Mercedes - often perceived as the purveyor of more discreet luxury cars. The CL-Class model is the perfect example of this theory. It might not shout excess to the passer-by, but it offers luxury, refinement, performance and technical advances to trounce many of its rivals.
Once an ungainly looking car, this generation of CL boasts a more elegant exterior and borrows heavily from the S-Class for its interior layout. The former observation is important as this is not a cheap car, nor is it a small one, meaning it does stand out on the road. Thankfully its looks match its refined character. On the inside the cabin is beautifully appointed - so long as you avoid the light coloured wood trim options.
As well as being elegant, this CL is a powerful car. Petrol engines dominate the range - if you can afford to spend almost six figures on a Mercedes you're unlikely to quibble about fuel consumption. The 'entry-level' car is the CL 500, powered by a 388 horspeower V8 motor. In reality it's more than adequate, but that fact won't stop some people from considering the CL 600 with its bi-turbo, 517 horspower V12. Then there's the performance flagship, the CL 63 AMG with its 525 horsepower, AMG tuned V8 engine.
Already noted, the CL 500 is more than enough: it cruises effortlessly, sprints from standstill to silly speeds much quicker than its size suggests and is always quiet. The CL 600 is more powerful but, frustratingly, demands more restraint and can give the ESP system a serious workout in damp conditions. It also comes with only a five-speed auto gearbox thanks to the engine's considerable torque output, whereas the other cars receive Mercedes's acclaimed seven-speed unit.
If you seek high performance thrills, the CL 63 AMG is the one to consider. The V8 engine's power delivery is more predictable than the 600's V12, and it sound nice too; the deep bellow you hear during acceleration is addictive. And the car handles in a more confindent manner under all conditions thanks to its specially tuned sports suspension set-up.
Our verdict on the Mercedes-Benz CL-Class CL 500
It might look like a two-door S-Class from a distance, but the CL is more than that. While it might lack the bespoke-like touches you get with something from Aston Martin or Bentley, you do get top notch engineering, an impressive suite of safety features, better cabin ergonomics and a wider array of standard and optional creature comforts. With reliability said to be much improved over recent years, you can now confidently waft or sprint around in supreme comfort and without feeling like every other road user is looking at you in the way they would a Bentley driver - and that's not always a good thing.
Costs
Make no mistake, the CL is an expensive car to own. After the Initial purchase price, fuel will be the biggest day-to-day expense. Servicing, although infrequent, will be priced according to the car's status and complexity, as will the insurance premium.
Space and practicality
You won't have to worry about space if you're a front seat occupant in the CL - there's plenty of it. Rear seat passengers don't fare so well, although it's never implied that this car is a full four-seater for all the family. There are plenty of clever touches in the cabin and storage space is reasonable. The car's boot is another plus point. It will easily swallow the golf clubs, and the load lip is low enough to make lifting heavy items easy.
Controls and display
With so much to pack in, it's inevitable that the CL boasts twin displays like its S-Class relative. Far from annoying, it takes only a few moments to get used to the potential information overload. The main dials - cleverly computer generated - are crisp and clear. This display is also home to the trip and computer multifunction display - controlled by steering wheel mounted buttons. The other, colour, display is the main one for the audio, ventilation and sat-nav functions. The latter in particular is impressive: clear map graphics and the ability to play DVD films sets this display out from most rival applications. Backing it all up is a cluster of intelligently laid out buttons on the centre console plus an easy to use rotary controller similar to that of Audi's MMI system.
Comfort
In the real world the CL's rear seats are of limited use, although children will have no problem getting comfortable. What's important is the welfare of the front seat occupants. As you would expect, they won't have to slum it. Big, wide, comfortable seats help make journeys pleasant. Head, leg and elbowroom is more than adequate, while outside noise levels are kept to a impressive minimum.
Car security
You get the full-house alarm and immobiliser treatment with the CL, which is nothing less than you'd expect given the car's value. An added bonus is the option of Keyless Go, a feature that allows you to leave the key on your person, walk up to the car, get in a go without any fumbling.
Car safety
All the usual systems are in place: numerous airbags and traction and stability aids. Mercedes's clever Pre Safe package ensures that occupants are restrained in advance of an impact. Also, as part of the car's active cruise control, it will detect a decelerating car in front and apply measured braking power in a bid to reduce the chance of a impact.
Driver appeal
The combination of rear-wheel drive, clever air suspension and powerful engines makes the CL a surprisingly entertaining car to drive. The choice of V8, bi-turbo V12 and an AMG-tuned V8 petrol units befits the car's elevated status. Realistically the V8 is more than enough, while the V12 can become a little unruly in wet conditions - wheelspin is easy to provoke despite the presence of numerous electronic stability aids. The AMG unit sounds fantastic - more Nascar bellow than Mercedes hush - and is the better performance option. Ride quality is good, well damped and copes well with rough surfaces. Only the steering's lack of feel can prove unsettling on twisty roads. Elsewhere the CL is the consummate cruiser, albeit a swift, luxurious one.
Family car appeal
It's got a big boot, making it attractive at first glance, but rear seat access is modest despite the car's size. Although a possible candidate if you have a very young family, when they start to grow you'll struggle to accommodate them in the back. And if nothing else, the CL's cabin is too plush as you'll risk soiling the upmarket interior.
First car appeal
An unlikely candidate, the CL is very expensive to run let alone purchase. A powerful car even in CL 500 guise, a novice driver - whatever their age - could easily be overwhelmed and do something silly. There are better alternatives in the Mercedes range than the CL.
Quality and image
Historically a more exclusive car than the popular S-Class, the CL appeals to a different type of buyer. An understated ambience is obvious from all corners of the car, and this is something that drivers like in preference to more outgoing offerings from the likes of Aston Martin and Bentley. Having received a lot of criticism in recent years, quality is noticeable much improved in this CL. Cabin materials feel suitably luxurious, while Mercedes management are constantly claiming considerable advances in reliability.
Accessibility
The benefits of being a large coupe are obvious: the car's two doors open wide for easy access. This coupled with the airy cabin make getting comfortable easy. It also means that few people will have problems getting in or out, especially when the electrically adjusted steering column moves out of the way with the ignition off. Remote access for the boot comes via the keyfob, which can also be specified to act as Mercedes's Keyless Go system. Simply keep the key in your pocket and the car unlocks automatically. Starting is via a button beside the steering column.
Stereo and ICE (In car entertainment)
As you would expect, the CL is well equipped. Most attention will be drawn to the car's central display, which contains sat-nav and audio information. Sound quality is impressive, while the disc changer reads DVDs, allowing films to be played when the car isn't moving. Voice activation is present, although the rotary controller in front of the central armrest is the main navigation tool. It works like BMW's iDrive, only better.
Colours and trim
Sober, dark colours work just as well as the lighter exterior shades offered by Mercedes. The latter will appeal more to younger, fashion conscious buyers. Inside, the CL is very much like the popular S-Class. Tasteful wood trim dominates, although darker treatments work better than lighter ones. Trim quality is impressive.
Parking
Although a big car, its parking sensors come in handy. Making full use of the main screen, a colour reversing camera is an added bonus. Of more use day-to-day, the car's variable rate power steering helps make light work of tight spaces.
Spare wheel
Spare wheel located in the car's boot
Range information
Petrol engines: 5.5-litre V8 (388hp); 5.5-litre V12 (517hp); 6.2-litre AMG V8 (525hp). Standard issue is a seven-speed automatic gearbox - V12 gets a five-speed auto. Trim levels are dependent on engine choice.
Alternative cars
BMW 6 Series Unusual looking BMW is a less expensive and should better please the keen driver
Bentley Continental GT Coupe Surprisingly affordable Bentley is good to drive and own but more numerous than aficionados would like
Porsche 911 Smaller and less cosseting, the 911 is a proper sports car
Aston Martin DB9 Glamorous and capable Aston is rapidly becoming a sought after alternative