December 2005
Mercedes-Benz C-Class Sports Coupe C 220 CDI Sport Edition
Although the styling is familiar from the front, the Sports Coupe is aimed at younger buyers
December 2005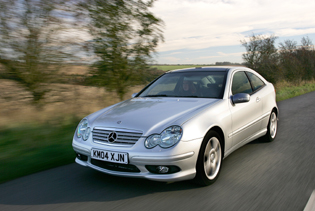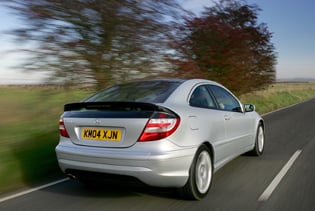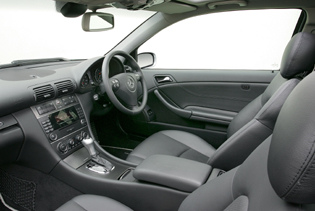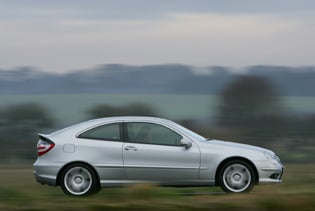 Overall rating

Likes:
Stylish exterior gives the car plenty of kerb appeal
Front seat occupants aren't short of space
Torquey diesel engines give the car a decent turn of speed
Hatchback bodystyle is practical
Gripes:
Access to the rear seats isn't very good
Although solid performers, the diesel engines aren't very quiet
Optional auto gearbox is an essential item and its absence can influence residual value
Safety provision is high but at the expense of some key comfort items that should be standard fit
There's more to the premium hatchback market than Volkswagen' Golf. While the VW might has been steadily moving upmarket in recent years, Mercedes' C-Class Sports Coupe trumps the Volkswagen in terms of class, breeding and badge appeal.
Cynics often dismiss the C-Class Sports Coupe because it's not a proper Mercedes. They think that, because it's small and cheap, it's not worthy to carry the three-pointed star badge. Given the rise in ownership of premium hatchbacks and interest in the baby Merc in recent years, nobody's obviously listening.
And with good reason: the humble hatch is just that, humble. The Ford Focus is everywhere, and for people with money to spend but no interest in traditional compact executive saloons, the premium hatch is often the answer.
And with good reason: the humble hatch is just that, humble. The Ford Focus is everywhere, and for people with money to spend but no interest in traditional compact executive saloons, the premium hatch is often the answer.
While you won't be short of admiring looks, you do pay dear for the experience. There's no shortage of standard safety kit, but this is at the expense of some creature comforts. You'll find most of them in the options catalogue, but with a premium price to match.
Our verdict on the Mercedes-Benz C-Class Sports Coupe C 220 CDI Sport Edition
Sporting the front half (almost) of a C-Class saloon, there's no mistaking the resemblance to the rest of the Mercedes family. What makes the Sports Coupe attractive to younger buyers and those with no interested in conventional executive motors is the car's trendy-looking and practical rear hatch. Yes it is cramped in the back and it's not cheap, but the car is more cosseting and refined than some rivals.
Costs
Not a cheap car, the Sports Coupe makes the most of its Mercedes family ties and comes with a considerable asking price. You'll also need to tick a few extra boxes, as the creature comfort count is low. To offset all this expense it's worth getting a diesel variant. Being a premium car, be prepared for premium prices at the dealership. At least the Mercedes badge will mean decent residual values in the future.
Space and practicality
No problems with space up front - both occupants sit in the equivalent of a regular C-Class cabin, which is cosy rather than capacious but still an agreeable environment. Adults will find the rear accommodation uncomfortable for all bar the shortest of journeys, though. At the back, the car's boot is of a decent size and, being a hatchback, what's offered is a versatile space that would shame a conventional sports car.
Controls and display
Existing Mercedes owners will find the car's instruments and controls familiar. The main dials boast a jazzy surround, but that's really the extent of the changes. The oversize, single column stalk makes sense once you're used to it, while the car's comprehensive trip computer is one of the best around. The standard stereo controls are easier to fathom than the costly COMAND unit's, and the foot operated parking brake will prove awkward unless you opt for an auto gearbox.
Comfort
Consider the car as a two-seater with room for children in the back and it starts to make more sense. As such, front seat occupants will feel at home in the cosy cabin. The seats - both regular and sports - are supportive, while there's reasonable head and legroom. For the record, rear legroom is not great although headroom is adequate for average height adults. Wind and road noise is well suppressed but it's all too easy to hear the diesel engine when driving around town.
Car security
Anything with a Mercedes badge on the bonnet is desirable in the eyes of a thief, so it's good to see an alarm and immobiliser along with remote central locking. If you really value your purchase, an aftermarket tracking device will be a worthwhile investment.
Car safety
If you're wondering why there's not a lot of comfort-orientated standard kit, this is where the money has been spent. Twin front, side and window airbags are standard on the Sports Coupe, along with anti-lock brakes, ESP and electronic skid control. You also get a first aid kit, while despite its modest size the rear gets two, three point seatbelts and a pair of headrests.
Driver appeal
Although not set up to be as sporty as a BMW, the rear-drive Sports Coupe acquits itself well when pointed towards a challenging B-road. Heavy around town, the car's steering becomes more communicative at higher speeds, and the ride is generally firm but not uncomfortably so. Purists will no doubt opt for a petrol engine, but it's worth considering a diesel for superior low down pulling power. And an auto gearbox is pretty much essential, as you'll struggle with the foot-operated parking brake.
Family car appeal
It's unlikely anyone would buy this car with a view to transporting a family. In truth it would struggle, mainly because rear seat access is not great and there are better cars around. As an occasional people mover the Sports Coupe will deliver, but be aware of its limitations before being too critical.
First car appeal
In theory the Sports Coupe is a reasonable proposition: it's compact and easy to drive. The downsides include its price (considerable) and the fact that some mainstream cars are better equipped as standard. But if you've got the cash there's not much like the baby Mercedes on the market.
Quality and image
The Sports Coupe isn't alone in the premium hatch market but it is one of the prettiest. And with style a large reason why these cars are purchased, this counts heavily in the baby Merc's favour and is one reason why some people are prepared to pay a lot for not a lot of car. Quality-wise Mercedes has improved its game of late after taking its eye off the ball. While not perfect, the Sports Coupe's interior is a huge leap over those from the late nineties.
Accessibility
With two large doors, access and egress for front seat occupants is straightforward. The seating position is on the low side, though. Rear seat occupants don't fare well, and even with the front seats folded forward you'll need to be small and agile to get in - the situation is even worse when getting out. Thank goodness the car's rear hatch opens nice and wide with little effort.
Stereo and ICE (In car entertainment)
The standard radio and single CD player is a decent unit, although the display can be difficult to read in direct sunlight. Thankfully a basic readout is available through the car's trip computer display. Overall, it is easy to operate and the steering wheel mounted controls make life even easier. Upgrades include a separate CD changer and two types of sat-nav. The first is a little basic, but the other is Mercedes' familiar, full colour COMAND unit. Its controls are a little fiddly, but the system is fast and can be used with a mobile phone.
Colours and trim
The Sports Coupe looks classy in pretty much any colour offered. Bright hues add a youthful slant while darker ones - especially black - add a more premium look. Inside it's largely a dark cabin, although chrome and silver accents can be chosen and there's always the optional leather upholstery to help lift the cabin ambience.
Parking
A short car, the C-Class Sports Coupe is not difficult to park. However, the car's power steering is on the heavy side and the view through the rear screen is reduced thanks to the fancy rear spoiler. At least the car's rear view mirrors are a good size and parking sensors appear on the options list.
Spare wheel
Space saver fitted as standard.
Range information
Petrol engines: C160 (1.8 122bhp); C180 Kompressor (1.8 143bhp); C200 Kompressor (1.8 163bhp); C230 (2.5 204bhp); C350 (3.5 272bhp). Diesel engines: C200 CDI (2.2 122bhp); C220 CDI (2.2 150bhp). Six-speed manual gearbox fitted across the range except for C350, which gets a seven-speed auto unit. A Five-speed auto is optional for all other variants. Although C32o and C350 are badged SE, there are no trim levels but upgrade packs offered to raise a car's base specification: Evolution Panorama, Evolution Panorama AMG and Sport Edition.
Alternative cars
Audi A3 Premium Audi hatch is good to drive but, like the Mercedes, can be expensive
BMW 1 Series Styling won't appeal to everyone and cabin is small, but huge fun to drive
Mini Cooper S Quick Mini is a fun steer, more a fashion item than a car and lacks a spacious cabin
Volkswagen Golf Latest generation car has gone upmarket, although quality is lacking