March 2008
Mercedes-Benz C-Class Estate C180 Kompressor Elegance
The C-Class Elegance model sticks with a traditional look
March 2008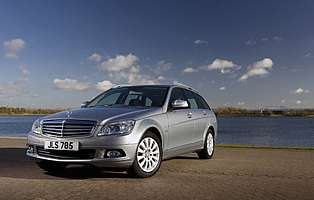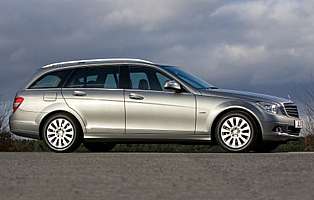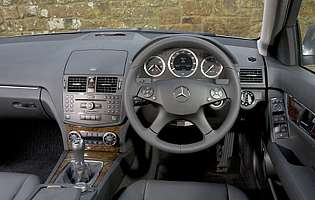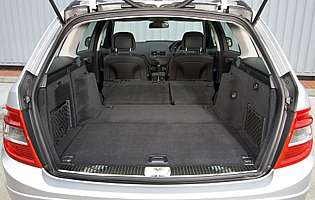 Overall rating

Likes:
Bolder styling puts previous car in the shade
Generous load carrying capacity
Good selection of safety features
Entry-level petrol engine impressive despite its modest power rating
Gripes:
Interior feels and looks too conservative
Rear seats don't fold completely flat
The large side mirrors, handy for towing, but cause a blindspot by the A-pillars
Confusing mix of model variants and options
The C-Class range has been revised in an effort to appeal to a wider customer base. It sports a look featuring more aggressive styling and it now has one of the largest load compartments in the segment. There are a number of engines to choose from and following a re-working, boast improved power output and fuel economy.
Based on the saloon the estate follows in its tracks by sharing the same sharp looks at the front and specifications. Buyers can choose from the SE or Elegance models, with a proper grille and star on top of the bonnet, or the Sport model which has a coupe-like grille mounted star and a stiffer suspension.
The car's rear end has been re-designed with steeper D-pillars to increase the load space from 470 to 485 litres and with the rear seats folded back this extends to 1,500 litres. The optional Easy-Pack load system adds a number of features including adjustable bars, dividers and additional load-securing rings enabling drivers to partition the load compartment as they desire and store objects securely.
All models benefit from a new rear suspension system called Agility Control that automatically adjusts the shock absorbers to suit road conditions or the driving style. Generally designed to maximise ride comfort the firmer damping kicks in when activated to provide greater stability and a sportier response. Overall the system provides a fine balance between poise and comfort.
Customers who select Sport models have an additional option of a dynamic handling package, which adds shock absorbers regulated by variable electronic control plus an even quicker steering rack and sharper throttle response. In both versions, the estate is more responsive in the steering and overall the handling and ride quality is decent. Road holding has improved and the estate manages to deliver an impressively flat ride whether accelerating, braking or cornering.
Our verdict on the Mercedes-Benz C-Class Estate C180 Kompressor Elegance
Although the new estate is a marked improvement over its predecessor, in terms of fuel economy plus driving and handling characteristics, Mercedes-Benz has decided to play it safe and stick to what's worked for them in the past. The firm desperately needs to attract a younger market, without losing loyal customers, but the underlying impression is of a car that's still conservative with a capital C.
Costs
It's priced high but that's nothing new since most Mercedes-Benz cars are expensive to buy. The good news it that they tend to retain their value well and running costs have been improved, thanks to an increase in fuel economy across the range.
Space and practicality
The longer and wider body of this generation C-Class means more space for occupants inside and passengers now sit slightly higher than before. Overall the C-Class Estate has more load space than its main rivals, no matter what configuration the seats are in. However it's a real shame that it doesn't have a completely flat load floor. Nonetheless it has a maximum permissible payload of 605kg, along with a maximum braked towing capacity of 1,800kg giving it the muscle to turn it into a decent workhorse when required.
Controls and display
A rotary knob positioned on the centre console allows the driver to access the colour display screen and scroll through the on-screen options for audio, telephone or satellite navigation if fitted. The advantage of using this system is that it reduces clutter in the cabin, however it's quite fiddly and time consuming to use and navigate. It also means that drivers may find themselves looking at the screen and not the road when driving.
Comfort
A new seat design has been used to provide greater levels of comfort for long distances, essentially it features more padding on the outer edges while the inner areas of the seat cushion and back are softer. The ability to adjust the height and backrest angles of the seat, as well as fore and aft, makes it easy to find the optimum driving position. There's plenty of room for passengers but the transmission tunnel compromises legroom in the rear.
Car security
The mounted star on the bonnet can sometimes cause some unwanted attention and some have fallen prey to thieves in the past. With this in mind, it's worth making the most of the cabin's storage compartments and the luggage cover in the rear to try and deter burglars as much as possible. Deadlocks are also fitted as standard.
Car safety
The excellent and intelligent Pre-Safe system, standard on all models, prepares the car and its occupants for a possible collision based on a number of factors such as emergency braking or if it detects a danger of skidding. Added with a comprehensive list of safety equipment, such as brake assist and seven airbags including full-length curtain bags, the C-Class has performed well during safety tests and can be described as one of the safest estates on the road.
Driver appeal
Both versions of the C-Class can be had with an automatically adjusting suspension that reacts to the road conditions or the driver's style of driving. The setup of the Sport models, with the lowered suspension, stiffer settings and more direct steering means that the drive is precise and more fun than those set up towards comfort, although the ride is more supple and cosseting. The C-Class does its job competently but there are few thrills to be had when behind the wheel.
Family car appeal
This car should be near the top of a list for the family that wants a classy drive, with guaranteed quality and refinement and a spacious load lugger to boot. Thanks to its increased dimensions it will comfortably swallow a family of five and still provide plenty of space in the boot for all their possessions. The improved suspension and road-holding should also allay car-sickness concerns for youngsters.
First car appeal
Despite offering a smooth ride with predictable handling characteristics, the C-Class estate does not make for an ideal first car. Smaller cars, such as the A-Class, are considered to be better options for beginners while the starting price for the entry-level C-Class wagon is expensive for a first car. Add to this the insurance and running costs, and first time buyers on an average budget would struggle financially.
Quality and image
Mercedes has always enjoyed a well-deserved reputation for building high quality cars and the estate is no different. However, the firm's tendency to stick with what's safe and conventional means that it has not responded particularly well to consumers' changing tastes and demands. Consequently its image has started to suffer and the brand is known for being conservative.
Accessibility
The car's wide tailgate opening is particularly useful for loading and as it is fairly low to the floor. This means moving objects in and out need not be back breaking work. An Easy-Pack option, which adds an automatic powered tailgate that opens or closes via the touch of a button, is especially useful for keeping hands clean. All four passenger doors open nice and wide making it one of the most accessible estates on the market.
Stereo and ICE (In car entertainment)
Mercedes-Benz is eager to continue its success among fleet buyers so it comes as no surprise that Bluetooth comes as standard across the range. Three entertainment systems were developed for the C-Class, and all feature an easy to use keypad. The Audio 50 APS system adds pan-European DVD navigation, while the Comand multimedia system adds a hard disk storage option. A high-resolution map appears on a tilting colour display and can be viewed from different perspectives.
Colours and trim
Unsurprisingly, the bolder and brighter colours such as brilliant red, suit the sharper styled looks of the Sport better than the traditional design of the SE and Elegance models - although metallic hues suit both body equally as well. Inside, the cabin is refined although rather conventional. Fit and finish is up to the usual high standards of Mercedes-Benz.
Parking
The large exterior mirrors offer better rear and side view visibility and are helpful when reversing. Similarly, the optional parameter speed-sensitive power steering gives great assistance to the driver at low speeds, making parking effortless. For added confidence, parking sensors are available.
Spare wheel
Space saver fitted as standard.
Range information
Petrol engine options - 1.8-litre (156bhp); 1.8-litre (184bhp); 2.5-litre (204bhp); 3.0-litre (231bhp); 3.5-litre (272bhp). Diesel engine options - 2.2-litre (136bhp); 2.2-litre (170bhp); 3.0-litre (224bhp). Transmission options: six-speed manual gearbox, seven-speed automatic transmission. Trim levels: SE, Elegance, Sport.
Alternative cars
Audi A4 Avant More quality but not quite as practical as the C-Class
BMW 3-Series Touring Fantastic to drive but not enough headroom for rear passengers
Jaguar X-Type Handsome to look at but not so fun to drive
Subaru Legacy Sports Tourer Comfortable and well equipped, cabin could be better quality; keen drivers will like it