August 2011
Mercedes-Benz C-Class C63 AMG Saloon
Bulging bonnet and muscular stance are key AMG trademarks
August 2011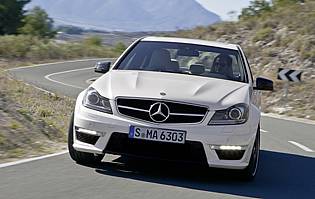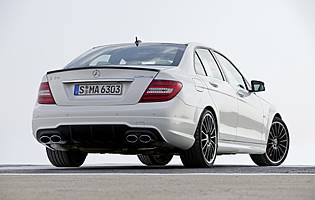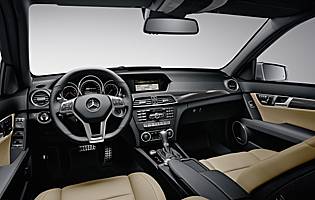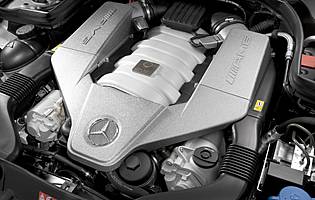 Overall rating

Likes:
The big V8 engine delivers an impressive performance, from the drive to the noise
Leather trimmed cabin creates a high quality feel
Stable ride even at motorway speeds
Four gearbox settings help match your mood and driving style
Gripes:
Traditional spare wheel replaced by can of liquid sealant
Ride can be too firm over bumpy urban streets
Road and wind noise can prove distracting over long distances
Real-world fuel economy unlikely to top 20mpg
The C63 is the performance flagship of the C-Class range, with a 6.2-litre V8 engine, specially tuned suspension and more muscular styling. It's as dramatic to look at as it is to drive, and in terms of performance it's as far removed from a standard C-Class as a modern fighter jet is from an old biplane.
This is one of the last of Mercedes' AMG cars to use the 6.2-litre engine as the company works towards reducing its emissions by downsizing and turbocharging. The older, more traditional engine is the heart of the car and the main source of its character; the roar and the surge of power as the rev counter needle spins towards 7,000rpm contribute to a enjoyable experience. The reserves of torque on offer make it a surprisingly relaxed drive, too.
The styling, revised for 2011, sees the C63 adopt the same more prominent face as the rest of the C-Class range with a larger badge and grille, and slightly different shape headlights. Overall, the AMG model isn't altered radically in any particular way compared to the standard C-Class, but the number of relatively small visual additions, upgrades and changes add up to a much more aggressive overall look.
No range-topping Mercedes would be complete without a generous helping of luxury, and the C63 doesn't disappoint. Its supportive leather sports seats are all-day comfy, although wider torsos might find them a bit of a squeeze, and with four different gearbox settings to match your driving style the C63 can be as docile or as ferocious as you like. The dash and doors are covered with stitched leather, and the overall impression is one of a premium product.
The performance capabilities of the C63 don't affect the space available inside. Four adults can sit comfortably, and the lack of a spare wheel means that there's an extra compartment under the main boot floor - handy for longer trips away. At motorway speeds there is road noise from the low profile tyres, particularly over bumps. The ride is firm but the suspension is well-damped, which enhances the sporty feel but might discourage long-distance drivers.
Our verdict on the Mercedes-Benz C-Class C63 AMG Saloon
The C63 AMG is a capable all-rounder with a lot more emphasis than usual on power and performance. It's designed primarily to be a rewarding car to drive, while maintaining the Mercedes ideals of safety, practicality and luxury. It ticks every box for buyers looking for a fast compact saloon, and while some might think it's compromised as a long-distance cruiser, that's unlikely to put too many would-be owners off.
Costs
Mercedes claim 23.5mpg for the C63, but this will be driving a mixture of roads very carefully. The real world figure is likely to be no more than 20mpg, which means a 66-litre tank of super unleaded won't get you all that far. However, some of its rivals are considerably more expensive to buy and aren't any more economical, so the C63 is relatively good value in real terms.
Space and practicality
As it's based on the C-Class saloon, the C63 is no less practical. The leather seats need careful treatment to keep them looking their best. There is ample room for four adults and the boot is a generous size too, thanks to extra space created by the lack of a spare wheel.
Controls and display
Some people love Mercedes' COMAND control system while others don't as navigating its many functions can be something of an acquired taste. The display screen, however, is clear and easy to read. The traditional dials for speed, engine revs, fuel and temperature are clear, but there is sometimes too much information on the central digital screen within the speedometer, making it harder to read.
Comfort
Thanks to supportive leather seats, the C63 is comfortable on smooth roads and even through brisk cornering. It falls down a little over rougher surfaces and motorways though, where its low profile tyres contribute to a relatively noisy ride and its firm suspension can cause it to thump over bumps.
Car security
The basic security features are covered, with an alarm and immobiliser with interior protection, locking wheel bolts and deadlocks on the central locking, but that's all that Mercedes choose to list. For added peace of mind you might want to consider a tracking system. Given the car's value it might also be a condition of some insurance policies.
Car safety
Traditionally a Mercedes strong suit, the C63 doesn't disappoint. From the mechanical elements including powerful AMG brakes and six airbags, to the electronic, such as a Pre-Safe anticipatory safety system, a tyre pressure warning system, ESP (Electronic Stability Programme) and much more, courtesy of a long list of options.
Driver appeal
One of the C63's key attributes is the amount of power and torque its engine can deliver. The rush of acceleration and the noise that comes with it are a big pull for drivers. Its muscle at low revs helps push the car out of slow corners in a truly addictive way, and although it's not the finest handling car of its type, it's one of the most fun.
Family car appeal
For one- and two-child families the C63 would be perfectly fine, as long as the parents didn't need to carry too much in the way of large accessories like pushchairs. For three or more children or carrying lots of child-related paraphernalia, it would be a better idea to go for the C63 estate, with its larger boot and easier access.
First car appeal
It's extremely unlikely that any young or inexperienced driver would be able to obtain insurance on a car as expensive and powerful as this. Even if they could, such a car would likely be a lesson in restraint in the hands of a novice.
Quality and image
Mercedes strives to make sure that quality is second to none, and in the more expensive models like the C63 its efforts shine through. Inside, the leather, which covers almost everything above the carpets, is some of the finest available in a car and the general fit and finish is nothing short of exemplary.
Accessibility
This four-door version is a great mix of practicality and style. The shorter doors in relation to the coupe variant make it easier to get in and out of in tight parking spaces, yet they open wide enough to allow the vast majority of people to get in and out with minimal effort. The boot aperture is also large enough to get most bags in and out of easily.
Stereo and ICE (In car entertainment)
The standard audio unit is a 12-speaker Harman Kardon setup. It's powerful and suits modern music well, but lacks the finesse for older, more subtle recordings. Mercedes' COMAND system controls navigation of the sat nav and other systems, while there is an SD card slot, a 10GB music memory and an Internet browser built in. Cables are included for connecting MP3 players including iPods.
Colours and trim
You can either stick with the standard metallic silver or pay extra for the optional metallic Diamond White. The white suits the car particularly well, but be warned that specifying black wheels to go with it isn't necessarily a good move. Black leather and brushed aluminium trim are standard, but the interior can be customised at extra cost if you wish.
Parking
With the optional reversing camera, the slightly restricted rear visibility isn't an issue. The left-hand wing mirror automatically angles itself downwards when reverse gear is engaged, to make parallel parking easier. There are parking sensors front and rear to give you an audible warning when you're too close to an obstacle.
Spare wheel
Tyre repair kit in lieu of spare wheel.
Range information
Petrol engine options - 1.8-litre (154bhp, 201bhp); 3.5-litre (302bhp); 6.2-litre (451bhp). Diesel engine options - 2.1-litre (134bhp, 168bhp, 201bhp); 3.0-litre (261bhp). Transmission options: 6-speed manual or 7-speed auto, plus sports 7-speed auto (6.2-litre petrol only). Trim levels: SE, Elegance, Sport, AMG (6.2-litre petrol only).
Alternative cars
BMW M3 Better handling but less power, the M3 is the keen driver's choice
Audi RS5 Four-wheel-drive offers superior traction, but the RS5 is less fun
Lexus IS F Powerful, fast and refined, the IS F is an excellent all-rounder
Jaguar XFR The British alternative; supercharged V8 gives plenty of punch