Car Buyers Guide
Mercedes-Benz C-Class C220 CDI Elegance Saloon
May 2004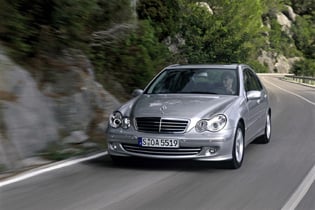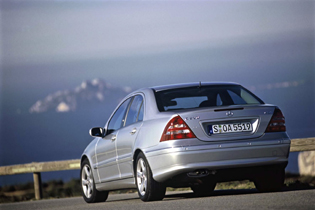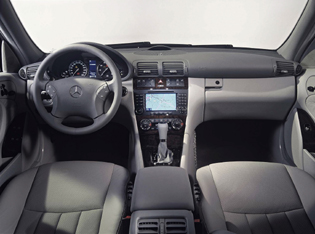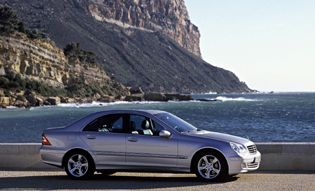 Overall rating

Likes:
Revised manual gearbox is a huge improvement over the old unit
Overall styling is less 'in-your-face' than a 3 Series and more mature-looking
Refined at speed, the C-Class is an excellent motorway cruiser
C220 CDI diesel delivers good balance of power and economy
Gripes:
Mercedes still persists with a foot-operated parking brake
Although adequate, rear legroom could be better
Despite revisions, still too many trim and equipment permutations on offer
Quality of interior plastics could be better
Mercedes has never been the first choice of the enthusiastic driver. Refined, yes; prestigious, yes; but never a brand to serve up a rewarding driving experience in the same way a BMW can. With a revised C-Class, Mercedes' aim is to prove that it can make its compact executive more involving and appealing.

Mercedes might be more famous for its big, luxurious limousines, but the firm's compact executive C-Class has been a stalwart of the range for a long time. The 'baby Benz' as it has come to be known, is an important model for the German car maker, and has been duelling with BMW's equally famous 3 Series for as long as anyone can remember.

In the past, comparing the two cars was been a fruitless exercise; the C-Class possessed a more refined, laid-back personality to the 3 Series' go-getting, sporty demeanour. Things have changed in the Mercedes camp, no doubt in part due to the admiration held for the 3 Series by its many fans, and the C-Class is now a more responsive and enjoyable car to drive. Less a mini S-Class in its behaviour - safe, dependable and reserved - the latest generation of Merc's compact exec boasts responsive steering, a keen ride and, most noteworthy of all, a decent manual gearbox.

It wasn't that long ago that no one in their right mind would buy a Merc with a manual 'box, so poor was the shift quality. The difference between old and new is like night and day, and helps to bolster the firm's claims that the car is a credible rival to the like of the aforementioned BMW plus Lexus' IS range and Audi's A4.

More sporty it may be, but there are some things about the C-Class that never change. Cabin room is modest at best - especially in the rear - and the oft-criticised foot operated parking brake remains. There are also question marks over the Mercedes' noticeable recent dip in quality, which is why some buyers may rue the insubstantial feeling of some switchgear and the only average impression of build quality given off by the feeble 'thunk' of the doors. It may be no Mercedes 190 in terms of perceived durability, but the current C-Class at least delivers a driving experience more in tune with its maker's performance aspirations.


Our verdict on the Mercedes-Benz C-Class C220 CDI Elegance Saloon
The C-Class has always been a popular car, just not one that would put a smile on your face if you decided to have some fun on your favourite country road. While it will never be able to compete head-on with BMW's 3 Series, the small Merc is now a much more enjoyable and focused car. And, if you want to save a few bob, it now comes with a surprisingly good manual gearbox.