Mercedes-Benz AMG GLC 43 Coupe
Big SUV handles well
May 2017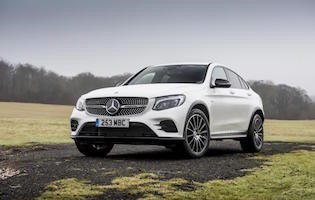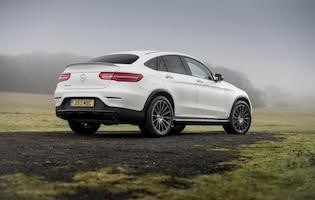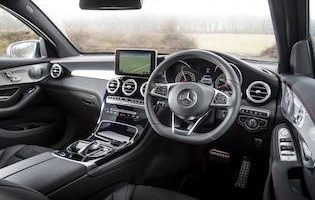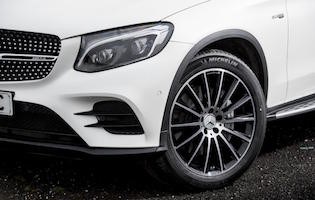 Overall rating

Likes:
Spacious cabin for front passengers
Lots of room in the boot
Handles well for a big SUV
Torquey and responsive engine that sounds great
Gripes:
It's imposing, but looks a bit ungainly on the road
Performance is impressive but not very exciting
Gearbox is rather sluggish and easily caught out in auto mode
Mercedes tuning with the suspension has made the ride too harsh
The Mercedes-AMG GLC 43 Coupe takes the German manufacturer's sporty-styled SUV and adds some go-faster ingredients in to the recipe. The idea is to position the car above the top-spec standard car but below the soon-to-be-released high-performance '63' version. It has a strong engine and a commanding driving position, but does lose some space at the rear because of the sloping roof.
Typically, AMG is best known for taking Mercedes models and fitting ballistic engines with incredible performance and a raucous soundtrack. But the tuning division also builds 'halfway house' models that are designed to offer a more upmarket, exclusive image with exciting performance – but without extortionate running costs.
It's powered by the 3.0-litre V6 that's available in 'AMG 43' models across Mercedes' range and is an extremely capable if characterless unit. Producing 362bhp it's hardly lacking in performance, but with about 1.8 tonnes to pull around it never feels frighteningly fast – though it's plenty fast enough for a car of this size.
The GLC Coupe sits in a niche occupied by not too many other vehicles, meaning it could appeal to both SUV and estate buyers – with compromises on both parts. It doesn't come with the space of the non-coupe GLC SUV, while it doesn't drive as well as an estate because it rides so high.
However, much of the GLC's appeal comes from the badge on the bonnet and the image it portrays. In that regard it's hugely successful as both the Mercedes and AMG badges command respect, while the high-riding, sporty styling means the GLC 43 never shrinks into the background.
Our verdict on the Mercedes-Benz AMG GLC 43 Coupe
All of the Mercedes-AMG GLC 43 Coupe's appeal comes from its 'image'. It doesn't drive as well as an estate and it doesn't have as much space as a 'proper' SUV. What it does have is a high, SUV driving position and a plush interior. For those looking for performance the engine is impressive, though it's somewhat marred by stiff suspension that doesn't do much to control the GLC's hefty weight.
---
Costs
Running costs aren't too bad for a heavy, performance-orientated SUV. However, fuel costs will hit hard unless you drive it with a gentle throttle everywhere – at which point you should probably think about getting the diesel instead.
All Mercedes are covered by a three-year unlimited mileage warranty against manufacturing defects, while the German manufacturer also covers the cover for 30 years against corrosion.
Space and practicality
There's two ways to look at the GLC 43 Coupe. If compared to a typical two-door saloon-based coupe, from which it borrows styling cues, then it is impressively capacious. However, compared to the non-Coupe GLC it's 200 litres down on boot space, meaning choosing the Coupe is a style over practicality decision.
If storage space is one of the most important aspects of your car buying decision, then sacrifice the style points and go for the full SUV version.
As for cabin space, the front passengers will find the same space found in the standard SUV, so there's plenty of room to move around and stash items. However, rear passengers will find that sloping roof encroaches on rear passenger headroom.
Controls and display
Mercedes' central display is an acquired taste. Protruding from the dashboard like an aftermarket tablet has been affixed to the dashboard, it looks a little out of place at first, but you do become accustomed to it quickly.
The central screen is quite unintuitive to use at first and simple functions can be painfully frustrating. But the screen is clear and nicely designed with an easy-to-follow satellite navigation system.
The instrument binnacle also features nicely designed dials, which chop and change the information displayed depending on which drive mode you're in.
Comfort
Aside from the firm suspension, which crashes through potholes and poor road surfaces rather than rides them out, there's plenty to be impressed about comfort-wise.
Although AMG has fiddled with the suspension to stiffen it up, in Comfort mode it is still relatively relaxing on all but the roughest of roads. It does float over larger bumps though, which can be a little unnerving at speed.
The seats are firm but comforting, and even on a two-hour motorway stint didn't leave us with any soreness.
Car security
The badge appeal of a Mercedes does make it a high-value target to criminals, but a Thatcham alarm and full automatic locking will make the GLC 43 Coupe tricky to get into.
Car safety
There are a number of assistance systems included as standard including active brake assist, headlamps assist, attention assist and ESP curve dynamic to help keep the driver in control.
Options include the Distronic Plus adaptive cruise control that can also adjust the steering to keep the car in lane.
Driver appeal
For keen drivers, the GLC 43 AMG is something of a mixed bag. On the one hand, that engine is brilliant. It's got plenty of torque low down, and with the help of the different 'drive modes' it sounds brilliant when the dial is switched to Sport.
It also handles pretty well in corners, despite its size, it's just let down by the general ride quality. AMG has tweaked the Coupe's suspension, but instead of improving handling it just makes the ride too firm.
We're not totally convinced that AMG's sporting improvements make the markedly better than the standard variants. If performance is what you're after, wait for the 63 model, otherwise you're better off with a standard diesel model and its lower running costs.
Family car appeal
There's plenty of family appeal with the GLC 43 Coupe. Parents will love the front passenger space with plenty of cubby holes for the assorted items that come with having children, while the children in the rear won't be affected by the lower roof.
Boot space will probably suffice for all but the biggest families, but again, if practicality is important the Coupe suffers compared to its SUV sibling.
First car appeal
There is very little appeal for the GLC 43 Coupe as a first car. Its massive footprint would make it an intimidating vehicle for a new driver to take control of, while rear visibility is quite poor so placing it in traffic can be tricky.
It also comes with a powerful, thirsty engine and high insurance group, making running costs prohibitively expensive.
Quality and image
The Mercedes badge on the bonnet is a mighty appealing thing, and with the additional AMG badges that come with this model the brand appeal is even greater.
The interior feels well put together, though some of the materials used feel a little cheaper than you'd expect from an upmarket car. It knocks a little confidence as to whether it'd stand up to prolonged use.
Accessibility
Large doors and a high driving position making getting into and out of the GLC easy, even for those who have slight mobility issues. The seat sits around hip height, so there's little climbing or dropping into the seat.
The rear seats are a little more claustrophobic because of that sloping roof, while the large boot opening makes loading even bigger items easy.
Stereo and ICE (In car entertainment)
Mercedes' infotainment system has been in use across its range for years now, and while its design is extremely fiddly and frustrating to get used to, it does become easier and more intuitive to use.
The satellite navigation is clear and easy to use and smartphones connect quickly to the Bluetooth, so basic functions are impressive.
The optional Comand Online system adds a high-resolution 8.4-inch screen, while the optional Burmester surround system is a highlight – the sound quality is excellent.
Colours and trim
There's a wide variety of dark shades that give the GLC 43 AMG an air of sophistication. The Designo Hyacinth Red Metallic looks quite extrovert on such a large car, while the two different whites work well to offset against darker trim pieces such as the front grille and air intakes.
Remarkebly, the 19-inch alloy wheels look tiny, so if image is important the larger 20-inch wheels are highly recommended. However, the smaller wheels mask some of the firmness of the suspension so making for a better driving experience.
Parking
Due to the sloped roof, the rear visibility in the GLC 43 isn't great. However, the reversing camera and bird's eye view that appear in the centre screen make getting into and out of tight spaces a breeze.
The car's large footprint does mean that multi-storey car parks can be tricky though, as even if you can get into a space between two cars there might not be room to open the doors.
Spare wheel
Emergency tyre repair kit supplied as standard.
Range information
Petrol engine options: 3.0-litre V6. Transmission options: nine-speed automatic. Trim levels: 43.
---
Alternative cars
BMW X6 Similar SUV size with coupe styling but rides much better.
Jaguar F-Pace One of the best-looking SUVs on the market and drives fantastically well.
Porsche Macan More driver-focused and oozes badge appeal.
Land Rover Discovery Sport For those looking for luxury and off-road capability.