July 2012
Mercedes-Benz A-Class A 250 Engineered by AMG
Stunning grill design is taken straight from concept drawings
July 2012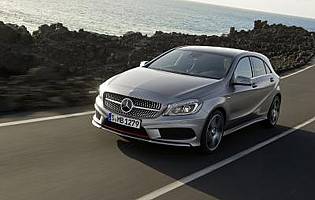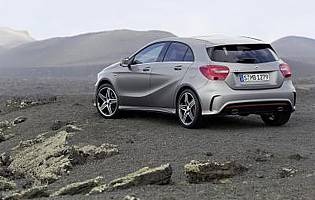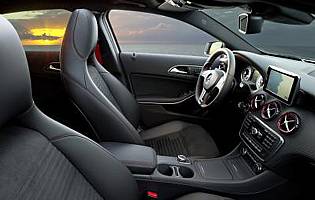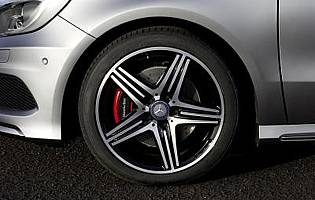 Overall rating

Likes:
Muscular, shapely lines and red details magnify desirability
Smooth and linear petrol engine is a good partner for the chassis
The interior feels more special than in the competition
Solid, stable handling offers secure road holding and lots of grip
Gripes:
Narrow boot aperture restricts practicality and easy of use
Poor rear visibility due to very thin rear windscreen and high shoulder line
Not as much driver enjoyment as certain alternatives
Central infotainment screen looks like a design afterthought
The A 250 Engineered by AMG is the flagship of the completely changed A-Class range, boasting much more visual impact than any other A-Class model and fitted with specially-developed chassis elements from AMG, Mercedes' performance wing. Its purpose is to shake up the compact luxury car market and tempt Audi A3 and BMW 1 Series buyers into the Mercedes brand.
This generation of the A-Class is completely different to the last one, because Mercedes realised that it was missing out on a significant portion of a market it could compete in, but wasn't. The new A-Class is lower, longer, wider and much sleeker, with a 'shooting brake' style silhouette. It aims to go toe-to-toe with the BMW and Audi alternatives.
It replaces the old car, which was a supermini-MPV cross, and which sold well but not as well as the cars Mercedes is now targeting. The Engineered by AMG trim level is designed to give keen drivers something different, with genuine performance parts and unusually bold red styling cues. At launch the one engine option is a four-cylinder turbocharged petrol.
Practicality is a secondary concern for a car aimed at making an impact and scoring points for desirability. There are some access restrictions to the boot in particular, but in the main the A-Class is a well-rounded package offering a good spread of attributes. The relatively powerful petrol engine in this model offers ample performance for the road.
Aside from red styling accents inside and out, other details present on the Engineered by AMG model include sports seats with more lateral support, special alloy wheels and a stunning new grill design taken directly from a previously-unveiled Mercedes concept car. It's a muscular-looking car with a good range of engines, although most offer too little performance.
Our verdict on the Mercedes-Benz A-Class A 250 Engineered by AMG
The A-Class, especially in Engineered by AMG trim, is much more visually adventurous than the competition. With solid handling from a stable chassis, high interior materials quality, a range of efficient, low-emission diesel engines and competitive prices, it has everything it needs to compete for and win sales in a tightly-fought marketplace. In general the engines could use more power, but the A-Class is convincing enough just as it is.
Costs
For a powerful 2.0-litre petrol engine the A 250's unit has remarkably low CO2 emissions and fuel consumption. It still posts the highest figures in the range at launch, and therefore may not be the model of choice for company car users, but it offers the most driving enjoyment while still benefiting from reasonable running costs. Residuals are predicted to be roughly in line with the competitors.
Space and practicality
Internal storage space is adequate for the class, but the door bins could and should be larger. The feeling of space is not helped for rear passengers by the enclosed bodywork. Things are better in the boot, which is deep enough to offer genuine load-carrying ability, but access to the boot is hindered by the rear light clusters, which reduce the boot aperture to a borderline impractical level for larger items and items in the boot corners.
Controls and display
To fit in with the overall theme of stylishness, the instrument cluster is a fine example of functional form. Coloured accents and modern, attractive illumination embody what the A 250 Engineered by AMG wants to stand for. The central screen; a standard feature, is not the most attractive and looks like an afterthought but it's large, sharp and clear, boosting its usability and prestige factor. The control arrangement is mostly normal for Mercedes and is easy to grasp.
Comfort
There are two suspension configurations in the A-Class range: comfort and sports. This model has the sports suspension and has a harder ride as a result, which could be a problem on poor British road surfaces. It does, however, help the car to corner with less body roll, even if it does come at the expense of increase vibration and harshness from the road. Road noise, and also wind noise around the A-pillars and door mirrors, is too noticeable.
Car security
Details of the A-Class's security kit had not been revealed at the time of writing, but will definitely include an alarm, an immobiliser and deadlocking. It's likely that a transponder in the key that communicates with the car will make it almost impossible to steal an A-Class without the real key, and privacy glass is also likely to be a standard feature on the more sports-styled models.
Car safety
Even the smallest Mercedes gets the full safety treatment, from a minimum of six airbags to collision warning systems, adaptive cruise control, blind spot warning and active headrests. One often-overlooked factor is the tyre width on the A 250 Engineered by AMG, which gives more grip and better braking performance under normal conditions. Stability control and ABS are part of a comprehensive electronic safety package to assist if the tyres begin to lose traction.
Driver appeal
This model is the only one with real appeal to drivers, in that its 208bhp makes it more than quick enough on most roads, while the AMG-engineered front axle does its job in keeping the front wheels tracking firm through corners. The handling is stable and the body stays quite flat, but it never really feels overly communicative. The driving experience is smooth, pleasant and mature, though.
Family car appeal
While the boot is relatively big and there are child seat mounts included as standard, the restrictions on boot access and the lack of rear doors on this mode mean the A-Class is better suited as a smaller second car for a family, where carrying children and luggage is important but not vitally so. There is no reason at all why the A-Class can't cope with family life; it just doesn't make day-to-day use as easy as some other options.
First car appeal
It may be the smallest new Mercedes on the market as of the 2013 model year, but it isn't especially well suited to being a first car. It's very expensive by new car standards, and this particular model presents more performance than would be safe left in inexperienced hands. Insurance would surely be unobtainable for young drivers without no-claims bonus, too.
Quality and image
Mercedes has fought back from a disappointing period of sub-standard build quality a decade or so ago, and has been building extremely solid cars again for the last several years. Their reputation isn't untarnished but it has been much repaired. The A-Class feels just like the C-Class, in that its materials give an impression of thickness, sturdiness and expensiveness. Combined with the styling in this model, the perceived quality rises still higher.
Accessibility
The long doors on the three-door model are a double-edged sword, offering easier access to the rear seats but requiring them to be opened wider in the process, which can be a problem in some car parks. The boot is compromised as well, with the rear light clusters intruding into the width of the aperture and restricting firstly the size of objects that can be carried and secondly the ease with which they can be inserted and removed.
Stereo and ICE (In car entertainment)
The large colour display on the top of the centre console allows easy navigation through audio sources, tracks and the full range of tone settings. The COMAND Online infotainment system is very user-friendly and easy to grasp, but it isn't expected to be a standard feature even on this range-topping model. Nonetheless, the systems Mercedes employs are among the simplest and least distracting to use of all the systems out there.
Colours and trim
At the time of writing the final colour selection had yet to be finalised, but is expected to cover the familiar bases of silver, black, white and blue. Although the lower models suit bolder colours unusually well for Mercedes cars, the Engineered by AMG model best suits silver because it allows the red trim details to stand out. On the inside, red seat stitching and red air vent surrounds add an air of specialness.
Parking
While the A-Class benefits from its fairly short rear overhang and flat tailgate, it falls short with rear visibility. It's poor even for the class of car, so parking sensors and a keen eye are all but must-haves. This model is expected to feature them as standard. Three-door models have long doors that need quite a lot of space beside the car to open wide enough for the driver to get in, and in practice it can restrict the number of suitable spaces.
Spare wheel
Emergency tyre repair kit supplied as standard.
Range information
Petrol engine options - 1.6-litre (120bhp, 154bhp); 2.0-litre (208bhp). Diesel engine options - 1.5-litre (108bhp); 1.8-litre (108bhp, 134bhp). Transmission options: six-speed manual gearbox (1.6-litre petrols and 1.5-litre diesels only), plus seven-speed auto gearbox (2.0-litre petrol and 1.8-litre diesels only). Trim levels: Standard, SE, Sport, AMG Sport, Engineered by AMG.
Alternative cars
Audi A3 Very capable all-rounder but bland to look at and to drive
BMW 1 Series Fun to drive, but much less attractive than the A-Class inside and out
Lexus CT Luxurious with hybrid benefits, but not pretty and no driver's car
Volkswagen Golf Close to the A3's quality, with the same dynamics, at a lower price