Log in or register
close
My AA Account
Sign in to see your cover and request assistance online
Don't have a My AA account?
You'll need your policy or membership number
Mercedes-Benz A-Class A 150 Classic SE 5dr Review
Impressive safety kit for a small car
January 2005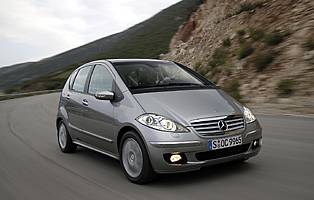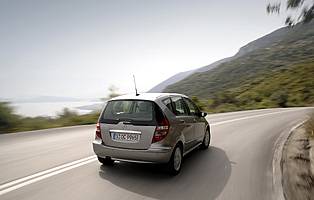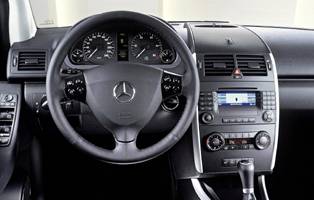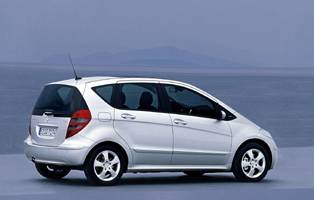 Overall rating

Likes:
Considerable improvement over previous model in numerous areas
List of standard safety kit impressive for a small car
Continuously variable (auto) transmission is refined and jerk-free
Surprisingly good load-lugger thanks to the folding seats
Gripes:
Despite improvements, cabin build quality could still be better
Multi-function solitary column stalk can be confusing at first
Entry-level prices are attractive but the cars come with few comforts
Low-end petrol and diesel engines lack sparkle and refinement
The first generation A-Class wasn't the engineering masterpiece Mercedes wanted you to believe it was. Yes, its overall safety credentials were good – although it took a high profile crash test to improve things further – but it was dynamically inferior to much cheaper products. The second generation A-Class is a huge improvement in all the key areas – cabin quality, driving dynamics, safety and cabin versatility.
Right from the start Mercedes' first generation A-Class created a considerable impact – although not all of the media interest was positive. The infamous Elk test, where the car failed to stay upright during a high-speed avoidance manoeuvre – triggered a hasty re-engineering of the car, and at a stroke dulled the A-Class' promising driving dynamics.
The car may not have performed to everyone's liking but there's no denying that the concept of a premium-badged small car wasn't desirable. The A-Class sold in considerable volumes, with the entry level models proving most popular. And that badge on the bonnet appeared to be a strong attraction despite the fact that the materials used in the cabin were distinctly average.
Critics bemoaned Mercedes' slightly cynical approach to cost cutting, but the car maker has now acknowledged that the practice – which wasn't just reserved for the A-Class – wasn't terribly clever. This and other issues have been addressed with the second generation car. Not only is there a noticeable improvement in quality, it's also a fraction bigger, better equipped and comes in three-door form for the first time.
The five-door is still going to be the more popular variant, and its appeal is destined to be broad. With VW's Golf a common sight and the appeal of BMW's unusual 1 Series limited to the faithful fans, the A-Class has most of the important desirability boxes ticked. Few people will probably exploit the car's (optional) flexible loadspace to the full, but for many the badge will be a big enough attraction.
Our verdict on the Mercedes-Benz A-Class A 150 Classic SE 5dr
Mercedes has listened to customer and media criticism and the second generation A-Class is a huge improvement over the first model. Cabin quality is up and so is driver appeal. The car is now a shade bigger than before, making it easier to be used as a traditional small family hatchback. However, the ability to fold and remove seats to reveal a considerable loadspace area makes the A-Class more than just the sum of its parts. There are still a few rough edges – some optional kit really should be standard and the cabin plastics won't worry Audi – but the overall impression is a positive one.
---
Costs
Taken at face value, the A-Class is reasonably priced – for a Mercedes. Look closer and it's not so good. Although the firm has ensured that its cars come with all the latest safety kit, comfort items are less conspicuous. If you like your toys, you'll be spending more than a few bob on options. At least the car's long term prospects look good; the A-Class has always boasted solid residuals and Mercedes' Mobilo Life 30 year servicing/breakdown package is unrivalled. You'll need to stay loyal to the dealer network to make full use of the latter, though.
Space and practicality
While it may be a small car by conventional prestige car standards, the A-Class is a spacious vehicle. There's space for five passengers – although four adults would be more comfortable – and the rear seat can be folded, split or even dismantled in the quest for increased practicality. Larger than the car it replaced, the second generation A-Class has been cleverly designed to make the most of its modest dimensions. This it succeeds in doing and shames many conventional hatchbacks in the process.
Controls and display
Mercedes has always been able to produce instruments and switchgear that are clear and easy to use. In general what you get in the A-Class conforms to this brief, although the top spec sat-nav/multimedia display often requires more than a few button pushes for the desired function. The car's main dials work well and the electric window and mirror switches fall easy to hand. The famed Mercedes column stalk takes a few minutes of familiarisation due to the number of functions it supports, and the basic ventilation controls are much easier to operate than the more complex climate control ones.
Comfort
One of many problems with the old A-Class was its less than supple ride. This problem has now gone, in its place a refined and sophisticated ride worthy of a car twice the baby Merc's size. Noise levels are also low. Accommodation inside the cabin is pretty good. Four adults will be able to sit in reasonable comfort – which is impressive if you're the one in the back sat behind a tall passenger. The seats themselves offer good levels of support with, predictably, the optional leather ones feeling the best of the selection.
Car security
There are no surprises in the security category, just the usual alarm and immobiliser combination. What is good, though, is the fact that the equipment is fitted to all models – even the entry-level Classic.
Car safety
Much is made of the fact that the A-Class is a safe car. Its chassis is really a sandwich design, which allows the engine to slide between the two 'slices' in the event of a heavy impact. Backing this approach up is the inclusion of twin front and side airbags as standard, with curtain and rear cabin airbags available as cost options. Anti-lock brakes plus ESP are also standard, as are Isofix mounting points for the outer rear seats. More powerful xenon headlamps along with a cornering function appear on the options list.
Driver appeal
It may have introduced the Mercedes brand to the masses but the first A-Class was no fun to drive. A thorough overhaul of its suspension and powertrain has resulted in a transformed car. The changes are dramatic and welcome; now the car feels safe, secure and willing. Even if you don't want to drive quickly you'll notice the improvements; ride quality is good, noise levels are very low and the A-Class changes direction with the enthusiasm of a much smaller city car.
Family car appeal
The A-Class might be small by certain standards but it makes a fine family car if you want a Mercedes. While it can't compete with the likes of Renault's Scenic for outright space, the A-Class' cabin should prove more than adequate for a growing family. It may only seat five (four is more comfortable), the car boasts a surprisingly versatile seating arrangement. For starters the rear bench can be split or folded and you can raise the boot floor to make the whole loadspace flat. If, however, you select one of the car's many cost options, you can remove the seat cushions for even more space (they'll now conveniently fit under the boot floor). The front passenger seat can be tipped forward, or you can remove the lot bar the driver's seat.
First car appeal
If you're in the market for a small hatchback the A-Class is no different to something from Ford, Vauxhall, Peugeot and the like. Easy to drive and park, the A-Class makes sense. The baby Merc falls down in terms of value, though. Mainstream models will prove less expensive, but if you're desperate to get a foot on the premium car ladder the A-Class is one of the more affordable options.
Quality and image
Mercedes' ability to build cars oozing quality faltered a few years ago as it was clear that accountants took over running the show. Many customers baulked at the obvious downgrades and company bosses are on record saying that it was a bad move. Things are looking up, but the journey back to the good old days will be a long one. The second generation A-Class is a huge improvement over its predecessor. There's still room for improvement; some switchgear feels nothing more than average and low-spec models lack a premium cabin ambience.
Accessibility
In five-door form the A-Class performs well. Access to the front portion of the cabin is straightforward, while the rear is easier to access thanks to the new car's extra length. You'll still need to be reasonably agile to sit in the rear as the doors aren't as big as those up front. Opening the tailgate requires little effort and the load lip is pleasingly low. The three-door doesn't fare as well as it proves quite a squeeze to access the rear seats, but this is to be expected given the car's more sporty and youthful appeal.
Stereo and ICE (In car entertainment)
Standard fit on the A-Class is a modest radio/CD player, which gets upgraded on Classic SE and above models to a more sophisticated unit. The stereo works well, although the display can be hard to read in direct sunlight. A pleasant surprise is the inclusion of steering wheel-mounted controls across the board. Extra cost upgrades run to a CD changer in the glovebox, a more powerful amplifier and extra speakers, a basic CD-based sat-nav system or a full-blown sat-nav complete with colour screen. Telephone hands-free kits are also offered.
Colours and trim
It would appear that silver has yet to go out of fashion, as it looks just as good on an A-Class as it does a big, executive saloon. However, despite Mercedes' conservative corporate image, the A-Class also looks good in the selection of light, almost pastel shades on offer. Inside, the cabin can be specified in a number of complementary colours. High-spec models feature (thankfully) only modest amounts of wood.
Parking
Boasting speed sensitive steering and a modest footprint, the A-Class is not that difficult to park. The car's elevated seating position also helps matters when visibility is critical, and the clutch and throttle prove easy to modulate at low speeds. The car's side mirrors could be bigger, though. Parking sensors are available as a cost option.
Spare wheel
Space saver fitted as standard. Buyers have the option of a full size spare for added security or mini compressor and mousse to free up space in boot.
Range information
Petrol engines – A 150 1.5-litre (94bhp); A 170 1.7-litre (114bhp); A 200 2.0-litre (134bhp). Diesel engines – A 160 CDI 2.0-litre (81bhp); A 180 CDI 2.0-litre (108bhp); A 200 CDI 2.0-litre (138bhp). Standard transmission is a five-speed manual gearbox. A 180 CDI and A 200 CDI gain a six-speed manual 'box. A continuously variable transmission (CVT) is available as a cost option. Trim levels are as follows: Classic, Classic SE, Elegance SE and Avantgarde SE.
---
Alternative cars
Volkswagen Golf VW's premium hatch is bigger but lacks the prestige image of the A-Class
BMW 1 Series Five-door hatch is, like the A-Class, pricey – but less versatile. Better to drive, though
Honda Jazz Similar in terms of cabin versatility, but smaller than Merc and offered with fewer engines
Ford Focus Regular but popular hatch is cheaper and better to drive. Lacks A-Class' versatility