September 2006
Mazda MX-5 Roadster Coupe
At a glance, it looks identical to the soft-top
September 2006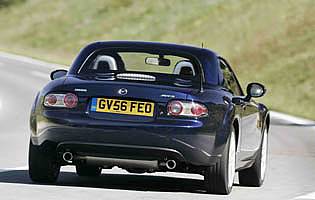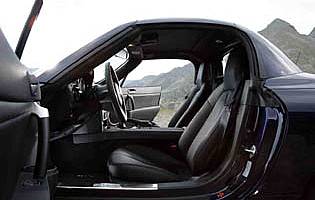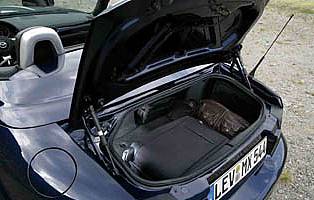 Overall rating

Likes:
Added weatherproofing and security
No boot space lost with the roof down
Wind deflector simple and effective
Attractive dials and controls
Gripes:
Proportions not quite as perfect as soft-top
Long-term reliability of roof mechanism to be proven
Roof will only operate in neutral and when stationary
Slightly slower off the mark than conventional MX-5
Mazda's MX-5 has been leader of the convertible pack for many years, but recently has come under pressure from a new breed of folding hardtops. This is Mazda's response - a car that's extremely similar to the traditional roadster, but with a cunning hard plastic roof that emerges from the boot at the touch of a button.
Using plastic rather than steel for the roof means that extra weight is kept to a minimum. Overall, the RC is less than 40 kilos heavier than the soft-top version, yet still feels substantial and secure with the roof up. The roof takes just twelve seconds to appear or disappear, which should ensure you're kept safe and dry in all but the most violent and sudden downpour, but it won't operate on the move for safety reasons.
Many folding hardtops look rather ungainly, as if carrying the roof mechanism in a bulky backpack that spoils the car's lines. Mazda's designers have managed to keep such disruption to a minimum. The RC is only a centimetre taller than the roadster and you need to look quite closely to tell the two models apart. The only sacrifice made is a couple of storage bins behind the two seats that were of questionable utility in the first place.
Inevitably the RC doesn't feel quite as rigid and nippy as the soft-top, but again the difference will be judged to be negligible by most people. It's still possible to have plenty of fun in the open air, and when the weather isn't welcoming it's far quieter inside the Roadster Coupe than the conventional roadster.
Other than that, it's pretty much business as usual. The modern-day MX-5 is a quality product and while the layout of controls and the general ambiance of the interior will be familiar to anyone who's ever owned this iconic roadster, today's car is a much classier affair than it has ever been before. It seems to have finally shaken off its reputation as a car for hairdressers.
Our verdict on the Mazda MX-5 Roadster Coupe
Around a quarter of MX-5s sold in the UK are likely to have the folding hardtop. Purists may take a while to warm to it, but there's little argument that it's particularly well suited to the British climate and largely justifies its higher price tag.
Costs
The asking price is significantly more than the soft-top's but is justified. Indeed, the price increase is several hundred pounds less than the cost of an optional and ungainly fixed hardtop. All MX-5s are renowned for their reliability, and the simplicity and lightness of the folding rood mechanism should mean there are fewer glitches than in rivals' heavier, more complex systems. Running costs are reasonable and resale values should hold up well.
Space and practicality
Unusually for this class of car, the roof mechanism does not eat up any bootspace because it folds away into the body of the car by means of a clever hinge, not the boot.
Controls and display
The main dials are attractive, subtly aping the monochrome style of roadsters from the 1960s and 1970s, and the rest of the controls follow suit, clearly influenced by the groundbreaking interior of the RX-8 coupe. A great improvement on the previous generation model.
Comfort
Tall drivers fare better than they do in some rivals, largely thanks to the low seating position. The standard rear wind deflector is a wonder. It's only a couple of centimetres high, but it does a remarkable job of stopping buffeting. Flip it down and you immediately feel the difference. Noise levels are much lower in the Roadster Coupe than the soft-top.
Car security
Central locking, alarm and immobiliser are all standard features. For security, the Roadster Coupe is clearly an improvement on the soft-top. It'll take considerably more than a sharp knife to get into this car.
Car safety
All models have driver and passenger airbags - the bare minimum that's acceptable these days - but you need to step up to a 2.0i model to gain side airbags to protect the head and torso. They are integrated into the seatback sides and designed to achieve an effect similar to curtain airbags in a closed-body vehicle. The reassuring Dynamic Stability Control with traction control is standard only on 2.0i Option Pack models and above.
Driver appeal
The extra weight may be minimal, but it's enough to add a few tenths of a second to acceleration times. However, unless you're in the habit of screeching away from traffic lights, this is likely to be irrelevant. Improved aerodynamics means the potential top speed is actually higher.
Family car appeal
With just two seats, the MX-5 Roadster Coupe doesn't really have a family function, except as a fun weekend car for Mum and Dad when the kids have been farmed out to the grandparents.
First car appeal
It's unusual to be able to recommend a sports car as a first car, but the MX-5 just about passes muster. It's not so powerful that novice drivers will come unstuck unless they are truly boneheaded, yet the excellent traction control system will stay discreetly out of the way until it is truly needed. With much more feel and sense of balance than a hatchback, this is a good place to pick up lifelong driving skills.
Quality and image
For years it was lampooned as a hairdresser's car, but that didn't stop millions buying an MX-5 and drivers who appreciate a direct relationship with the road have always loved it. The current model is pleasingly unisex. Build quality is high. This is a very well thought out vehicle.
Accessibility
The Roadster Coupe retains the MX-5's traditional low-slung stance, so some drivers will have trouble getting settled in the seats. The boot lip is high, too, which rather restricts access to what is otherwise a decently-sized effort. The roof still has to be manually unlatched before the roof can be lowered electrically, which is a minor annoyance.
Stereo and ICE (In car entertainment)
All Roadster Coupes are iPod compatible - a fact that shouldn't be underestimated in a sector of the market geared towards young couples and singletons. The socket is located in the glovebox, but note that only Apple products are catered for. An optional Bose sound system is impressive.
Colours and trim
Roadster Coupes are kitted out like the higher-grade soft-tops, so come with numerous creature comforts as standard including air conditioning, iPod compatibility and alloy wheels. Sport models gain leather trim and larger wheels. All models get an extra Option Pack. A choice of six body colours is available.
Parking
As compact as it is cute, parking the MX-5 is pretty straightforward, particularly with the roof down. Sport models are a bit trickier, if only because of their larger wheels.
Spare wheel
Space saver fitted as standard.
Range information
A choice of three petrol engines: 1.8i (123bhp) or 2.0i (138bhp) with 5-speed gearbox, 2.0i Sport with 6-speed gearbox. Range is split between standard models and upgraded Sport models with more equipment.
Alternative cars
Smart ForTwo Convertible Fun in the city, underpowered elsewhere
MINI Convertible Looks great but is rather expensive
Mitsubishi Colt CZC Left-field choice is decent value
Nissan Micra C+C Transparent roof is main attraction