September 2015
Mazda MX-5 2.0 Sport Nav
Sharp new looks mean thin LED headlights are essential
September 2015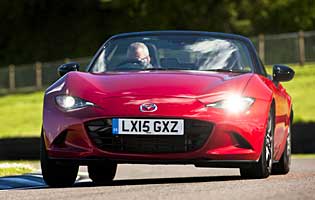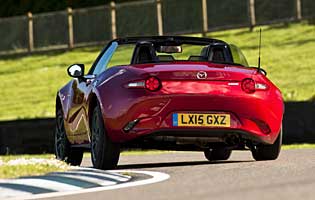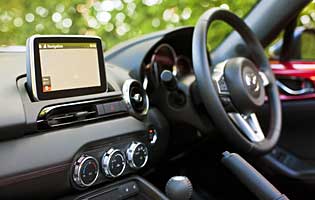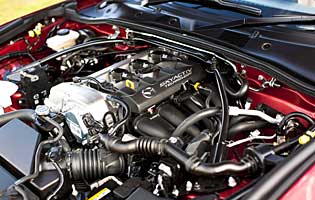 Overall rating

Likes:
Superb handling puts many sports and supercars to shame
Stunning looks add much desirability
Eager engines and perfectly-weighted gearbox
Soft top folds in seconds
Gripes:
Tall drivers will feel cramped
Flimsy removable drinks holders
Upgraded suspension only available on highest trim grade
Relatively little storage space
The fourth all-new generation of the world's best-selling sports car arrives after the previous model had been around for a decade. It's lighter, smaller and promises more fun than ever before, despite offering more safety equipment and higher levels of quality. With stunning looks as well, the convertible Mazda is looking to cement its market position.
Often a new car will actually carry over the engines from the previous generation model, but not here. Almost every component is new, including the SkyActiv engines that have already been seen in recently-released Mazda models. The fourth-generation MX-5 continues with much the same structure as before, with three trim grades and two engines.
Mazda adopted a 'gram strategy' with the car, analysing every single component to see whether it could be made lighter without unduly increasing expense. It has paid off, with the entry-level 1.5-litre model weighing in at less than a tonne without the driver inside. It's a strategy that virtually guarantees the rear-wheel drive car will be good to drive.
It is shorter and lower than before in order to reduce weight, and that means overall space is reduced. The boot is technically smaller but is more evenly shaped to make it more usable, and the cabin is shorter, too, potentially leading to problems for taller drivers. But its lightweight construction makes itself immediately obvious on the road.
The trim grades have been carefully chosen to offer tempting technological incentives for upgrading, but for buyers just seeking a brilliant driving experience the entry-level options have plenty of equipment. The car stands alone at the price point as a two-seater soft-top, but such is its continuing excellence that few other car makers are willing to try to compete.
Our verdict on the Mazda MX-5 2.0 Sport Nav
The MX-5 has reinvented itself several times through recent decades, but never quite so spectacularly as this. It combines a highly active and involving chassis, engines that are responsive and eager to rev, and just enough depth in the areas of quality and luxury. People who enjoy driving will love it, even though tall people will find themselves unable to fit comfortably. It is a definitive sports car for everyone.
Costs
Buying a 2.0-litre version should be a priority for a potential customer, but that pushes the price upwards. Fuel consumption could be very reasonable under normal use, as a very spirited test drive through exceptionally hilly terrain recorded miles per gallon in the mid 30s. Insurance groups have come down versus the old model thanks to new safety technologies, but road tax will be significantly cheaper for the 1.5-litre engine.
Space and practicality
To help achieve dimensions smaller than those of this car's predecessor, the boot has been made smaller. To compensate, the aperture has been widened and the boot shape has been evened out in order to create a more usable space. There is little in the way of practical solutions in the cabin, but removable cupholders are a neat feature. The passenger can also move theirs from the centre console to a spare slot beside their knees for potentially easier access.
Controls and display
Some might think the car's instrument cluster is too plain, but by placing the large rev counter centrally and placing the speedometer and digital screen to either side, Mazda is reaffirming the car's bias towards people who like their high-revving driving thrills. Chrome accents are a nice touch. The tablet-style main interface screen is sharp, with clear and stylish graphics. Controlling it is a rotary dial that is both intuitive and effective.
Comfort
As you would expect, the MX-5 is firmly sprung. The good news is that the car is beautifully damped on its upgraded shocks, and not once during an intensive road test in the Scottish Highlands did the springs bottom out uncomfortably. The one shortfall is in the length of the cabin, and even average-height men will not be able to stretch out at need. Taller people may well struggle to get comfortable in the first place.
Car security
A Thatcham Category 1 alarm and immobiliser will warn of any forceful attack on the car and prevent any kind of easy theft without the proper key. There are no reported incidents of Mazda keys being cloned from the car itself, as has happened with some other brands. The canvas roof is a potential security concern, though, as vandals could see it as an easy target upon which to inflict maximum damage.
Car safety
Active features like Lane Departure Warning help to keep drivers of this model safe, but this specific system is only offered on Sport models. Stability and traction controls are installed but can be deactivated if desired. Other features include tyre pressure monitoring systems, front and side airbags and an audible seat belt warning.
Driver appeal
The MX-5 is magnificent to drive, being little heavier than the first-generation version but with a stiffer bodyshell that allows the chassis and suspension to do more of the work. Bilstein dampers and a strut brace on this model help to make it one of the most lightweight-feeling and responsive cars on the market, adjusting delicately - or significantly - through corners depending on the driver's inputs. A metallic zing from the exhaust accompanies swift progress, and it's the 2.0-litre engine that feels much more sports car-like.
Family car appeal
It's highly unlikely that any parent would consider the MX-5 as their main car. It simply isn't spacious or practical enough and makes few provisions for children. But for a one-car family this would make an excellent second vehicle for everything from city driving to a country road blast.
First car appeal
Driven normally, the MX-5 would be no more imposing than a supermini if it were not for the relatively restricted outward visibility. The low-torque engines are highly suitable for someone still learning the finer points of roadcraft. The Mazda is expensive for a first car, though, and obtaining insurance may be an issue.
Quality and image
The interior looks higher quality than it technically is, but Mazda has foregone pointless soft-touch surfaces in some areas in favour of simply presenting a well-designed and premium-looking cabin. The MX-5's image has taken plenty of abuse over the years from people who deride its relative lack of power for a supposed sports car, but the sheer volume of sales, as well as hundreds of glowing reviews from down the years, make the car's image just about impervious to criticism.
Accessibility
The MX-5 is a low car with a compact cabin. It can be awkward to step down into it from kerbs, for example. The doors are quite long and need a significant space beside them before they can open as far as the first 'stop' in the hinge's travel. It's not difficult at all for a fit person to get in and out under normal use, but there are some limitations.
Stereo and ICE (In car entertainment)
SE models are given a basic, old-fashioned stereo with four speakers, AM/FM radio and a CD player. MP3 players can be attached via single as well, but only four speakers are present. At SE-L level the car gains DAB radio, an extra USB port and two more speakers. Sport grade makes the leap up to a Bose sound system with nine speakers, including two in each headrest. All models have steering wheel-mounted audio controls and from SE-L upwards this includes for a Bluetooth connection.
Colours and trim
While grey and pearl white also look good on the MX-5's striking body, Soul Red should be first choice. Unfortunately it is the most expensive optional colour, but it suits the car completely. At the top of the range, with Sport trim, finely-cut black leather seats with red stitching are standard. They can be upgraded to an equally lovely 'sand' colour leather, but only on Sport Nav cars. SE models are only given one detachable cupholder versus higher models' two.
Parking
A car as small as the MX-5 should be easy to park, but since you sit quite low inside it and the corners are very much hidden from view, it can sometimes be more difficult than expected. Only Sport models have parking sensors, and even then they are only at the rear. The long bonnet can therefore cause confidence issues for wary drivers, even though the bodywork above the front wheels is crested to offer a general reference point.
Spare wheel
Emergency tyre repair kit supplied as standard.
Range information
Petrol engine options - 1.5-litre (129bhp); 2.0-litre (158bhp). Transmission options: six-speed manual gearbox. Trim levels: SE, SE-L, SE-L Nav, Sport, Sport Nav.
Alternative cars
Toyota GT 86 Hard-top only and not quite as much fun, but makes a marginally more capable driver's car
Abarth 500C Striking styling and strong turbocharged engine, but numb driving dynamics
BMW 1 Series Convertible Much more expensive and not well equipped for the price, but good to drive
Citroen DS3 Cabrio Sightly long in the tooth, but offers an acceptable package overall