December 2005
Mazda MX-5 1.8i with Option Pack
Despite a thorough redesign, the original MX-5 styling cues are obvious
December 2005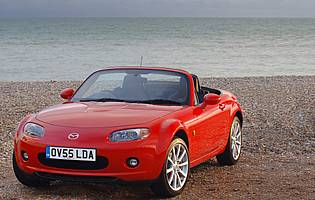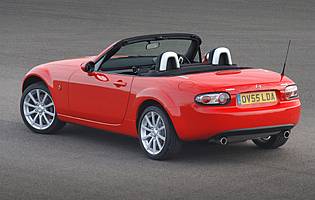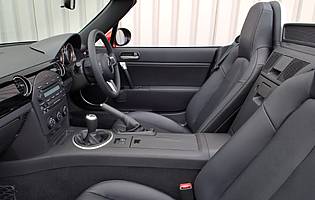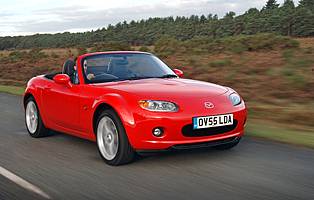 Overall rating

Likes:
Improved driving position thanks to height adjustable steering wheel
Boot is a surprisingly good size given the car's compact footprint
Cabin layout is sensible and uncluttered
Driving experience is first class and the car is capable of entertaining both novice and experienced drivers
Gripes:
With the hood up, the cabin can feel small and dark
Uprated suspension on 2.0i Sport variant delivers a more nervous, detached experience
Although a willing and refined unit, the 1.8i engine lacks sufficient low-down torque
Glossy fascia trim likely to scratch easily over time
Mazda's MX-5 has been with us for a very long time. So long, in fact, that many people consider it the car that kick-started interest in affordable roadsters after years of relative inactivity in the sector. This third generation car continues Mazda's winning formula: affordable, good looks, keen handling and decent levels of refinement.
So much has already been said about the MX-5 over the years that it's often difficult to find a new angle to this long running story. From the start it was clear that the Japanese car maker was on to a winner with its simple yet fun roadster.
That much was confirmed when enthusiasts in the lucrative North American market couldn't get enough of it. This trend has continued in all the major markets the MX-5 subsequently entered. And with good reason; since it's inception there has been very little in the way of competition at the little Mazda's sensible price point.
The same is true today, and while the MX-5 wears new clothes and has benefited from a thorough mechanical redesign, it serves the same purpose. Keen drivers love the car because its handling limits are low, steering and suspension responses have yet to be dulled by draconian legislation and the manual hood mechanism can be raised or lowered in seconds.
That last attribute is key to the car's all-weather appeal and shouldn't be underestimated. With the hood up the MX-5 is almost draught-free and boasts comparable cabin refinement to that of a regular tin-top supermini. Factor in engaging driving characteristics, good looks, a useable boot and a real-world price tag and it's easy to appreciate the car's appeal.
Our verdict on the Mazda MX-5 1.8i with Option Pack
Hardcore MX-5 fans might bemoan the third generation car's modest, entry-level performance figures, but for many this is a blessing in disguise as too much power would spoil the experience. For the majority, the MX-5 is as good as it gets - the car's keen handling and general feel good factor ensure any niggles are soon forgotten. In truth, the raft of improvements have banished all the major criticisms, making the MX-5 a more rounded proposition.
Costs
A sensible pricing strategy, decent build quality and proven reliability should ensure that the MX-5 costs little more than a family car to run. It might cost more to insure thanks to its convertible status, but that's about it. Real world fuel economy isn't going to be special if you routinely explore the car's performance capabilities.
Space and practicality
You don't buy this car without understanding its shortcomings first. And so it is that you shouldn't be too disappointed by its modest boot and cabin storage arrangements - plus the obvious hood-down motoring limitations. In reality the MX-5 will easily handle the weekly shop if you're singleton or one half of a thrifty couple, and you're unlikely to leave many personal possessions in the cabin of a something with a fabric roof - think theft and security issues.
Controls and display
The MX-5 is a simple and straightforward car, and its instruments reflect that. The main dials are clear and easy to read, although the tops of the dials can be obscured if you lower the steering wheel too much. The gearshift is light and precise, with the same true of the steering. Remote audio controls on the steering wheel are a bonus as the buttons on the audio unit are on the small side. The remote boot release located down below the steering wheel is awkward, while the fuel filler release is cleverly hidden in a cubby between the seats.
Comfort
The two-seater cabin is not the most spacious, but neither is it cramped. Two adults will feel snug, yet rarely will the stretched out seating position feel uncomfortable. Noise levels with the hood up are pleasingly low, with hood down motoring delivering a predictably less refined experience. Only at very high speeds does the wind buffeting become a distraction, though.
Car security
Remote central locking and a Thatcham approved alarm and immobiliser package is standard across the range, which is par for course at this price point. The main cabin storage areas are covered, ensuring that the few items you leave in the car cannot be seen by prying eyes. However, this shouldn't divert you attention away from the fact that the fabric roof remains the weak link in this and any cloth roof convertible.
Car safety
Twin front airbags and anti-lock brakes are the highlights here, as side airbags appear only in the options catalogue. For what it's worth, you do get an Isofix mounting point and the ability to turn off the passenger airbag. A pair of sturdy rollover hoops protect occupants should the car flip over, while 2.0i cars gain electronic traction and stability control.
Driver appeal
This is why you buy an MX-5. The little Mazda is one of only a few modern cars boasting communicative steering and a chassis set-up that adds considerable enjoyment to any journey. Either engine option will provide hours of fun, but the lesser-powered 1.8 variant allows you to explore the car's limits at lower (and safer) speeds without sacrificing anything in terms of fun. The car's handling does err on the safe side, but even a keen driver will be able to find enjoyment - albeit at higher speeds or at a trackday.
Family car appeal
As a family car the MX-5 is a complete non-starter. With only two seats and a modest boot, it's not going to win any medals. That said, as a second car it would easily accommodate one grinning child on the way to or from school, and the boot is big enough for some shopping.
First car appeal
Ease of use is one the MX-5's key attributes, and it makes the car a perfect introduction to affordable sports car ownership. Complete novices will also like the car, although treating it with respect when on wet or greasy roads is a must. Easy to park (with the hood down), at ease around town and affordable to run, it beats driving a conventional hatchback.
Quality and image
The MX-5 has never been lacking in the quality department, be that build or fundamental engineering. Although the cabin of older generation cars lacked flair, poor durability was never an issue. Now with added style influenced by Mazda's bigger RX-8, the MX-5's cockpit is more appealing. Boasting a cult following stretching across the world, it's difficult to find someone with a bad word to say about the little Mazda.
Accessibility
For a two-seat roadster with a low ride height, the MX-5 is surprisingly easy to get into. Granted, anyone who struggles with a regular hatchback will find the Mazda a problem. Putting the rood down first will make life a little easier, though. For anyone else, dignified access and egress is possible roof up or down.
Stereo and ICE (In car entertainment)
The standard radio and combined CD unit delivers a decent quality performance, although you'll have to move up to the 1.8i with the Option Pack for steering wheel remote controls and six (not four) speakers. The only option is an uprated 'Bose' branded system boasting a more powerful output and CD autochanger.
Colours and trim
Through the ages the MX-5 has always looked good in red, and the third generation car is no different. Black is another good colour, although the little Mazda's fuss-free exterior looks good in most of the available hues. Inside is not so spectacular, as the cabin is decked out in black plastic. The quality is good, however, and the modest scattering of chrome-like trim lifts the otherwise dark interior.
Parking
With its light steering the MX-5 requires little effort to manoeuvre into parking spaces. Forward visibility is fine despite the car's low driving position, as the high level bonnet unwittingly acts as a clever distance aid. With the hood up, rearward visibility is very poor as three quarter vision is obscured by the roof's thick pillars. Roof down is a different - and much improved - story. Thankfully rear parking sensors are cost options.
Spare wheel
Space saver fitted as standard.
Range information
Engine options - 1.8-litre (126bhp) petrol; 2.0-litre (160bhp) petrol. Both models fitted with five-speed manual gearbox - no auto available. Trim levels: base, Option Pack and, for 2.0i only, Sport. 2.0i cars gain limited slip differential, while six-speed manual gearbox is added to the 2.0i Sport.
Alternative cars
Volkswagen Beetle Cabriolet Not for keen drivers, but makes sense as a stylish alternative
Mini Cooper Convertible Surprisingly good to drive, although not cheap and not that practical
BMW Z4 Entry-level 2.0 Z4 is a reasonable steer. Unusual looks and high price could be deal breakers for some
Lotus Elise Stripped-out Elsie is for serious enthusiasts only, although running costs are reasonable