May 2004
Mazda MX-5 1.8i Sport
Cleans lines of Mazda's MX-5 belie the car's age
May 2004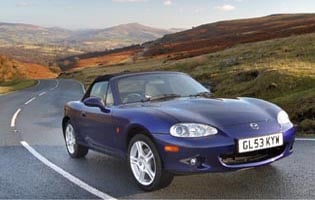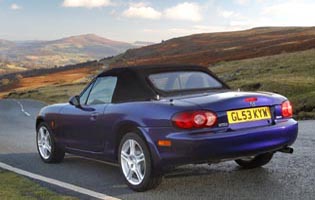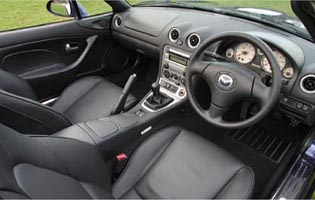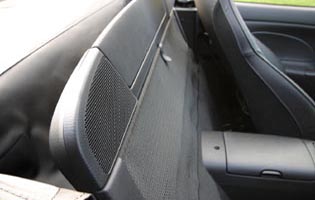 Overall rating

Likes:
Reputation as most reliable roadster
Affordable genuine classic car
Great driving position - as long as you're of average size
Plenty of feel and feedback from steering and suspension
Gripes:
Some interior plastics lack solidity
Not a high performance machine, particularly with 1.6 engine
Snug cabin might prove to much of a compromise for some
Larger drivers may have difficulty getting comfortable
One of the few genuine all-time classics you can go out and buy today, the Mazda MX-5 has earned its reputation as a near-perfect roadster. After more than a decade and a half on sale, it still returns highly respectable sales figures simply because its charms are so obvious, so straightforward and so compelling.
It's easy to forget that when the MX-5 was launched in 1989, roadsters were considered to be automotive dead ducks. The hatchback ruled supreme and soft-topped two-seaters were seen as impractical and expensive. The MX-5 changed all that, and continues to remind us that motoring can be an enjoyable as well as an essential experience.
There is no magical secret to the MX-5's success. Indeed, the formula is simple: a front-engined, rear-wheel drive two seater that is no more complex than it needs to be. Add balance, direct steering and an easy to operate soft top, and things become even more compelling. Drop in a low purchase price and cheap running costs resulting from commendable reliability and the sum total is the MX-5.
Unusually in this sector, it's also a car that seems to enthuse men and women in roughly equal measure. That's because it not only looks good (a remarkable fact when one considers its longevity) but still delivers a satisfying, involving driving experience. It requires none of the esoteric knowledge of oversteer and opposite lock that is demanded by full-strength sports cars yet allows the common man and woman to get a daily dose of adrenaline behind the wheel. Forget cliches about it being a ""hairdresser's car"" - if that's the case, then hairdressers know an awful lot about what makes a great automobile.
Admittedly, by the standards of its more modern competitors such as the Toyota MR2 and Peugeot 206 CC, the interior looks slightly dated but is saved from being problematic by the fact that it was always a purely functional affair. Mazda has periodically added more kit and made minor alterations to materials to keep it contemporary enough for comfort.
Our verdict on the Mazda MX-5 1.8i Sport
As intoxicating an automotive cocktail as has ever been devised, the MX-5 proves that choosing a roadster needn't necessarily entail frequent visits to the repair shop and crippling fuel bills. While its soft-top makes it a burden during the winter months, most owners will agree that this is more than compensated for during sunny summer spells. Considering the influence it has had on millions of motorists worldwide, this may even be the greatest roadster ever made.
Costs
The MX-5 is probably just about the most affordable way to get into a genuine open-topped sports car. Cheaper cars are around, but they lack the MX-5's sublime handling characteristics and ability to excite. The 1.6-engined model should not be automatically discounted. Though lacking mid-range punch it is perfect about town and is several thousand pounds cheaper than the 1.8 Sport with its rather unnecessary extra gear ratio. All models return over 30mpg. Mazda's hard-won reputation for reliability should be a major factor in any buying decision and offsets the inevitably inflated insurance ratings.
Space and practicality
With the roof in place the cabin feels even smaller and is rather too dark. That goes with the territory if you've chosen a roadster and when the roof has been lowered the feeling of exhilaration and freedom is palpable. The roof is powered by good old-fashioned elbow grease. While this may be less convenient than the electric motors used to furl and unfurl the latest generation of drop-tops, it helps to keep the car's weight down and there's one less item to go wrong. With practice it can be accomplished far quicker, too.
Controls and display
Forget about computer screens and banks of backlit instruments, as the MX-5 tells the driver information on a strictly need-to-know basis. A few simple dials and basic switches are all that are provided - or needed. It communicates a stripped-out, sporty quality completely in keeping with the MX-5's demeanour. White dials with chrome rings are a recent innovation and are easy to read.
Comfort
The steering wheel lacks height adjustment - not a hanging offence but certainly an aspect in which the car shows its age. The driver's seat suffers a similar fate, though in a car with a sports edge, sitting high up would be sacrilege. Large or tall drivers are also likely to find the small footwell problematic and should embark on a lengthy test drive to make sure they can achieve a genuinely comfortable driving position.
Car security
With nothing more than a fabric roof to stop them, a determined thief with a knife will always be able to gain access to the cabin, so it is unwise to leave an MX-5 on the public highway if it can possibly be avoided. An alarm and immobiliser comes as standard on all models. Though an expensive dealer-fit option, a hard top could prove a worthwhile investment - particularly if you need to use the car through the winter.
Car safety
Roadsters are inherently less safe than hardtops in a major crash. It's just a fact of life. Even bearing that in mind safety is one of the areas in which the MX-5 most clearly lags behind its modern counterparts. There is no rollover detection system. All cars have driver and passenger airbags and anti-lock brakes, but apart from seatbelts that pretty much rounds off the list of safety features.
Driver appeal
This car was built to be driven and is at its very best with an empty road twisting off into the distance in front of it. Admittedly, such conditions are increasingly rare in the UK but when they do arise, drivers will have a memorable time thanks to wonderfully direct steering and the progressive, reassuring manner in which power is delivered to the wheels. You would have to be either extremely foolish or extremely unlucky to 'lose it' while driving an MX-5. Just as importantly, it is manoeuvrable and nippy enough to be at home in congested urban traffic. Low ride height means speed bumps need to be shown respect.
Family car appeal
You don't need to be an expert to deduce that this is hardly a family-friendly vehicle. It's much more suitable for singletons as even a couple will struggle to get much more than a couple of overnight bags in the boot. The only way it could really form part of a family motoring portfolio is as an occasional 'fun car' to complement a more practical estate or MPV. Should you be forced to carry an infant, the passenger seat does have ISOFIX anchor points for a child seat and the passenger airbag can be turned off.
First car appeal
The MX-5 is of the few sports models that a first-time buyer could seriously consider as a purchase. With well over 50,000 sold in the UK, second-hand models and spare parts are in plentiful supply. As the car enters the final phase of its lifecycle, Mazda is likely to offer increasingly attractive incentives to buyers as well. Frequent special edition models are well worth checking out. The main factor against potential first-time buyers will be insurance - a new driver, a soft top and a sportscar do not a happy combination make.
Quality and image
To call the MX-5 'cheap and cheerful' would be to do it a disservice. Despite its unpretentiousness there is something very classy about the car's lines, its lithe responses and the directness with which it treats the driver. Some untutored souls still regard it as a very feminine vehicle, but they are likely to find themselves driving a lumpier, heavier and far less endearing car, so more fool them. As the years pass, it is a safe bet that MX-5s will be hailed as true classics in the same way we regard the MG Midget, Mini Cooper and VW Beetle.
Accessibility
Roadsters are rarely the easiest cars to get into or out of, and the MX-5 is no exception. A very definite lowering of one's backside into the bucket-style seats is required, with a similarly inelegant movement in reverse to gain egress. Despite this, the MX-5 is an unexpectedly popular choice on the Motability scheme aimed at disabled drivers, which bears testimony to the ease with which it can be driven.
Stereo and ICE (In car entertainment)
Most buyers will pass over the desultory radio cassette offered as standard and opt for a single-slot CD which only comes as standard on the 1.8 Sport. Sound quality is notoriously bad in most soft-tops, in any case. Again, it is worth keeping an eye out for special editions. Satellite navigation is available, too. If nothing else it is useful for telling you when another decent bit of twisty road is approaching.
Colours and trim
Unusually for a sportster, the MX-5 looks good in virtually any colour. That is a tribute to the strength of the styling but also indicates that different people buy MX-5s for very different reasons; some as a posemobile, others as a weekend racer or even a business tool for dashing from meeting to meeting. Standard equipment levels are fairly Spartan, but Mazda has a habit of having at least one special edition model on the go featuring extra kit for minimal outlay.
Parking
The ability to have an unimpeded view of the front, rear and sides of the car makes parking the MX-5 extremely easy. Perhaps the steering isn't quite as light as it should be for perfect parking, but the directness comes into its own at higher speeds. A compact 'footprint' on the road makes slipping into tight spaces a doddle, and at least if you've been boxed in at the supermarket you can swing your leg over the door to get in.
Spare wheel
All MX-5s come with a space saver spare wheel.
Range information
The MX-5 range comprises three separate models: 1.6i (110bhp), 1.8i (146bhp) and 1.8i Sport (with 6-speed gearbox). Mazda frequently issues special edition models containing extra bundles of kit such as uprated stereos and special colours.
Alternative cars
Toyota MR2 equally reliable, less luggage space or character
MG TF marginally more rewarding to drive, considerably more expensive
Ford Streetka female-friendly fashion accessory with inferior driving dynamics
Peugeot 206 CC poor ride but boasts practicality of folding hard top