October 2006
Mazda 3 MPS
MPS doesn't look radically different from others in range
October 2006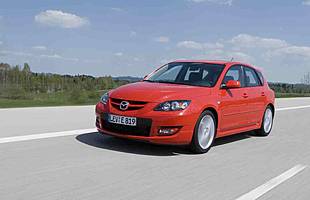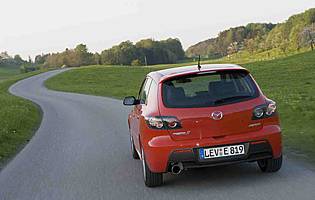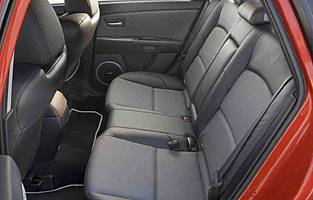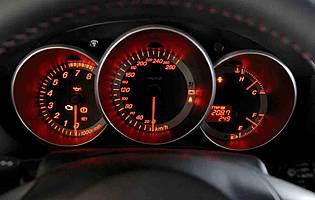 Overall rating

Likes:
Extremely rapid acceleration
One of the best overtakers around
Direct, sporty steering is fun
Retains practicality of rest of range
Gripes:
Cabin lacks luxury feel you would expect
External styling much, much too understated
Electronic key card cheap and unattractive
Five door body style only
Having lacked a serious compact hot hatch contender for several years, Mazda attempts to re-enter the market with its 3 MPS model. On paper at least, it looks well up to the mark with class leading acceleration and a top speed that can match some of the fastest cars around. It also aims to add glamour to the whole range.
There's no denying that this car is quick. 0-62mph takes just 6.1 seconds and the top speed is 155mph. Rather cheekily, Mazda points that this speed is electronically limited, which suggests parallels with high-end BMWs and Mercs. But unlimited the top speed would only be an extra 2-3 mph. In any case 155mph is far faster than anyone will ever go except on unrestricted autobahns.
More important than outright speed is how the car handles. Lowered ride height and firmer suspension produce a pretty sporty feeling, though it somehow still lacks the bite of a Golf GTI or Ford Focus ST - which shares the same basic platform. Perhaps aware that British buyers will want something a little more direct, Mazda offers a further drop in ride height along with some more aggressive styling options for the UK market not available elsewhere in Europe.
Even with the optional styling pack, the car's external appearance will not be attention-grabbing enough for many tastes. Unless you hear it coming, you probably won't notice that this is anything other than a standard Mazda 3. Despite getting extra leather, steel pedals and various other design extras, the cabin lacks the quality feel of a VW Golf or Audi A3. There are too many cheap plastics in common with the standard cars to give it a truly premium feel.
If anything, the Mazda 3 MPS is quicker than it feels. That's usually a sure sign of a good car, whatever its size. With only around 1,000 examples scheduled to find their way to the UK, owners will be part of a more exclusive club than buyers of Golf GTIs, Astra VXRs and Focus STs. Some buyers may prefer the 3 MPS's more discreet styling, but they are likely to be in a minority.
Our verdict on the Mazda 3 MPS
For all its undoubted rapidity, the Mazda 3 MPS lacks that extra something to make it feel like a special car. Superb engineering and truly enjoyable performance is let down by numerous cheap cabin elements and styling that fails to communicate just what a potent machine this is.
Costs
In terms of bang for your buck, the Mazda 3 MPS is a serious contender. It's just a shame it doesn't quite match some rivals for quality and finish or it would be a true bargain. Average fuel economy is below 30mpg, and that's without being driven hard, so estimate how often you'll be playing with the throttle and factor it into your sums. Insurance costs are markedly higher than the rest of the Mazda 3 range as well.
Space and practicality
Rear passengers fare very well. Indeed in some respects they are better off than the front passengers who must contend with a substantial central storage area that restricts space in the centre of the cabin.
Controls and display
The design of the dials is nice, rendered in a sort of retro style reminiscent of Alfa Romeo, but sadly some of the effect is lost thanks to the use of poor quality plastics in areas such as the armrests and air conditioning controls. At least the wheel and gearknob are real leather.
Comfort
Standard upholstery is upgraded substantially with areas of leather and extra bolstering, but the seats lack the feeling of everlasting solidity and satisfying heaviness of Volkswagens and Audis. Noise is cleverly managed so that at low revs it's the rumbling exhaust you hear, while at high revs the engine makes its presence felt.
Car security
Once news of the MPS's performance leaks out, it's likely to become a prime target for joyriders in search of a not-so-cheap thrill. Keeping them at bay is a Thatcham category 1 alarm.
Car safety
There is a reassuring alphabet of electronic driver aids as standard: ABS, EBD, DSC, TCS, EBA and even a limited slip differential. More easily explicable is comprehensive airbag coverage, whiplash-minimising front seats and seatbelt reminders for all seats that are annoying and therefore effective.
Driver appeal
Amazingly, the Mazda 3 MPS manages to get all of its nearly 260 horsepower onto the tarmac without an undue amount of torque steer, which is so often the bane of powerful front-wheel drive cars. Only through fast, sharp corners is there a hint of twitchiness and even then the array of electronic aids that come as standard soon put you right. For overtaking this car must be best in class, surging past traffic effortlessly.
Family car appeal
For similar money families could invest in a lower-end Mazda 5 or 6, both of which are far more family-friendly and spacious.
First car appeal
First time buyers will salivate at the Mazda 3 MPS's performance figures but should approach with caution. The rapid acceleration isn't so much the problem as the rapid gear changes demanded by the six-speed box. It's neither short throw nor standard but somewhere in between. Insurance and fuel costs will count against first timers, too.
Quality and image
Despite its class-leading speed and power, the Mazda 3 MPS looks destined to fight it out with the Focus and Astra rather than the Golf and A3. It simply doesn't look special enough, inside or out.
Accessibility
Only a five-door model is offered, so the Mazda 3 MPS actually fares rather better than some rivals for accessibility. The boot lid is light and easy to lift too, with a low and readily accessible loading bay.
Stereo and ICE (In car entertainment)
Fans of the iPod will be pleased to learn that the Mazda 3 MPS is fully compatible. Also included is a BOSE Premium audio system with six-CD autochanger and seven speakers.
Colours and trim
In order to make the most of the Mazda 3's rather too understated styling, bold colours are necessary. With only four colour options available, that means the stand-out choice is the solid True Red, followed by black which at least adds a faint hint of menace. Silver makes the car look anaemic.
Parking
As a range-topping model, rear parking sensors at least might be expected, but are not present. However, the Mazda 3 is pretty straightforward to park even if the 18-inch wheels with low-profile tyres make the task more challenging than in the rest of the range.
Spare wheel
Space saver spare wheel comes as standard.
Range information
Engine options - 1.4-litre (84bhp) petrol; 1.6-litre (105bhp) petrol; 2.3-litre (256bhp) petrol; 2.0-litre (150bhp) and a 1.6-litre (109bhp) diesel. All models feature a 5-speed manual gearbox MPS gets six-speed manual. The 1.6-litre (105bhp) petrol is also available with a 4-speed Activematic autobox. Trim levels: S, TS, TS2, Sport, MPS.
Alternative cars
Ford Focus ST Good value, good looks and similar chassis to MPS
Vauxhall Astra VXR Coupe-like Sport Hatch looks and feels the part
Volkswagen Golf GTI  Miles ahead of Mazda on interior quality
Renault Megane Renaultsport 225 Odd-looking French contender is good fun