February 2012
Maserati GranCabrio GranCabrio
Familiar appearance is shared with the GranSport coupe
February 2012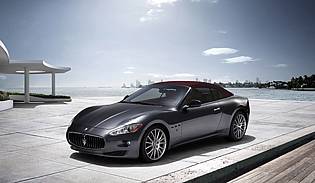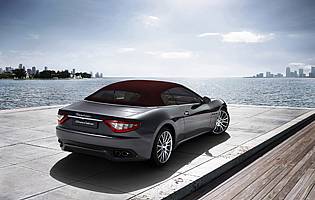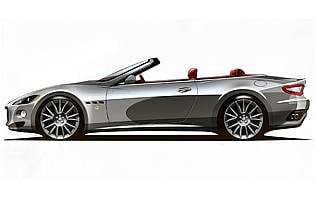 Overall rating

Likes:
Stunning looks rank among the car world's finest
The loud exhaust noise has no rival
Pleasantly uncomplicated driving experience
Near-perfect handling balance gives impressive agility
Gripes:
Large dimensions and thick doors make car parks awkward
Soft top roof sound insulation could be better
Prominent wheels are prone to kerbing
Seems poor value for level of standard equipment included
The GranCabrio is a convertible version of Maserati's GranTurismo coupe, built to allow drivers in the warmer regions of the world to better enjoy the weather and the noise of the car's V8 engine. It's arguably the most emotive of the company's models and is designed to appeal especially keenly to the heart over and above the head.
This generation of the GranCabrio is Maserati's first four-seat convertible car, adding a third model to a range that had previously only consisted of the GranTurismo Coupe and the four-door Quattroporte. Demand for prestige or luxury sports convertibles is very high in wealthy parts of the world, so building the GranCabrio was a sensible business decision.
It finds itself in a very difficult sector of the market, competing on price with the Aston Martin V8 Vantage Roadster, the Audi R8 Spyder V8 and the Mercedes SL63 AMG; three convertibles with sterling reputations and ample prestige. Cars of this ilk need to mix 'expensive' with 'special' because nothing else will do for image-conscious buyers.
The GranCabrio is a fairly straightforward convertible version of its existing GranTurismo. As such it's not an entirely unique model in construction, sharing the majority of its parts with its hard-top stablemate. It makes sense to share platforms to keep production costs as low as possible even at this price point, because the necessary mechanical engineering is expensive.
Cars of this type don't have a selection of engines or trim grades; only optional extras. This model comes with much the same V8 engine as featured elsewhere in the range and in one single standard trim level. Various additions and upgrades can be made to make the car as individual as possible, which appeals strongly to the target market.
Our verdict on the Maserati GranCabrio GranCabrio
The GranCabrio is not a practical car, and it isn't especially well equipped. It is, however, not just rare but special. It turns heads, delights ears - including those inside the car - and invites conversation in a way that only Italian sports cars can. Combined with a breadth of driver appeal including agility that belies its two-tonne kerb weight, the GranCabrio is a delight to have in your life.
Costs
Aside from the large purchase price, CO2 emissions are very high and would mean steep company car running costs. Fortunately, with frequent gentle cruising it's easy to beat the modest claimed fuel economy figures by a relatively large margin. The 80-litre fuel tank is expensive to fill with the required super unleaded, though.
Space and practicality
The absence of practical storage solutions in the GranCabrio is very obvious, both in the cabin and in the boot. Although there is good visibility all round, making it certainly more practical than some other Italian sports cars, the actual availability of storage space is quite poor. The door pockets are narrow and shallow, while the boot is completely dominated by the large box needed to house the roof when folded. There is little that is practical here.
Controls and display
Given the obvious stylistic flair of much of the rest of the car, it's perhaps a surprise that the instrument cluster is so relatively plain. The speedometer affords an extra dash of kudos by displaying up to 200mph. The large colour screen in the centre console doesn't have the resolution of the best but is still clear and functional, with night and daytime colour schemes. Ease of use is better with some functions than others, but it's generally good.
Comfort
The seats are comfortable in the main, being highly adjustable in many different ways. Rear passengers must be content with slightly more upright seat backs and reduced legroom, but space is ample compared to what some equivalent cars offer. The ride quality, considering the sporting pedigree and large alloy wheels, is good. Long distance comfort is only hampered by the excess noise that's very apparent through the convertible roof.
Car security
Soft-top cars, and particularly expensive ones, can be seen as easy targets for vandalism by petty criminals. As a result it's a car that needs secure overnight parking. It's fitted with a very effective alarm and immobiliser, but there is nothing listed that stands out as a particularly remarkable security feature.
Car safety
As well as the expected safety kit in the areas of airbags and electronic systems like ESP and ABS to enhance stability, the GranCabrio has a driving mode specifically for icy conditions. Activated directly via a button on the centre console it softens the power delivery considerably, reduces the power available and changes up much earlier than normal to help prevent accidents in heavily wintery weather.
Driver appeal
Driver appeal is the main reason to buy this car. The charismatic howl from the exhausts when Sport mode is activated creates an extraordinary environment in which to sit. The engine is best used above 3,000rpm, where the valves open and the noise is at its most astonishing. The car's handling balance is very impressive too, and it doesn't feel like a two-tonne car on the road. It's altogether a thoroughly intoxicating driving experience.
Family car appeal
It's important to note that with more than adequate rear passenger space and Isofix child seat mounts present and correct, the GranCabrio is technically a perfectly capable car for families of up to four. Accessing the rear seats to mount a child seat is not as easy as in more conventional cars, though, and boot practicality is severely restricted. Plenty of the interior finishes are also expensive and unsuited to clumsy hands or spillages.
First car appeal
Although the GranCabrio is exactly the sort of car that might find its way onto a young driver's laptop wallpaper, there can be no question of any ownership viability. Aside from the extremely high purchase price there are the twin issues of insurance and power. The torquey engine would almost certainly be too much for an inexperienced driver to handle safely, and an insurance quote would most likely be very expensive.
Quality and image
Maserati's image is unique, with decades of brand heritage, rarity and huge desirability on its side. The GranCabrio's image is enough to prompt admiring questions and conversation from complete strangers. but as an Italian sports car there is a historical expectation that the GranCabrio should not be particularly well put together. This does not seem to be the case and in particular all the leatherwork is of a very high standard, befitting of the price of the car.
Accessibility
Provided there is sufficient space beside the car, getting in and out is no problem. The seats are mounted quite low, however, and require a considerable bend of the knees. The back is more cramped and passengers will have to duck their heads substantially to get in - unless the roof is folded down. Boot access is restricted and awkward, with the compartment for the roof leaving precious little and poorly shaped space.
Stereo and ICE (In car entertainment)
Radio stations, basic CD information and auxiliary inputs are displayed on the large colour screen, which also displays the satellite navigation map. Track names are not, though, and to use an MP3 player Maserati's own cable needs to be used. It's not as simple and user-friendly as it could be, and nor are the stereo controls as easy to place and anticipate as they could be. The Bose system is not among the best of the current crop of in-car stereos, but it's not bad in reality.
Colours and trim
The GranCabrio is available in a variety of colours, from flat to metallic to special hues. There are options for the especially extrovert customer as well as the more reserved one, but the car generally suits black, red and white; colours that are available in shades especially suited to the car. The interior is also very customisable for colour, but generally looks wonderful thanks to extensive high-quality leather and suede coverings.
Parking
This is a particularly weak suit for the GranCabrio. Not only is it long and wide, but it has long, thick doors that make bay parking nigh-impossible at busy times. If carrying two or more occupants, it's almost essential that three free bays in a row be found so that the doors can be opened wide enough to allow entry and exit. Parallel parking is also awkward because of the prominent alloy wheels and very low profile tyres. The wheels are very susceptible to kerbing.
Spare wheel
Emergency tyre repair kit supplied as standard.
Range information
Petrol engine options - 4.7-litre (434bhp and 444bhp). Transmission options: six-speed auto gearbox only, incorporating manual paddle shift mode. Trim levels: GranCabrio, GranCabrio S.
Alternative cars
Aston Martin V8 Vantage Roadster Classically beautiful and fitted with a smooth, torquey engine
Mercedes SL63 AMG Bulky and imposing on the road, with explosive power
Audi R8 Spyder V8 Brash and obvious with poor visibility but superb to drive
BMW M6 Convertible Packed with technology and brute force, but less special