February 2006
Lotus Exige Exige
Low stance and compact dimensions give the Exige its unique looks
February 2006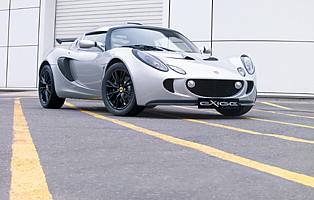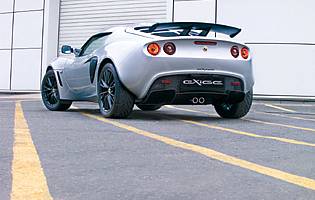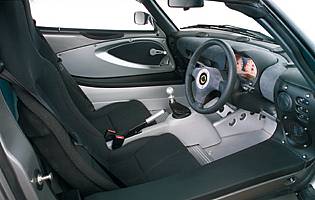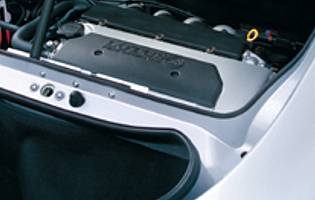 Overall rating

Likes:
Handling and grip are outstanding
Engine is tractable and delivers exceptional performance
Styling is individual and dramatic
ProBax seats are a big improvement
Gripes:
Noise levels remain high at motorway speeds
Stiff ride and steering can be intimidating for inexperienced drivers
Entry and exit are difficult, even for shorter passengers
Storage room is at a premium
With a long history of dedicated sports cars, Lotus used its Elise to create the Exige, with a composite roof, aerodynamic alterations and the same high revving petrol engine for exhilarating performance. For the 2006 model year both Elise and Exige models have benefited from a number of detail improvements, aimed at increasing performance and usability.
From the outside there are few visible differences from the original Exige. It retains the low stance, racecar aerodynamic aids and curvy shape that all make it quite unlike any other sports car on the road. One visual change is the adoption of LED rear lights, which look sharper but have the added benefit of reacting faster to brake applications, giving a useful safety advantage.
Inside there are more changes, which include the use of ProBax seats on all models. Designed specifically with posture and comfort in mind, they claim to put the spine in the correct position, improving comfort and blood flow to the benefit of alertness. New door seals aim to reduce wind noise on the move, while a new pedal box reduces pedal travel and allows the use of a drive-by-wire throttle for smoother responses.
In addition, the 2006 model year Elise and Exige are available with Sport or Touring packs, which have additional equipment tailored to the use of the vehicle. The Touring pack, as tested here, adds electric windows, black suede effect interior, full carpets, extra sound insulation and a CD/DAB tuner. A Super Touring pack adds twin airbags, more storage and leather trim, while the Sport pack includes traction control, sports suspension and lightweight alloy wheels.
A further development for the Exige is the introduction of the Exige S model, which uses a supercharged version of the existing 1.8-litre petrol engine for more extreme performance. This is a development of the limited edition Exige 240, which had a higher output version of the this engine, but was completed outside of the Lotus factory, hence its limited numbers and high price.
Our verdict on the Lotus Exige Exige
Already one of the most dynamic performance cars available at any price, the 2006 model year Exige adds a degree of improved comfort and refinement without sacrificing any of its outstanding abilities. It is still an uncompromising machine and requires a dedicated and enthusiastic owner, but anyone excited by its reputation is unlikely to be disappointed.
Costs
For the level of performance on offer, the Exige provides reasonable running costs. Driven with restraint the efficient 1.8-litre petrol engine can deliver decent economy as well as straightforward maintenance. Insurance may be an issue however, as it falls into the highest grouping.
Space and practicality
The compact dimensions and intimate cabin leave little room for anything other than the two occupants. Once inside head and legroom are decent, although elbow room is limited. A small storage area behind the seats and a boot behind the engine do give some room for luggage, but nothing larger than a sports bag will fit.
Controls and display
The minimalist nature of the Exige means the interior layout is refreshingly simple. The centre console houses only the ventilation controls which are stylish aluminium rotary knobs, although they are deep set which makes it difficult to see the top of the graduations. A small series of simple push buttons to the right of the steering wheel controls the lights, while the speedometer and tachometer are simple and elegant.
Comfort
Although clearly not built for comfort, the ProBax seats deliver respectable comfort levels, even though there appears to be little padding. At lower engine speeds there is little noise from the petrol unit, but exhaust drone, tyre rumble and wind noise do intrude.
Car security
With a standard fit alarm including remote central locking and an immobiliser, there is a good level of security for what is a desirable car. Anyone serious about theft prevention should consider an aftermarket tracking device as a secondary line of defence.
Car safety
With outstanding grip, acceleration and braking performance, the Exige has an impressive level of active safety. Traction control is also available as an option. As standard the Exige is not fitted with airbags, but they are available as an option, as are four-point harnesses instead of regular seat belts in a bid to offer far superior support.
Driver appeal
Anyone considering an Exige will be doing so purely because of its ability to deliver high levels of driving pleasure, and in this respect it is exceptional. The 1.8-litre engine has sharp throttle response, and despite the modest torque output has enough low down pulling power to accelerate smoothly. It is only above 6,500rpm however that the engine's nature changes, with the switch to the high lift camshaft signalled by a sudden burst of acceleration. The stiff suspension comes into its own at speed, with virtually no roll to speak of and substantial grip. The steering is direct thanks to the lack of power assistance, and gives superb feedback. In ordinary driving the directness of the controls and the hard ride can be tiring, but when driving at speed it comes into its own.
Family car appeal
A very small and enthusiastic family may enjoy the Exige's performance - as the second car in the household, but in all other respects a two-seat car such as this is unlikely to serve the needs of a family.
First car appeal
First time car buyers should steer clear of the Exige, however tempting its charms may be. Its high performance, sensitive steering and chassis and generally poor rearward visibility make it a car for experienced drivers only.
Quality and image
The lightweight construction of the Exige makes it more susceptible to rattles and noises that may be attributed to a lack of quality, but it is actually well finished from good materials. The image of the Exige is impressive, trading on its reputation as a superb car on or off the racetrack, and few rivals can match the cache of its badge.
Accessibility
Getting in and out of the Exige is quite a challenge and requires practice, as the door aperture is narrow and the car is very low to the ground - the roof is at waist height on most people. Once mastered it is less difficult, but still much more taxing than an ordinary car. Access to the boot is simple, although the aperture is much smaller than the boot itself.
Stereo and ICE (In car entertainment)
The DAB unit fitted provides excellent sound quality and good station reception in FM or DAB mode, although its regular size and mounting on the far side of the cabin can make it difficult to operate from the driver's seat.
Colours and trim
With the Touring pack the Exige has a suede finish to the dashboard, which as well as reducing reflections adds a quality feel to the cabin. The remainder of the surfaces are black or silver, in plastic or bare aluminium, all of which are pleasant to touch, if cold when the outside temperature is low.
Parking
The Exige presents a number of problems when parking, most notably the poor rearward vision. Forward vision is much better, but the steering is heavy at parking speeds, and that can make manoeuvres quite taxing for the driver.
Spare wheel
Emergency inflation foam fitted beneath the bonnet - no spare wheel.
Range information
Two engine options: 1.8-litre petrol (189bhp) and 1.8-litre petrol supercharged (220bhp). All are fitted with a six-speed manual gearbox as standard. No trim levels defined, only addition of Sport or Touring packs change the specification.
Alternative cars
Caterham CSR 200 Even more stripped down, delivers incredible driving experience
TVR Tamora Mighty performance but with more civilised road manners
Porsche Boxster Impressive handling, expensive and less thrilling
Vauxhall VX220 Superb performance from turbo variant and excellent value for money