July 2007
Lotus 2-Eleven Road Going Version
Outlandish shape is reminiscent of a racing car
July 2007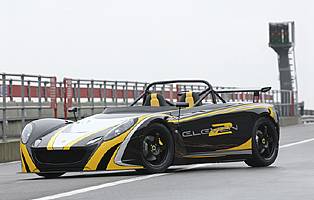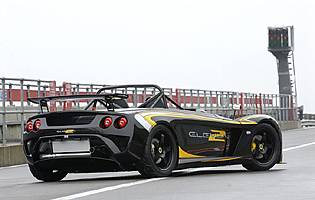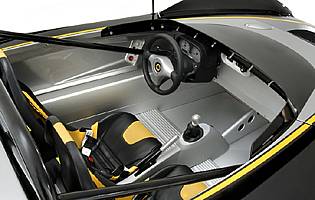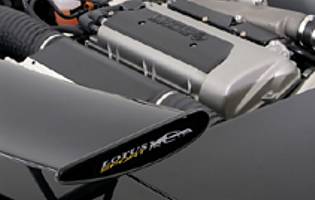 Overall rating

Likes:
Characterful and tractable engine
Superb handling balance
Stripped-down design is appealing
Surprisingly benign on the road
Gripes:
Complete lack of roof is a compromise
Crash helmet is often necessary for road use
Wind deflector can cause distracting reflections
High price for an occasional use car
With a long-established reputation for producing some of the world's most exciting cars, British firm Lotus have gone one better with a stripped down machine designed for fast road and track day driving in the shape of the 2-Eleven. Designed for pure driving pleasure above all else, it competes with some of the most specialised cars currently on sale.
With the market for pure track day cars increasing, it comes as no surprise to find a dedicated sports car manufacturer such as Lotus producing a car for the keenest of enthusiasts. With the need for creature comforts and civilised road manners effectively removed, it gives Lotus the opportunity to build a car as close to a racing machine as the law allows.
The extreme styling is a result of carefully honed aerodynamics: the low nose and high tail are perfectly suited to the car's purpose, allowing the front and rear spoilers to provide high levels of downforce. The 2-Eleven has a small wind deflector rather than a windscreen and has no doors or roof, making it a car for good weather or the dedicated driver. The bodywork is made from high quality reinforced glassfibre, which is strong but also cheap to replace, and the small bolt-on panels are easily repaired.
Under the attractive skin lies a variation of the same chassis that underpins both the Elise and Exige models. With a lightweight aluminium construction and strong impact protection, it makes an ideal basis for a fast road and track machine. The chassis differs slightly from stablemates by using the high sills for impact protection and a different rear to accommodate the engine.
The 2-Eleven also uses the basic mechanical make up of the Exige S model. This means a mid-engined layout with power transferred to the rear wheels via a six-speed manual gearbox. A useful feature on the 2-Eleven is the variable traction control system, which can be adjusted in fine degrees between fully on and fully off, making it easy to tailor the car to the experience of the driver or road conditions.
Our verdict on the Lotus 2-Eleven Road Going Version
Considering its no-compromise design and layout, the 2-Eleven is remarkably benign on the road, and is not intimidating to drive. It is, however, thrilling to drive thanks to the incredible performance and superb handling. A car this focused and expensive is certainly not for everyone, but for those seeking usable thrills it is outstanding.
Costs
Although the initial purchase price is high, fuel economy for the 2-Eleven is respectable, although it is unlikely to be driven sedately very often. Insurance will also be high, although a likely low annual mileage will reduce this figure.
Space and practicality
Passengers have sufficient space to get comfortable: head and legroom are very generous, although elbowroom is a little restricted. Practicality is not an issue, as the 2-Eleven has no boot.
Controls and display
A bare minimum of controls in the 2-Eleven make it very easy to operate, and the small instrument pack is a very attractive design, which is also easy to read. The traction control is handily placed right next to the driver for ease of use.
Comfort
For a car of this nature, the 2-Eleven is surprisingly comfortable. The seats are supportive and the ride quality is impressive. Wind and road noise are very high due to the lack of a roof, but otherwise it is more comfortable than its appearance would suggest.
Car security
The 2-Eleven has a minimum of security equipment, with a steering lock and battery isolation switch as the only devices fitted. However, the car is unlikely to be left unattended often due to its roofless nature.
Car safety
Although it lacks conventional safety devices such as airbags or seat belt pretensioners, the strong chassis, roll cage and full harness offer a lot of protection. The exceptional performance and grip also offer a great deal in terms of active safety.
Driver appeal
The 2-Eleven is all about driving pleasure, and it delivers in emphatic fashion. The engine, already impressive in the Exige S is even more productive in this installation, responding instantly and delivering mighty acceleration. The finely-honed chassis is remarkably well balanced, inspiring huge confidence and encouraging the driver to make the most of the performance. The suspension does a remarkable job of keeping the car level and in touch with the road whilst remaining sufficiently supple to be used on the road. The steering is also a joy to use, with a great deal of feel and razor sharp responses.
Family car appeal
Although children might well enjoy the experience, with only two seats and no boot it is unsuitable for family use.
First car appeal
The 2-Eleven is completely unsuitable as a first car, as it is highly specialised and not designed for everyday use.
Quality and image
The 2-Eleven feels just as well constructed as more mainstream Lotus products, and despite its low volume uses good quality switchgear. Its image is very strong, with dynamic race-car looks and the respected Lotus badge.
Accessibility
With no doors, access to the 2-Eleven is best suited to taller adults. Those with sufficient height will find it easy to swing a leg over the high sill, while shorter drivers will have to climb over.
Stereo and ICE (In car entertainment)
No stereo system is fitted to the 2-Eleven.
Colours and trim
All 2-Eleven models are finished in black, but the yellow and silver decals are optional, and improve the looks of the car significantly. Inside, Road Version cars are almost completely bare aluminium, except for the seats which are finished in attractive black and yellow leather.
Parking
Although the 2-Eleven is not best suited to commuting, it is very easy to park thanks to the uninterrupted view all round, and although it lacks power steering the lightweight construction makes the steering very light.
Spare wheel
Tyre inflation foam mounted in the cabin.
Range information
One engine option: 1.8-litre supercharged petrol (252bhp) mated to six-speed manual gearbox as standard. Two trim levels, Road Version and Track Version, latter is not road legal.
Alternative cars
Caterham CSR 260 Superlight Absorbing drive, incredible performance
Radical SR4 Most track-focused car available, peaky engine
Ariel Atom 300 Mind-blowing performance, no weather protection
Westfield XTR4 High performance car encourages you to overlook the interior finish