Lexus LC 500h
Stunning and agile with incredible seats
August 2017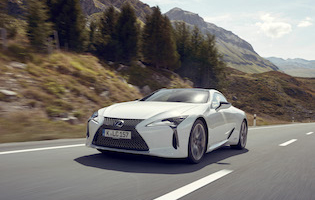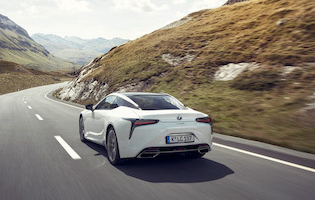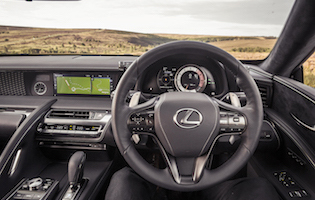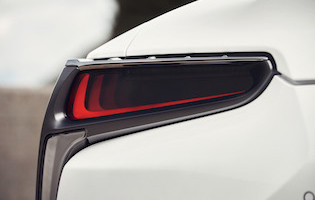 Overall rating

Likes:
Extrovert styling makes it looks like a race car
Uprated parts are all very high-spec and do a fantastic job
Addresses all of the standard car's grip issues
A worthy addition to BMW's lightweight track car legacy
Gripes:
Transmission is easily confused
Engine drones at high speeds
Trackpad is awkward to use
Luggage space is poor
The Lexus LC 500h is a luxury coupe designed to be the flagship model in the Japanese manufacturer's range. Available with both a hybrid and a V8 powertrain option, it is a comfortable long-distance cruiser with a side helping of sports car prowess.
The two engine choices are priced the same, so choosing comes down to what you want from the car. The hybrid returns low running costs but is somewhat lacking for those who like some theatre from their coupe. The V8 is quick and has a raucous soundtrack, but should be avoided by the eco-conscious.
This being Lexus, there's some impressive – if arguably unnecessary – engineering on display. The biggest talking point is the new multi-stage hybrid transmission, which uses a mixture of traditional gears and a CVT transmission to – theoretically – offer economy and fun driving. It doesn't really work and feels like a bad compromise, though owners would quickly get used to its quirks.
It's an incredibly eye-catching car, too. The styling is somewhat divisive but its concept car appearance turns heads and camera phones wherever it goes. The colour mix is great, too, with everything from the standard whites and blacks to bright yellows and even brown.
Look inside and it's a pleasant surprise. Lexus interiors often look like they're trying too hard to be futuristic – and failing. However, while the edgy design style remains for the LC, it's been toned down considerably to offer a cool, relaxing cabin. Unfortunately, Lexus' infotainment system is still a nightmare to navigate.
Our verdict on the Lexus LC 500h
It's difficult not to love the Lexus LC 500h. Despite the transmission tripping over itself constantly, it offers decent performance and surprising agility in corners. Over long distances it's the perfect companion, with ridiculously comfortable seats a particular delight. And for those who want a bit more noise and performance, the V8 is an absolute peach.
---
Costs
Unusually, the LC's hybrid and V8 options both cost the same. They start from £76,595 for the standard specification, and go up to £80,595 for the Sport package and £85,895 for Sport+. The hybrid should be relatively inexpensive to run compared to others in this segment, with official economy of 44.1mpg.
Space and practicality
Here's where the LC falters somewhat. As a long-distance cruiser, you'd rightly expect decent luggage space to carry suitcase and bags for weekends away. However, it has dismal boot space that was just about big enough for two overnight bags.
Controls and display
Lexus' infotainment system is a definite weak link within the LC package. While most rivals offer competent systems, the Lexus set-up is confusing to navigate, while the trackpad is awkward to use even once you're used to it. However, the instruments in front of the driver are clear and concise and can even be moved to display different information.
Comfort
One of Lexus' key selling points is that it makes comfortable cars, and with the LC it has excelled itself. The ride is superb and the seats are perfectly judged. Opt for the Alcantara-lined seats our test car was fitted with and your back and bottom will thank you – they might just be the most comfortable seats of any car on sale today.
Car security
The LC comes with plenty of security equipment, with an alarm, intrusion sensor, glass breakage sensor and tilt sensor as standard. It also has locking wheel nuts to ensure the wheels can only be taken off by the owner.
Car safety
The LC hasn't been crash tested, but Lexus says the new chassis has been designed with safety in mind. As further evidence of this, it comes with Lexus Safety System+ as standard, which has features such as pre-collision warning, lane-keep assist and road sign recognition.
Driver appeal
There are two aspects of the LC's character that require attention. As a long distance cruiser it is sublime, with a relaxing ride and super comfortable seats, while it hides its weight surprisingly well in corners. However, the hybrid's transmission does take some of the enjoyment out of the experience, so keen drivers should really opt for the V8.
Family car appeal
As a practical family car the LC isn't very good. It has a small boot and space in the rear is limited – even for children. There's also limited storage within the car, meaning that school bags and other items that come with family life would have to be stored on the floor or other seats.
First car appeal
Those who've just passed their test should probably steer clear of the LC. Although the hybrid should return fairly low running costs, it's a big, heavy car that inexperienced drivers might find intimidating. Meanwhile, younger drivers will likely find insurance costs prohibitive.
Quality and image
Lexus has built up a reputation for producing cars that last. The LC should be no different in that regard, while its high quality interior gives off the kind of premium feel you'd expect from this price point. It's not quite as good as the likes of BMW and Audi, but it's close. Meanwhile, Lexus has a unique badge appeal as an excellent alternative to the established German brands.
Accessibility
The LC is quite low to the ground, but getting in and out is made easier by the fact the doors are large and open wide. However, the same can't be said for the rear, which offers comical legroom – it's only fitting for young children, with my six-foot frame requiring a crooked neck to fit in.
Stereo and ICE (In car entertainment)
An upgraded stereo is one of the very few options available for the LC. The standard set-up is a 12-speaker Pioneer surround sound system, which provides decent clarity and will be perfectly acceptable to most buyers. However, audiophiles should opt for the mark Levinson Reference Product system, which is an absolute delight for the ears. During our test we tried numerous heavy bass songs at high volume and noticed no distortion whatsoever.
Colours and trim
Testament to the LC's outlandish styling is the fact that it really does look good in any colour. There's a wide variety of common colours with various shades of white, black and silver, while the deep blue paint job is a particularly classy hue. However, to make the most of the bold styling we'd recommend a brighter colour such yellow or red.
Parking
The LC is a large car and as such it can prove tricky to fit in a parking space – we were lucky not to scrape the front bumper when stopping at a service station after misjudging the length of the bonnet. Rear visibility isn't great either, but the LC does come with a reversing camera as standard, which makes life a bit easier.
Spare wheel
Emergency tyre repair kit supplied as standard.
Range information
Petrol engine options: 5.0-litre (471bhp). Hybrid engine options: 3.5-litre V6 and electric motor (472bhp). Transmission options: Ten-speed automatic. Trim levels: Luxury, Sport, Sport+.
---
Alternative cars