March 2014
Lexus CT 200h Luxury
The bigger, bolder grille is the most obvious change
March 2014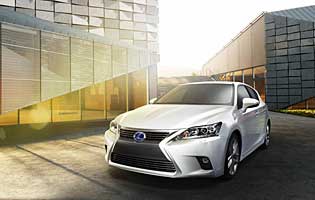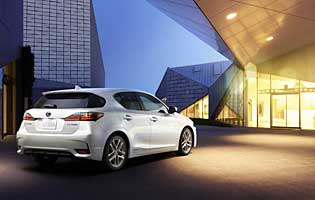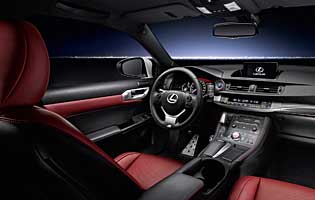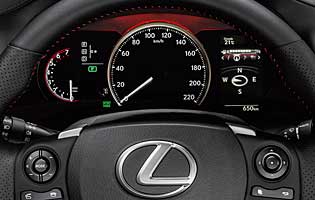 Overall rating

Likes:
Extremely refined drivetrain rewards and enhances relaxed progress
Carefully shaped and superlatively comfortable front seats
Unparalleled motorway cruising refinement for the class
Huge tax advantages for business users
Gripes:
Limited rear seat legroom is bad news for adult passengers
When too reliant on the petrol engine, fuel economy suffers
Rear corner visibility could be better
Relatively high boot load floor reduces carrying capacity
There's more to the 2014 CT 200h than meets the eye, with changes running much deeper than the huge, aggressive new front grille. Technology has been increased, efficiency has been ramped up and prices have come down, making this the Lexus that many people will not be able to afford to ignore.
Having long since ditched the idea of diesel engines, since they simply can't be made quiet enough to fit the Lexus ideal, the CT 200h continues, as its 'h' suffix partly implies, as a petrol-electric hybrid. The familiar drivetrain is the chief defining quality and unique selling point in this class, and it ticks boxes that no contemporary rival can.
Outstanding refinement both on the motorway and in towns and cities is a Lexus prerequisite, and thanks to additional structural bracing and slightly softer suspension, the improved CT already strikes deeper into the brand's heartland and distances itself even further from the considerably noisier competition.
Emissions are becoming a hot topic in Europe, with the particulates produced mainly by diesels coming to the fore. Manufacturers are being forced to introduce extremely expensive solutions to their diesel vehicles, pushing their prices ever higher. Favourable exchange rates, however, have brought the CT's price down.
While the Lexus is not the most dynamically accomplished car among its rivals, it is the quietest and could very well be the most comfortable. These are the pillars on which the brand is built and in that regard this generation of the car is a much better Lexus than its predecessor. It also looks a lot more striking and has a better infotainment interface.
Our verdict on the Lexus CT 200h Luxury
The hybrid drivetrain used by the CT 200h is extremely sensitive to driving style and usage patterns, meaning it can reach extremely high economy as well as missing its official figures by a massive margin. This highly-strung nature is part of what many hybrid car drivers relish, though, and in combination with wonderful comfort, peerless reliability and improved styling the CT is a very positive step forward.
Costs
Five of the six trim levels' purchase prices have been significantly reduced to reflect favourable exchange rate shifts, while the sixth has been fitted with lots of extra equipment instead with no movement in the list price. As an extremely well kitted-out car, the compact Lexus offers superb value for money when compared to its less well-equipped rivals. Its drivetrain is as tax-friendly as they come, too, especially on models with smaller wheels.
Space and practicality
Cabin storage is about average for the sector, with what storage solutions there are having been well placed and thought through. The boot, however, is a slight let-down, because of the high load level that impinges on overall carrying capacity. The silver lining here is that the load lip is flat to the boot floor, so sliding heavy objects in and out is a cinch.
Controls and display
The new entry-level optional sat-nav system fitted to this car uses an intuitive dial-based system that works seamlessly. The highlights, though, are the new displays. The uncommonly thin main display screen is sharp and bright, while the chiefly digital instrument cluster is so pin-sharp and clear you wouldn't believe it was actually digital until the standard eco-meter turns instantly into a rev counter when switching to Sport mode.
Comfort
Thanks to the chassis and suspension modifications made to this version of the CT 200h, ride quality has been perceptibly improved. It's more assured over rough surfaces and handles the worst of the disintegrating road network with truly impressive confidence. The front seats deserve a special mention, too, as they're blessed with a brilliant big-car feel in their levels of comfort and support.
Car security
As you would expect, remote locking, an alarm and a near-impenetrable immobiliser are all fitted as standard across the range to give a good level of security. Lexus models also have a good reputation for overall high standards of intrusion prevention, and the CT 200h has so far proved itself to be continuing along the same lines.
Car safety
Eight airbags are standard on the CT, offering class-leading passive safety. Lexus has gone to great lengths to ensure that the CT200h has a stiff and therefore safe structure. The Vehicle Dynamic Control system is one of the most capable systems on the market, and adjusts depending on the driving mode selected.
Driver appeal
Driving a 'full hybrid' like the CT is a uniquely rewarding experience, with half the fun coming in the shape of the challenge of using the electric motor as much as possible; recharging it to its greatest potential whenever there's a chance to, and easing off the throttle just enough to shut the petrol engine down at every opportunity. But even if that game isn't for you, switch the CT to Sport mode and it's instantly responsive thanks to increased voltage to the electric motor.
Family car appeal
It's not an especially big car, and its small rear door apertures can hamper attempts to secure a child into a car seat, but in general the CT 200h can perform most of the duties required by parents. Best of all is the CT's frequent silence in low-speed driving, which helps a driver to relax far more than he or she could in a diesel car.
First car appeal
While you could easily argue that the CT has plenty of qualities not unsuitable for novice drivers, like its easy-going drive and technologically advanced interior, it's simply too expensive to be a likely first car. It's much cheaper than a similarly-specified Audi or BMW, but a first-time new car buyer would surely be more inclined to look at the smaller, cuter and cheaper Toyota Yaris Hybrid.
Quality and image
According to Lexus' own figures, the CT is the most reliable car the firm has ever made. For a firm that consistently tops reliability surveys anyway, that means CT buyers can expect much lower chances of an unexpected visit to their dealership than owners of German rival cars.
Accessibility
There are no problems here, but there is a slight caveat for rear passengers. With five doors as standard the driver and passengers can easily climb aboard, but the rear doors are considerably shorter than the fronts. Passengers with big feet or long legs will find it something of a squeeze, but more petite people will find it perfectly fine. Access to the boot is excellent, with a wide tailgate.
Stereo and ICE (In car entertainment)
Lexus has upgraded its standard-fit stereo with special new speakers made in part from bamboo. The firm's long-running relationship with Mark Levinson brings with it an impressive optional audio system including multiple speakers and a neat interface based around a central dial on the console, which operates through the sharp dash-top display. Bluetooth, USB and CD inputs are all available, and Premier-spec CT 200hs get the Mark Levinson stereo as standard.
Colours and trim
There is a broad colour gamut on offer for the CT 200h, totalling 11 shades for 2014. None are particularly overt but there is a new, second solid no-cost colour option in the form of the bold Fuji Red. The new red joins dark grey as arguably the most flattering hues, but blacks, whites and silvers are also on the menu. The interior trim styling isn't as mature or cohesive as an Audi's, but the leather upholstery in this Luxury model is thick, soft and wonderful to look at.
Parking
Thanks to standard-fit parking sensors and a full guidance system on higher specification versions, parking the CT 200h is relatively straightforward. Sadly the rear quarter visibility is poor due to the very thick C-pillars; a problem not entirely cured by the insertion of a small window within the pillar itself. Care is required; as is confidence in the thankfully reliable parking sensors.
Spare wheel
Space saver fitted as standard.
Range information
Petrol engine options - 1.8-litre hybrid (134bhp). Transmission options: Continually Variable Transmission (CVT) only. Trim levels: S, SE, Advance, Luxury, F Sport, Premier.
Alternative cars
Audi A3 Good looks and prestige badge, but poorly equipped as standard
BMW 1 Series Can't match the Lexus for efficiency or tax-friendliness
Mercedes-Benz A-Class Stylish newcomer to the class suffers from refinement and practicality issues
Volkswagen Golf Ordered, understated and understood everywhere, the Golf remains a benchmark