Land Rover Range Rover Velar
Great off-roading and luxe interior
June 2017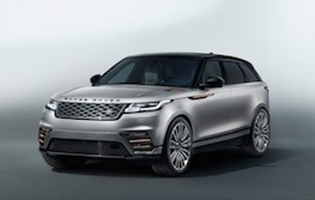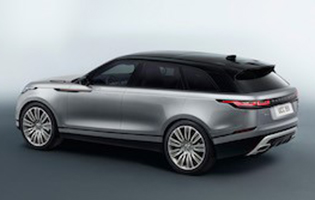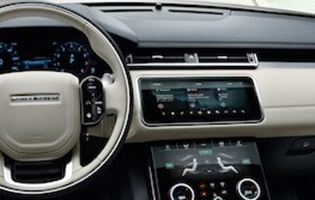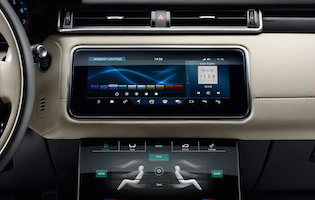 Overall rating

Likes:
High-end interior
Impressive off-road capability
Huge amount of boot space
Easy-to-use infotainment system
Gripes:
Not a huge amount of rear legroom
Ride is harsh when fitted with larger wheels
Some plastics aren't high quality
Top-spec cars are expensive
The new Range Rover Velar is designed to sit above the baby Evoque and beneath the current Sport. Because of this, it gets dynamic looks and impressive luxury levels, with a price that places it directly in the middle of the range. It's an important car for the brand – and one that Range Rover believes will conquer more customers from other manufacturers than any other car it currently produces.
The exterior of the Velar features the latest in Range Rover's design language. In truth, it looks especially good in the metal, with the front end in particular looking like it's only just left the designer's page. It still incorporates a 'Floating Roof' design, which is a cue we've seen on almost all Range Rovers. It's an exceptionally good-looking car.
The interior of the Velar has also been given the works, with two large 10.2-inch colour touchscreens giving instant access to media functions and drive controls. Not only this, but they also lend the cabin a distinctly premium air, increased further by plenty of high quality materials. Even the steering wheel features touch-sensitive 'screens', while a heads-up display gives a clear reading of speed and direction.
A wide range of engines are available to choose from, too, going from a turbocharged four-cylinder diesel right the way up to a large, supercharged V6. All cars get four-wheel-drive, giving the Velar a huge amount of capability in all manner of conditions. Six-cylinder models also benefit from air suspension, with smaller engined-cars using a standard steel spring setup.
Though smaller than the Sport, the Velar has been designed to offer plenty of practicality. The SUV market is ever-expanding, with families swapping out their traditional estate cars in favour of larger, higher-riding four-wheel-drives. It's why the Velar has been designed with families in mind, and why there's so much boot space on offer.
Our verdict on the Land Rover Range Rover Velar
Though smaller and less expensive than the Range Rover Sport, the Velar should in no way be seen as any less of a car. It rides reasonably well (with the right-size alloy wheels fitted), and can be specified with one of a series of reliable engines. There's no denying that one of its biggest pulls is the way it looks, but the way it drives and the way the interior is finished means that it is deserving of serious consideration.
---
Costs
Running costs shouldn't be too high if you choose one of the smaller, more efficient Ingenium engines. There's only one gearbox to choose from, but this works well to deliver good economy figures, especially considering the Velar's large size. It'll cost a reasonable amount to replace the car's tyres – especially on larger-wheeled models – and servicing costs are likely to be relatively high, too. However, day-to-day costs shouldn't be too scary, though it's worth remembering that tax costs will be high should the list price of the car go over £40,000.
Space and practicality
Straight off the bat, the Velar is able to offer a huge amount of storage space. There's 632 litres available with the rear seats raised, rising to 1,731 litres with them folded flat. It's an impressively large load area, and because of its square size it's very usable, too. However, though there's plenty of room for luggage, this does negatively impact rear legroom – there's a lot less than you'd expect from a car of this size.
Controls and display
The biggest change in the Velar over existing Range Rover products is undoubtedly the displays. Clearer and easier to read than other systems, they make a huge difference to the overall feel of the car. That said, some may find the lower display set further down than they'd expect, and this could make changing the drive settings quickly and safely a little more difficult. The new dashboard is also very clear, while the variety of physical controls operate with plenty of tactility.
Comfort
Thanks to well-sorted suspension (and air suspension on six-cylinder models), the Velar is a comfortable place to be. However, this can be spoiled when the car is fitted with large 21-inch wheels, as this makes the ride a little more fidgety and prone to 'crashing' through potholes in the road. We'd opt for the smaller alloys available, as these give the Velar a far more luxurious ride quality.
Car security
The Velar comes with all of the traditional safety features, including an alarm, immobiliser and interior motion sensor. There's no doubting that the Velar will be sought after, and therefore subject to a fair amount of attention. However, thanks to its variety of safety functions, there should be no reason why you can't leave the Velar parked out on the street at night.
Car safety
The new Velar has yet to be crash tested, though it's likely to score well thanks to its variety of airbags as well as the inclusion of autonomous emergency braking. The latter will make the biggest difference when it comes to crash test scores, and it means that the Velar is at the very cutting edge of in-car safety technology. The adaptable four-wheel-drive system provides better security in difficult conditions, too.
Driver appeal
Normally, an SUV doesn't offer all that much for the 'keener' driver, because they're heavy and tend to lack the precision you'd find with a saloon car. However, the Velar drivers really very well, with far less body roll than you'd expect. It's also exceptionally good off-road, with its Terrain Response system judging road surfaces and then adjusting the car's settings accordingly. It's remarkable technology, though one that is likely to be little used by the standard SUV owner.
Family car appeal
The Velar will certainly suit family owners. It's practical, relatively spacious inside and it's available with a range of efficient engines, too. Yes, certain specifications command a high price, but keep away from too many options boxes and the Velar can still be a good-value purchase. Of course, costs for consumables – tyres and brake pads for instance – will be higher than those found with more 'budget' brands.
First car appeal
Unfortunately, owing to its high list price and relatively powerful range of engines, the Velar won't be ideal for those who have just passed their driving test. Though the smaller Ingenium engines won't be costly to run, they still have a fairly high power output which will drive premiums skywards. The Velar is also a rather large car, and one which is a world away from the smaller, more 'usual' learner vehicles.
Quality and image
The image associated with Range Rover cars is riding high at the moment, with more and more people desperate to get their hands on one. It's why each new model is accompanied by a relatively large waiting list – and it's well deserved. The build quality of the new Velar is really very good, let down by only a few harder plastics lower down the cabin. Overall though, the effect is one of a truly high-end car.
Accessibility
Accessing the Velar is easy thanks to large doors that aren't too heavy. The rear is also simple to access to thanks to a powered boot. The wide door apertures mean that entering and exiting the car isn't tricky, though its relatively high ride height does mean that some people may find getting into the Velar is a little bit of a stretch.
Stereo and ICE (In car entertainment)
The Velar features Range Rover's very latest infotainment system – Touch Pro Duo. This incorporates two 10.2-inch colour touchscreens in the centre of the car's dashboard. The top one controls media functions and satellite navigation, while the lower one gives access to driving modes and – in cars fitted with air suspension – different drive heights. Not only is it good to look at, it's also incredibly easy to operate and more responsive than any system that we've seen in a Range Rover prior to now.
Colours and trim
As with any Range Rover, there's a huge amount of personalisation options available. There are a wide variety of colours to choose from, as well as a vast list of interior trims. From launch, there will be six specifications to choose from – Velar, S, SE, HSE, R-Dynamic and First Edition – meaning that there really is something for everyone. Be wary though – top spec cars can easily break the £80,000 barrier.
Parking
There's no denying that the Velar is a large car, despite being smaller than the current-generation Sport. However, thanks to a variety of parking cameras used in combination with large wing mirrors, it's not that difficult to park. That said, it is difficult to see where the corners of the car lie when behind the wheel, and this can make positioning the Velar – particularly at low speeds – somewhat unnerving.
Spare wheel
Emergency tyre repair kit supplied as standard.
Range information
Petrol engine options: 2.0-litre turbocharged petrol, Supercharged V6 petrol. Diesel engine options: 2.0-litre turbocharged diesel, Turbocharged V6 diesel. Transmission options: Eight-speed dual-clutch automatic. Trim levels: Velar, S, SE, HSE, R-Dynamic, First Edition.
---
Alternative cars