March 2005
Land Rover Range Rover Supercharged V8 Vogue SE
The '06 Range Rover looks modern without being avant-garde
March 2005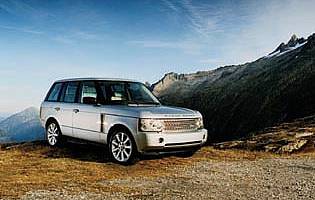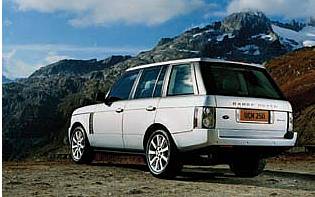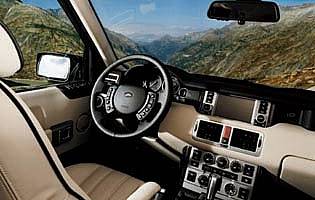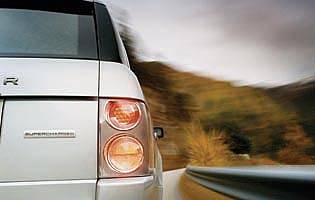 Overall rating

Likes:
Supercharged V8 sounds great and goes like stink
Range Rover's off-roading ability is impressive
Cabin looks and feels supremely well finished and appointed
Revised exterior design brings the Range Rover bang up to date
Gripes:
Asking price for top-end models is well above the means of most
Dismal fuel economy will have dire effect on the bank balance
Supercharged model's exterior styling may be too flash for some
Kick-down delay with auto box can be frustrating
Where would the great and the good be without the trusty Range Rover? For so many years this leviathan of the highways has been ferrying around those too important to travel by regular means. The latest incarnation is said to be the most refined and highly engineered to date, which should make it a hit with Royalty and rappers alike.
Range Rovers are luxury products; of this there can be no question. However, unlike fancy watches or expensive suits, the Range Rover is far from fragile and delicate. Here we have a highly desirable (not to say expensive) machine that can play both luxury exec mobile and full-on mud-plugger.
It never fails to astound that while you sit in your comfortable, heated leather seat surrounded by wood and opulence the Range Rover can scale 35 degree rock faces in the pouring rain, whilst covered in mud. Chaos may be breaking loose beyond the windscreen, but inside it's serene.
The 2006 model year Range Rover has been extensively restyled on the outside to give it a more modern and contemporary look. The designers have managed to strike a balance between appealing to the new moneyed rapper set, while not offending the more traditional country set.
Only the seriously loaded need apply, though, as even the base mode will set you back in excess of GBP45,000. That said, the Range Rover is still essentially unique in that it is the only model in its class that combines elegance and on-road refinement with genuine go-anywhere ability.
Our verdict on the Land Rover Range Rover Supercharged V8 Vogue SE
Opulent, luxurious and rather expensive: the Range Rover is beyond the means of most people. However, those that can afford it and lust after its imposing stance and genuine off-roading ability will fall for the '06 model's modern, contemporary looks.
Costs
Anyone who hasn't been earmarked for the board need not apply. Even the 'cheapest' Range Rover will set you back the best part of GBP46,000. Add on the price of insurance (minimum group 13, maximum group 17) and the horrendous fuel bills (24mpg is the best you can hope for) and you are looking at one costly motor.
Space and practicality
The cabin provides more than enough room for one six-footer to sit comfortably behind another. Headroom is more abundant at the front but hardly scarce at the back. The boot is spacious enough for several large suitcases or a large supermarket shop. A ski bag that slots into the ski hatch in the rear seat is a handy feature. There are also several conveniently placed cubbyholes dotted throughout the cabin.
Controls and display
The dials on the main instrument binnacle feature a classy chrome-effect rim which is nicely set-off by the black background. A seven-inch touch screen sits in the middle of the dash and can be used to control various features and functions. The steering wheel has a number of buttons, which is handy and safe. Every knob and dial has a nicely weighted feel, as though they have been hewn from stone and set in place by a master craftsman.
Comfort
Comfortable isn't the word when it comes to describing the feel of the Range Rover's cabin. The wide seats are sumptuous, the steering wheel is heated, the carpets are deep, the climate control works well and even the wind and road noise is impressively suppressed. There may be a rip-snorting V8 block pulsating away a few feet from the driver and passangers, but you wouldn't know it. Serene is the word that springs to mind.
Car security
Central locking and an ultrasonic alarm system are charged with keeping the Range Rover safe from any unwanted attention. Given the sums of money involved, buyers may wish to fit a Tracker system in case the unthinkable should happen.
Car safety
Eight airbags as standard coupled with Hill Descent Control (HDC), Electronic Traction Control (ETC), ABS and Dynamic Stability Control (DSC) should make the Range Rover a pretty safe bet. Also take into account the fact that we are talking about something that weighs more than two and a half tonnes. Barring lorries, everything else on the road is going to come off second best.
Driver appeal
This section has to be split into two halves in order to do the Range Rover justice. Off-road and the big bruiser is far more capable than its 'Chelsea Tractor' nickname suggests. Dips, gorges, brooks, muddy banks - the Range Rover gobbles them all up. On road and with the suspension lowered, the Rover is every bit as composed as a large executive saloon with air suspension. It is of course top heavy, but the amount of body roll encountered rarely sets the nerves on edge.
Family car appeal
Wealthy families, yes. There is plenty of space and room for two adults, three kids and a load of stuff. The DVD system for the rear seats will also help to ward off the dreaded chorus of ""Are we there yet?"".
First car appeal
Unless your father is a member of the aristocracy, a footballer or famous rap star then the chances are a Range Rover will be out of the first time buyer's price range. Even if money weren't an issue, the skill and experience required to steer this luxury barge along narrow city streets is probably beyond the capability of most novices.
Quality and image
There is no more desirable brand within the SUV market segment than Range Rover. BMW, Mercedes and Porsche may try to top the British marque in terms of quality and style but they always seem to fall short.
Accessibility
It may seem to be a massive step up, and the less limber will certainly struggle to hoist their backsides into the cabin, but for the majority of people a stepladder will not be required. Shorter persons will find reaching all the way into the back of the loading bay an arduous task.
Stereo and ICE (In car entertainment)
An impressive Harman/Kardon stereo unit with 14 speakers makes a welcome appearance in the Range Rover's cabin and more than manages to drown out any unwanted aural intrusions. 'VentureCam' is featured on Vogue models and allows budding 4x4 enthusiasts to keep an eye on what's happening on their offside. SE models also benefit from a rear screen DVD entertainment system, to help keep the kiddies entertained on long hauls.
Colours and trim
There is a fantastic array of bizarrely named colours from which to choose, including Zambezi Silver, Bonatti Grey, Java Black and Adriatic Blue. If you want to go for the menacing look, then Java Black is the obvious choice. Zambezi Silver or Bonatti Grey are nicely subdued by comparison. Supercharged versions benefit from Piano Black interior trim, which looks classy. Ivory leather trim is also a nice touch.
Parking
HSE model gain a reversing camera and parking distance control. Those who buy entry level TD6 and V8 models will have to use their own skill and expertise when performing tight manoeuvres. Visibility is pretty good and the driver does have an elevated driving position, but the sheer size of this beast will cause many drivers problems.
Spare wheel
A full-sized spare wheel is fitted as standard beneath the boot floor.
Range information
Three engine options - 2.9-litre (174bhp) diesel; 4.3-litre normally aspirated V8 petrol (305bhp) and a 4.2-litre supercharged petrol (400bhp). Diesel is fitted with five-speed automatic gearbox. Both V8s get a six-speed automatic 'box. All models com with permanent four-wheel drive and a low range option. Trim designators are HSE (base), Vogue and Vogue SE.
Alternative cars
Porsche Cayenne S versions are blisteringly quick. Styling polarises opinion
BMW X5 German model is popular but lacks off-roading ability of the Range Rover
Volkswagen Touareg Porsche's stablemate is less expensive and just as capable
Mercedes-Benz M-Class Looses out in terms of road handling to the BMW and Range Rover