April 2005
Land Rover Range Rover Sport 4.4 V8 Supercharged
From the front there's no mistaking what this car is all about
April 2005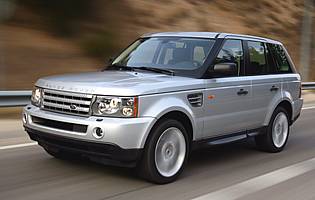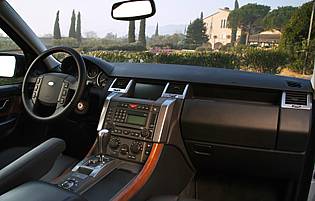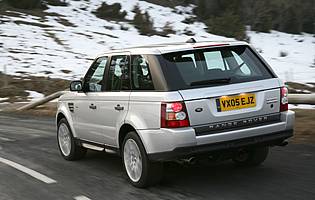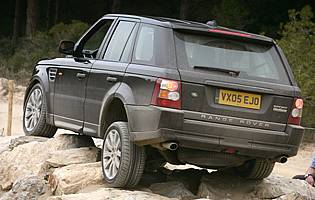 Overall rating

Likes:
Tremendous off-road ability
Clearly identifies personality of owner
Sports car performance figures
UK-built and will sell loads in the USA
Gripes:
Off-road ability largely pointless
One person's 'stylish' is another's 'garish'
Discovery makes more sense in UK
'Sport' name isn't exactly distinctive
A brand new addition to the Land Rover range doesn't come along very often, which immediately makes the Range Rover Sport a significant vehicle. But the more you examine it, the more it seems a model designed for the United States than the United Kingdom, where the Discovery makes a lot more sense.
Based on the acclaimed Range Stormer concept car, the Sport is still eye-catching despite wimping out on a few of the Range Stormer's bolder features. Most notably it's a five-door vehicle, not a three door, and despite protestations to the contrary, most people are likely to confuse it with the regular Range Rover at a glance. It just looks like it has been given an aftermarket makeover.
Sharing its underpinnings with the acclaimed Land Rover Discover 3, it is no surprise that the Sport is virtually unstoppable in off-road conditions. That's all very laudable, but realistically few - if any - owners will need to risk all that shiny chrome and alloys on boulder-strewn school runs.
On-road it's impressive, able to mix it with sports cars in the outside lane and show them a clean pair of heels - provided you can cope with hideous fuel consumption and emissions figures.
The interior is luxurious while retaining much of the familiar Land Rover architecture. Storage areas are rather lacking, but this isn't really a family vehicle, it's an urban off-roader with appeal in the UK to fashion-obsessed and wealthy young couples. It's likely you'll either love it or despise it.
Our verdict on the Land Rover Range Rover Sport 4.4 V8 Supercharged
While it's easy to be impressed by the Range Rover Sport's technical excellence, it's hard to feel warmly towards it. It lacks the quirky personality of other Land Rover products, and if you object to urban SUVs on principle, it embodies everything you dislike in one package. As an in-your-face example of urban consumerism, it's in a league of its own.
Costs
This is an expensive vehicle, and it is hard to justify the extra outlay compared to a Discovery given the mechanical similarities and less functional character. However, market experts predict that the Sport will retain its value exceptionally well so that after three years it will still be worth more than half what was paid for it. Against that, fuel costs will be extremely high. If you're crazy enough to use it as a company car, the high carbon dioxide emissions mean you'll be taxed until the pips squeak.
Space and practicality
For such a large vehicle, the Sport does not seem particularly spacious, despite being only a five-seater. After prodding around the seats and the average-sized boot, it's a bit of a puzzle wondering where all the space has gone. The dark interior and car-style layout doesn't help. Indeed at times it feels like an executive saloon that's riding a metre too high.
Controls and display
Significant effort has been put into giving the Discovery's chunky controls a makeover that will appeal to buyers of sleek plasma screen TVs and cutting edge sound systems. But the real star is the central multifunctional display, which can tell you virtually anything about the car's set-up at any given moment.
Comfort
Seats are extremely comfortable, though they do lack lateral support in fast corners. That wouldn't normally be an issue in a large 4x4, but with Land Rover keen to emphasise the Sport's sportiness, it becomes fair criticism. Both front seats have power adjustment as standard with the driver's seat having an eight-way power system.
Car security
Make no mistake, the Range Rover Sport will be lusted after by many a ne'er-do-well. It's just as well that Land Rover provides a sophisticated ultrasonic alarm system. Buyers would be well advised to register their vehicle with a reputable tracking and recovery system at additional cost.
Car safety
As well as offering good active safety - owing to its host of electronic stability controls and powerful brakes, the Range Rover Sport also has good passive safety deriving from its structural strength. All Range Rover Sport models have six airbags. Other vehicles boast more, but the automatic protection sequence the Sport employs in the event of an accident does make good use of them. The lower ride height compared to the Range Rover should make the Sport less liable to rolling over.
Driver appeal
Despite the Sport's name and the huge power output, it still suffers from a characteristic common to all vehicles in its class - body roll around corners. Land Rover insists it stays remarkably flat but the fact remains that a luxury SUV will always roll more than a luxury saloon. Acceleration and braking are worthy of a sports car, but it's hard not to question the wisdom of driving a vehicle of this size in the manner of a roadster.
Family car appeal
As a nominal five seater - four is a more realistic figure if you want to travel in comfort - the Range Rover Sport is far from family-friendly. Rear seats feel like a bit of an afterthought, lacking trays, extensive storage areas and other features required by kids. The seven-seater Discovery or Volvo XC90 are far better bets.
First car appeal
The only people who might conceivably consider a Range Rover Sport as a first car are young premiership footballers of the Wayne Rooney type. That probably tells you everything you need to know.
Quality and image
There can be no doubting the quality of the Sport's construction but its image rather depends upon your pre-existing opinions. Land Rover traditionalists will view it with suspicion and environmentalists will see it as the devil incarnate, but well-heeled urbanites who might previously have gone for a BMW or Mercedes will feel more comfortable with the brand.
Accessibility
Doors do not open to a full 90 degrees and are heavy. A significant step up is required to gain access to the cabin, which some people may find awkward. Split rear tailgate works well though, and does not require much muscle to operate.
Stereo and ICE (In car entertainment)
A cutting-edge sound system is likely to be high on the list of priorities for buyers of the Sport. It doesn't disappoint. The head unit can store six CDs and can also play MP3 files recorded on CDs. Each front door is fitted with a bass unit, mid-range speaker and a tweeter. The rear doors each have a metal matrix bass unit and a tweeter. An 11-inch sub woofer is integrated into the tailgate and two surround-sound speakers are fitted into the rear headlining. A mid-range hi-fi system features nine speakers and a six-stack CD player. A single CD system is also available which uses an internal amplifier powering eight speakers. A rear twin-screen DVD system is an option, with two 6.5-inch LCD screens fitted in the rear of the front seat head restraints and a six-DVD changer mounted in the boot.
Colours and trim
Buying such an extreme vehicle and then selecting a sober exterior colour rather goes against the grain. The metallic tangerine paint job sported by the Range Stormer concept still looks good on the Sport. The supercharged version is distinguished by the use of brightwork for the perforated grille and side air intakes, black and silver Land Rover badges, 20-inch wheels and twin stainless steel exhausts.
Parking
Hopefully if you can afford a Sport you can also afford your own very large parking space somewhere in town. Though slightly smaller than a standard Range Rover, this is still a hulking machine. The sloping roofline means the rearward view is not the best. Parking sensors are definitely required and even then it's a challenge.
Spare wheel
A full-sized steel wheel is slung under the rear of the Sport.
Range information
Supercharged 4.2-litre (385bhp) V8 top-of-the-range engine, V8 (295bhp) normally aspirated engine plus a 2.7-litre (190bhp) V6 twin turbodiesel. A six-speed automatic gearbox, with a sports mode and low range is standard. Trim level is determined by the engine selected, with Supercharged models effectively topping the range.
Alternative cars
BMW X5 Still the model most people aspire to
Mercedes-Benz M-Class Big and powerful but lacking charisma
Land Rover Discovery More credible, more seats, more practical, less money
Nissan Murano Lots of kit and similar 'bling' at half the price