July 2013
Land Rover Range Rover Sport 3.0 SDV6 HSE
Bold new look for second generation Range Rover Sport
July 2013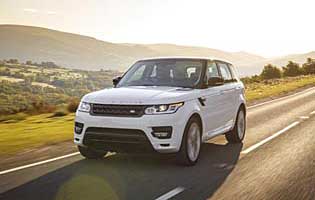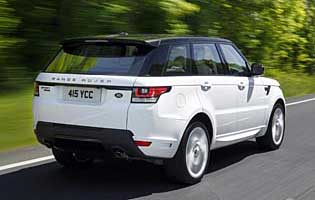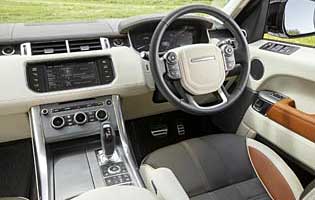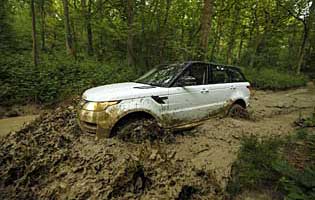 Overall rating

Likes:
Lofty driving position
High levels of cabin refinement
Diesel V6 performance is strong
Streamlined exterior ensures plenty of attraction from other road users
Gripes:
Sat-nav user interface could be better in an executive market car
You need to be tech-savvy to get the most from the car's various systems
Size can prove an issue in urban environments
You'll need to consult the options list to lift the specification to a good standard
Less weight, more power and an Evoque influenced exterior are the standout features of this second generation Range Rover Sport. Building on the success of its predecessor, this Sport model offers a more refined driving experience and is supposed to be kinder on your wallet at the pumps.
Filling an important gap between Discovery and Range Rover, the Range Rover Sport offered buyers a more accessible and affordable route into Range Rover ownership. The goal was to deliver an experience more attractive to a youthful audience, and in a multitude of ways Land Rover succeeded.
Looking back, the first-gen car did lack the refinement associated with a premium product, but there's no question that it was agile on and off road. Second time around and this more streamlined model is closer in feel, fit and finish to a conventional Range Rover.
Packed with lots of clever thinking, plush interior materials and advanced systems to make the driving experience both safe and engaging, this Sport is a huge step forward. Globally there's a wide range of efficient and powerful petrol and diesel engines to choose from, while UK buyers are predictably offered more of the former.
With a choice of V6 and V8 diesel plus a supercharged V8 petrol unit, it's clear that the emphasis is on performance. Both diesels do a fine job, with the V8 delivering considerable thrust. The petrol V8 motor allows you to fully exploit the Sport's potential, with the result being blistering acceleration alongside urban-pace refinement.
Our verdict on the Land Rover Range Rover Sport 3.0 SDV6 HSE
Leaving the thirsty V8 petrol choice to on side, for many a V6 diesel variant will be their ticket to Range Rover Sport ownership. In isolation it's a fine vehicle and there's no hint of a compromise when on the move. The V8 diesel offers noticeably more performance. Either way, you're left impressed by the abilities of a thoroughly modern executive SUV, be it the driving experience or its aesthetic qualities.
Costs
Although a costly car to purchase, the Sport's lighter weight should result in noticeably reduced fuel bills. Diesel is the key choice here unless you're happy funding an expensive petrol V8 habit. If looked after, you should only have to worry about routine servicing.
Space and practicality
With the new body comes more space for occupants, plus the ability to accommodate a third row of seats that can be folded into the boot floor. Head and legroom for the first two rows is good, with the rearmost chairs best suited for children. Oddment storage isn't in short supply, and the car's boot is also a good size and at a decent height for loading.
Controls and display
In second-gen form the Range Rover Sport has fully embraced the digital age with a high-tech main instrument display that can display a multitude of information clearly and quickly. Familiar switchgear still exists, yet the button count is pleasingly low. In contrast the main infotainment screen and its user interface is showing its age, yet remains intuitive in use.
Comfort
The car's plush leather, well placed adjustable driver and front passenger armrests and myriad of luxury touches mean it's as comfortable as they come. A hushed diesel engine, low wind and external road noise plus controls offering plenty of assistance ensure driving fatigue is greatly reduced.
Car security
The Sport's keyless locking and ignition features are most useful, and take the hassle out of fumbling for a key in the dark. A comprehensive anti-theft system should provide maximum peace of mind, although a GPS tracker and physical measures such as extra locks where you park the vehicle could do much to reduce the insurance premium of what is a highly desirable car.
Car safety
As you'd expect, the Range Rover Sport is loaded with safety systems and equipment. Airbags, big brakes, and numerous electronic systems are standard. The off-road technology available is just as impressive and, crucially, ease to use.
Driver appeal
Boasting less weight and more power than previously, this Sport delivers a more agile and engaging driving experience. Ride quality is also good even in conjunction with large wheels. The punchy 3.0-litre diesel engine is another impressive feature. The car is equally at home off-road and, thanks to a wealth of electronic systems, safe passage through hazards is almost guaranteed. Slick major controls and good visibility complete the package.
Family car appeal
There's no question that the Sport is a smart, safe and entertaining way to shift a family from A to B. The car's plush interior might position it as more suitable for an older family, but there's no disputing its versatility. With enough space and all-weather capabilities, it's an impressive old-rounder.
First car appeal
A cheaper, sportier, more viable version of the flagship Range Rover it may be, but the Range Rover Sport is likely still too expensive to be considered as first choice for most novices.
Quality and image
Riding on a high after many years of sales success, as a brand Land Rover is a highly regarded company. Its cars are desirable and competent, and presently show signs of benefiting from technology to make them more economical and reliable. As such, this generation Sport has become a highly sought after vehicle.
Accessibility
The Range Rover Sport is a good height to step in and out of with ease, while good size doors provide plenty of easy access fore and aft. The rear hatch is easy to open as it can be powered, although it can be a stretch to reach to furthest corners of the boot if you're not particularly tall.
Stereo and ICE (In car entertainment)
Located high and central in the car's fascia, the standard Land Rover touchscreen system offers a wealth of features. Digital radio to CD and MP3 player connectivity the user is well served. The user interface is, however, showing its age but is pleasingly intuitive. Sound quality is impressive, and there's reasonable scope to upgrade to a more powerful system plus rear seat screens and controls.
Colours and trim
Both mature and youthful buyers are catered for with a wide choice of somber and bright exterior colours. Premium leather and a choice of wood or metallic trim comprise the mainstay of the Sport's cabin. Material quality is very good and there's a wide selection of alternate trims and colours to choose from.
Parking
Front and rear parking sensors are most welcome in a car of this size, while the high driving position and big mirrors make the Range Rover Sport surprisingly easy to slot into spaces. Super-light steering makes easy work of multi-point turns, and if you select the various camera-based viewpoints parking can be made even easier.
Spare wheel
Full size spare fitted under the boot floor.
Range information
Petrol engine options - 5.0-litre (510bhp). Diesel engine options - 3.0-litre (258bhp, 292bhp); 4.4-litre (339hp). Transmission options: eight-speed automatic gearbox with manual override, low ratio transfer box and permanent four-wheel drive. Trim levels: SE, HSE, HSE Dynamic, Autobiography, Autobiography Dynamic.
Alternative cars
Porsche Cayenne V8 and Turbo are rapid, yet diesel variants also offer an engaging drive
Audi Q7 Well built with a strong range of trim and engine options but not the most visually attractive option
Volkswagen Touareg Extremely capable off-roader and considerably cheaper but lacks the Sport's brand image
Volvo XC90 Practical with subtle styling and family orientated cabin but dynamically inferior to the Sport