July 2010
Land Rover Range Rover 4.4 TD V8 Autobiography
Range Rover silhouette is familiar
July 2010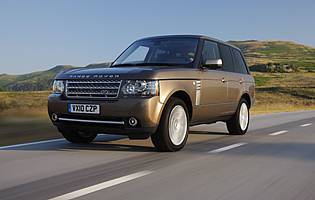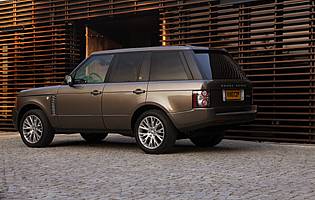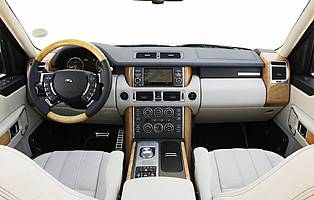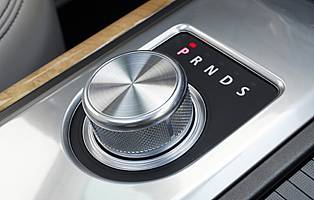 Overall rating

Likes:
Supremely refined and luxurious
Powerful V8 diesel offers excellent performance
Commanding driving position
Extremely clear and adaptable displays
Gripes:
Very large and hardly discreet
Flashy revised styling will not appeal to all
Split rear hatch is heavy to operate
Purchase prices are steep
An icon of motoring it may be, but the Range Rover is not above being updated from time to time. For the 2011 model year, Land Rover has introduced a new diesel engine and gearbox as well as making further refinements to the luxurious SUV inside and out.
Now in its fortieth year, the Range Rover remains at the pinnacle of both luxury and off-road capability; a combination that few other vehicles successfully achieve. While the Range Rover ethos of combining Land Rover all-terrain ability with large saloon car comfort has not changed, the world has, calling into question the fuel efficiency of such large luxury SUVS.
In response, Land Rover has introduced an all new engine and gearbox combination to the Range Rover model - albeit a larger and more powerful one. The new 4.4-litre twin-turbocharged diesel replaces the 3.6-litre six-cylinder unit, increasing power by 15.1 per cent and torque by 9.4 per cent while lowering emissions by 14 per cent and improving fuel consumption by 18.5 per cent, making it the most efficient Range Rover ever.
Hotter glow plugs, an idle control system that reduces drive to the auto box when stationary, an intelligent alternator and a raft of efficiency saving help save fuel and emissions, but it's the introduction of a new eight-speed automatic transmission that warrants the most attention. As well as improving refinement with closer spaced ratios it features a taller top gear, bringing revs down. The powerful V8 means that torque remains available even so.
Exterior changes include revised lighting and optional trim packs while, inside, the traditional gear selector has made way for a rotary design, paving the way for a change to the Terrain Response controls. The addition of a hill descent control function and an unobtrusive hill-hold assist system adds to the Range Rover's already hugely impressive off-road ability, ensuring that it remains a cutting edge dual purpose vehicle.
Our verdict on the Land Rover Range Rover 4.4 TD V8 Autobiography
The major change under the bonnet is a huge success. The new 4.4-litre twin-turbo diesel unit is an altogether more impressive unit and the improved efficiency is and added bonus. In combination with the eight-speed transmission it adds to the luxurious nature of the Range Rover. Revisions to the Terrain Response system make it even more capable off-road, too. Changes inside the cabin promote greater ease of use and increased comfort. Improving the already excellent Range Rover was a hard task, but has been achieved with aplomb.
Costs
Although the new, more efficient diesel engine has improved efficiency and reduced running costs, the Range Rover remains an expensive vehicle to purchase regardless of specification and will still prove thirstier than most vehicles. Insurance will also be expensive, as will tyres for the 19 or 20-inch alloy wheels. Considering the vehicle's dual nature as a rugged off-roader and luxury limousine, many will still consider it great value for money, however.
Space and practicality
The huge body will accept five adults with ease, the central rear seat folding to offer a chunky arm-rest when not required. The boot is also copious, with the split tail gate offer easy loading and simple retrieval of objects. Interior storage is very good, with plenty of cubby holes and a large, multi-layer central storage unit.
Controls and display
The 12-inch TFT instrument display is a real triumph, with crystal clarity. The system can move dials, gauges and information displays according to what's required - shifting the speedometer to one side to make way for an active drivetrain display when off road, for example. The central display can be used to call up images from around the car, giving a 360 degree view of surrounding obstacles. The traditional gear selector has made way for a rotary control similar to that in the new Jaguar models, which is a delight to use. To avoid confusion, that means the rotary Terrain Response control is replaced with a rocker switch, which is marginally less satisfactory.
Comfort
Swathed in leather and the finest quality materials the Range Rover has a natural air of luxury about it, even before getting into the optional extras such as electronically adjustable rear seats with the option to increase leg room by moving forward unoccupied front seats. Aeroplane style headrests add to the comfort levels and the sumptuous quality of the ride offers ultimate comfort for passengers. The eight-speed transmission is particularly smooth in its gear changes and interior noise levels are very low.
Car security
Tinted rear windows offer only a restricted view into the Range Rover Autobiography, but the model boasts considerably more advanced security features in the shape of a Volumetric alarm system with a tilt sensor and perimeter monitoring.
Car safety
A radar blind spot system is a useful feature for motorway driving, although the model does not suffer with large blind spots. Radar cruise control is also continued from previous generation models, as is a system that offers manoeuvring guidance while towing. A full compliment of airbags combined with a commanding driving position and bulky body offers great passive and active occupant protection.
Driver appeal
Effortlessly powerful, responsive and refined while boasting a noticeably un-diesel-like V8 burble, the new 4.4-litre diesel engine feels tailor-made for the Range Rover. In combination with the new eight-speed transmission it offers silky performance, only tempered by a hint of hesitation under kick-down. The driving position is unsurpassed and the Range Rover defies its size to handle reasonably crisply on the road. The steering retains a small degree of SUV vagueness but there's minimal body roll to be endured through corners. The ease of operation and clarity of the controls and dials also boosts driving appeal. With its comprehensive Terrain Response system the Range Rover also proves outstandingly capable over, through and under the most inhospitable terrain.
Family car appeal
With its size, practicality and go anywhere potential, the Range Rover makes an ideal family vehicle on the face of it, particularly with running costs lessened by the more frugal diesel engine. Rear seat entertainment options and a high degree of safety add to the appeal, although the sumptuous leather will prove difficult to keep in top condition with regular abuse from kids.
First car appeal
Although particularly easy to operate, the Range Rover remains a large and powerful vehicle and is hardly suited to the novice driver. Purchase and running costs will exclude all but the wealthiest of young drivers, too.
Quality and image
Having earned a place among the luxury vehicle hierarchy over 40 years, the Range Rover boasts an impeccable image. A sure-fire choice amidst the wealthy and famous, even the SUV-backlash can't seem to harm its appeal, aided by the fact that it is a genuinely capable off-roader. Land Rover products have not historically had the best reputation for reliability and build quality however, something the company will be hoping to rectify with its latest engine and model range.
Accessibility
Huge doors and a cavernous interior make the Range Rover a refreshingly simple car to access and exit, despite the ride height. The doors have been designed to cover the sills, meaning legs will not make contact with dirty exterior panels on the way in and out. The split rear hatch is a familiar Range Rover feature, but the chunky doors can be heavy to operate.
Stereo and ICE (In car entertainment)
The eight-inch dual-view infotainment screen is an excellent feature - capable of displaying a different feed to the driver and front passenger from the same screen. An in-built twin monitor rear entertainment system is also available, complete with TV tuner, gaming and DVD inputs and with its own remote control system for ease of use. DVD-free sat-nav is standard and Land Rover has even seen fit to beef up the iPod connector, to prevent it coming loose over rough terrain. An optional Logic 7, 1200W Harman Kardon High Dynamics Audio System is the piece-de-resistance, with 15 independent channels driving 19 speakers.
Colours and trim
Two new colours have been added to the range for 2010; Fuji White and Baltic Blue are as well suited to the large model as the rest of the options. The revised model has seen additional LED lighting added to the front end in keeping with the Range Rover Sport - it will not be to everyone's taste. An exterior design pack option is also available, which offers a revised front bumper with fog lamp surrounds, front grille and side vents in Titan finish, revised side sills, rear bumper and stainless steel exhaust finishers. Inside the Autobiography model, there's leather across most surfaces, giving a luxurious ambience.
Parking
Despite its enormous size, the Range Rover offers impressive visibility through a large glass house and from the high-rise driving position. Front and rear cameras prove as useful for urban manoeuvring as they do off-road and a comprehensive sensor system is also standard, making the big vehicle surprisingly easy to position.
Spare wheel
Full size spare wheel fitted as standard.
Range information
Petrol engine options - 5.0-litre (503bhp). Diesel engine options - 4.4-litre (308bhp). Transmission options: six-speed automatic gearbox (petrol only), eight-speed automatic gearbox (diesel only). Trim levels: Vogue, Vogue SE, Autobiography, Autobiography Black.
Alternative cars
Porsche Cayenne New hybrid offers impressive economy
Volkswagen Touraeg Powerful V10 diesel is the ultimate workhorse
BMW X5 Class leading road manners and impressive engine range
Mercedes-Benz M-Class Cutting edge styling from the big SUV