September 2015
Land Rover Discovery Sport HSE Luxury 2.0 TD4 180
Evoque-inspired looks are distinguished by Discovery lettering on the bonnet
September 2015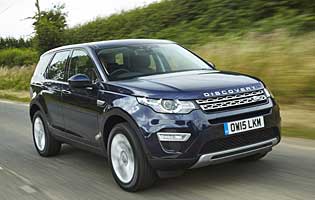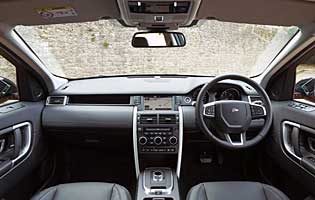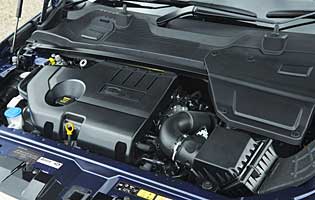 Overall rating

Likes:
Spacious interior provides comfort for up to seven
Compact dimensions make it nimble and surprisingly easy to park
New diesel engine is better in every respect than before
Intuitive controls and interfaces
Gripes:
Less stylish than the cheaper Range Rover Evoque
Manual gearbox lacks precision and feels old-hat
Expensive compared to some seven-seat MPVs
Interior not as high quality as some rivals'
It is not usual for an all-new car to undergo a major revision within a year of its release, but a brand new diesel engine is a significant enough change to warrant a fresh look at the car. Little has changed other than the source of power, but that does mean that the financial outlook has changed, especially for businesses.
The Discovery Sport is a compact off-roader, built to be able to pull its weight when the going gets tough, as with any Land Rover, but also to satisfy the needs of families looking for seven seats without the considerable bulk of a traditional MPV or large SUV. Its strengths lie in clever design that centres on usability and practicality.
Although five-seat versions will be built as well, the Range Rover Evoque shares much of the same platform and, despite the more premium badge, is actually cheaper. As such it is expected that a large proportion of Discovery Sports will be specified with seven seats. Certain trim grades are only available in this configuration.
The 2016 model maintains the same Terrain Response system that allows drivers to adapt the car's behaviour to suit the type of ground being covered, from roads to mud, sand, snow and more. It is linked to a new nine-speed automatic gearbox; an option on almost all models. It permits an extra 200kg of towing capacity; up from the manual's 2,000kg to 2,200kg.
The competition has changed little since the launch of the Discovery Sport in early 2015, but the most notable new arrival is the Mercedes GLC, which, in appropriate specification, can boast impressive off-road abilities of its own. The Discovery Sport slots back into the market as a practical British choice, but it is not quite unique.
Our verdict on the Land Rover Discovery Sport HSE Luxury 2.0 TD4 180
With a genuinely startling amount of talent when off the beaten track, the Discovery Sport is perfect for people whose routines regularly take them across muddy fields, up challenging gravel tracks or through deep fords. Towing a trailer at the same time should pose no terminal issues, either. The new engine is smoother and quieter than the old one, and its significantly lower emissions could tempt many new buyers.
Costs
The new engine brings business costs right down, knocking a large amount per month off the Benefit in Kind tax bill for higher-rate taxpayers. Fuel consumption should be slightly lower, although real-world tests have yet to find much of a difference. Road tax is definitely cheaper. Prices are not cheap for the biggest-selling trim grades but there is a great deal of practicality on offer for the money.
Space and practicality
As before, More than 34.5 litres of storage space is spread around the cabin, according to Land Rover. On top of that, the third row of seats in the seven-seater can be folded down to offer a large boot. With those seats folded up, luggage space is inescapably limited and suitable for smaller soft baggage of a bundle of winter coats. Practicality is enhanced by a towing capacity of 2.2 tonnes, and the prices for the tow bars have been reduced slightly since the car's launch.
Controls and display
While you could easily point out that the main screen isn't the largest or sharpest, it does use excellent graphics to make its use as intuitive and self-explanatory as possible. It responds to touch easily and without lag, too, although using it with gloves on does require a harder press of the panel. Elsewhere, the steering has a hint of weight about it to emphasise the Discovery Sport's SUV status, but the controls are chunky and easy to use.
Comfort
The car's significant width is a boon when it comes to comfort. The seats that will be used most often are chunky and comfortable for long journeys, although some people may wish they were a bit softer and more cosseting for shorter hops. There is plenty of legroom in the front five seats, and with the benefit of the sliding middle row the seats can be arranged to give ample room for five adults and two young teenagers.
Car security
As a Land Rover the Discovery Sport is an immediate target for thieves. Land Rovers have a reputation for being bought by wealthier buyers, so can be targeted more often in the hope that owners may have left valuables inside. While an alarm and immobiliser setup is standard, darkened privacy glass can help reduce prying eyes' ability to see into the car and covered storage gives occupants the chance to keep valuables out of sight.
Car safety
The latest wave of safety systems has found a home in this car. The Discovery Sport has been recognised for its standard pre-emptive emergency braking system, exterior pedestrian airbag and further plethora of active safety systems. The testers at Euro NCAP gave the car one of the highest overall scores of any car tested in 2014, so buyers can rely on the car to keep them and their families as safe as possible.
Driver appeal
The Ingenium 2.0-litre diesel engine is quieter and smoother than the 2.2-litre unit it replaces. It also has marginally more torque, with the greater difference being that more of it is available over a broader rev range, making the engine more flexible in the real world. The car is too heavy to feel fast despite impressive power and torque figures, but wind noise is minimal which increases the sense of refinement. Larger wheels bring compromises in ride quality.
Family car appeal
A much improved ability to cater for family needs is what separates the Discovery Sport from the Range Rover Evoque. The two rear seats were, according to the firm, designed around the average 13-year-old, making them more spacious than many buyers might fear. The ability to slide the middle row of seats forward and back means families with up to five children can make sure everyone has plenty of space. Up to seven USB ports can be added as options, so that everyone can charge a device.
First car appeal
It is difficult to imagine a set of circumstances that would lead a first-time car buyer in this direction. It is too big, too expensive and too difficult to insure, despite the fact that its many cool gadgets and off-road potential might appeal to an aspiring green-laner. Practicalities aside, this isn't a terribly difficult car to drive, with a confidence-inspiring driving position, light enough steering and parking aids to help avoid the bumps that come with inexperience.
Quality and image
Less than a year into its life cycle the Discovery Sport seems to be bucking the shaky old Land Rover reliability reputation, but more time is needed to be sure. Land Rover has struck gold with its current formula of effortless off-roaders that appeal more to 'lifestyle' buyers. A Land Rover is a desirable object, and, having hit on a balance that works, the firm is set to continue to benefit.
Accessibility
Broad kick plates mean you need to stretch a little when getting in and out. Older people with restricted movement might find it too tall, or the seats too far away from the door aperture. Higher trim grades have electrically powered boot lids, which is a big help when you are about to load luggage. The doors are wide enough and the roof high enough to allow easy entry, and when the middle row of seats is moved forwards and tilted forwards, it isn't too difficult to access the two rearmost seats.
Stereo and ICE (In car entertainment)
Music playback is selected the same way as previously, through the touchscreen. The standard system on the HSE model features 11 speakers, one of which is a bass-enhancing subwoofer. It can receive and play audio files from numerous sources including Bluetooth, DAB digital radio and MP3 player inputs. There is a CD player in the centre console, too. A rear seat entertainment system is an option, adding eight-inch screens in the rears of both of the front headrests as well as headphones and a dedicated remote control.
Colours and trim
There is a broad spread of monochrome and dark shades to choose from, including a dark blue and a very appealing dark green, but more attention will go to the brighter colours. A stunning red and a vibrant orange that both suit the car well are among the more adventurous options. The interior trim is bulky, blocky in design and emphasises the car's tough, off-road leanings. It can't match the perceived quality of some rivals', though.
Parking
All models except the entry-level SE have front and rear parking sensors. A semi-automated parking assist programme is on the options list and can cope with parking the car into bays and parallel spaces - and can also get the Discovery Sport out again with only throttle, brake and gear lever inputs. It's parking where most drivers might suddenly realise how modestly sized the vehicle actually is. Its length is entirely ordinary, but it is on the wide side at over two metres even with the mirrors folded.
Spare wheel
Space saver spare wheel (seven-seater) or full-size spare wheel (five-seater) supplied.
Range information
Diesel engine options - 2.0-litre (148bhp, 177bhp). Transmission options: six-speed manual gearbox and nine-speed automatic (177bhp engine only). Trim levels: SE, SE Tech, HSE, HSE Black, HSE Luxury, Dynamic Lux.
Alternative cars
Mercedes GLC Impressive off road, high-quality but needs expensive options to get the best from it
Nissan X-Trail Big, confident and well priced option is an excellent all-rounder with some off-road ability
BMW X3 Stylish but biased towards on-road handling. Lacks cabin versatility
Hyundai Santa Fe Quiet, smooth and capable car with light off-road skill and plenty of space