April 2007
Land Rover Defender 90
New bonnet is one of few visual changes
April 2007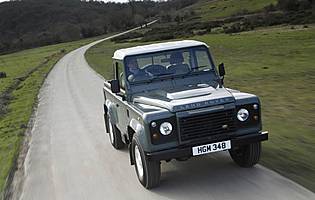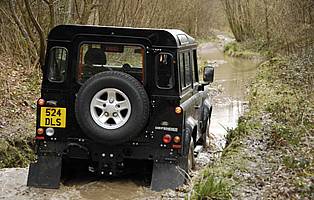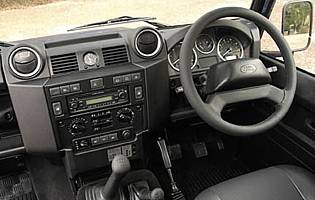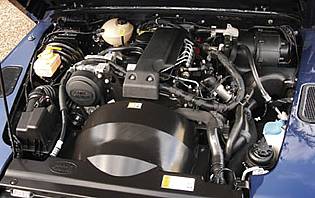 Overall rating

Likes:
Unparalleled off-road ability
Effective and improved diesel engine
Revised cabin is practical and usable
Handsome looks are timeless
Gripes:
Refinement not a strong point
Cabin short on space in short wheelbase form
Running costs will be near bottom of the class
Noise levels are relatively high
Often regarded as the ultimate off-roader, the Land Rover Defender remains one of the most recognised vehicles in production. Bearing a strong similarity to the first Land Rover from 1948, the 2007 model has received a number of improvements designed to make it even more usable without sacrificing its legendary abilities.
Although the 2007 Defender is an up-to-date product, its roots remain firmly in Defenders of previous generations, and it remains faithful to the original template. There are just a handful of parts that remain unchanged from the 1948 version, yet in appearance it is instantly recognisable and is clearly a descendant of the original vehicle.
A further factor is the Defender's role as a working vehicle. Although the market has changed considerably over the last 10 years and 4x4 vehicles have become more road-biased and comfortable, the Defender has not followed this trend. Improvements have been made to ensure that the latest model is more comfortable to drive, but there are no compromises in terms of its off-road ability.
The biggest change to the latest model is in the cabin, with an all-new dashboard design. It uses a large one-piece moulding, designed to be durable and robust, and also incorporates features for improved comfort such as a horizontal grab bar for the passenger and face-level air vents. The ventilation system itself is much improved, acting faster and reaching higher and lower temperatures. An improved stereo system is also fitted with the facility for MP3 connection.
There are significant mechanical changes to the 2007 Defender, most notably the new diesel engine. Both fuel economy and performance are improved over the outgoing version, and emissions are also lower. A new six-speed manual gearbox is also fitted, which offers a lower first gear and a higher sixth ratio, giving both better low-speed crawling and more refined cruising.
Our verdict on the Land Rover Defender 90
The Defender cannot be judged as a conventional road car, as its success and longevity are down to its simplicity and effectiveness. While SUV drivers may find it utilitarian and unrefined, buyers who need a faithful, uncomplicated and sturdy off-road machine will find nothing more effective than the Defender. The round of improvements also make it easier to live with as well as more efficient.
Costs
Running costs for the Defender will be on a par with similarly sized 4x4 vehicles, as the diesel engine is frugal but the relatively poor aerodynamics counteract this.
Space and practicality
For a relatively compact vehicle, the Defender does a good job of providing cabin space. There is sufficient room for adults both front and rear, although those significantly over average height may find head and legroom in short supply. In practicality terms the Defender is excellent, as it can cope with almost situation. The station wagon version has the space to cope with any combination of people and luggage.
Controls and display
The layout of the Defender is very simple, with switches and controls laid out in straightforward rows. The instruments are similar to those fitted to the Discovery, bringing extra style and clarity to the layout. The revised heating and ventilation controls are also simple to use.
Comfort
New seats front and rear offer better support for passengers, and the new chairs are good enough to provide decent comfort on longer journeys. Noise levels are relatively high however, particularly at motorway speeds, and this can be distracting on longer journeys.
Car security
The security system on the Defender includes an engine immobiliser as standard, while an alarm is also available.
Car safety
Contributing the Defender's safety is the stronger chassis with all-round disc brakes and ABS and front airbags as options. Although a tall vehicle it feels very stable and secure on the road.
Driver appeal
The Defender can come as something of a shock after driving a conventional car, as the toughness of the controls makes them less accurate than a regular car. However, the torquey diesel engine makes it easy to get going, while the gearshift, although long, is reasonable accurate. The steering is a little slow as it uses a worm and roller configuration rather than the more common rack and pinion, but a little acclimatisation allows the driver to gain confidence.
Family car appeal
The Defender has the practicality to be a family vehicle, and it has the go-anywhere versatility its rivals do not, although more conventional cars can offer higher levels of comfort and equipment.
First car appeal
The Defender is a little specialised for novice drivers, and the extra controls and unique driving style may prove intimidating. The Defender is also likely to be too expensive for new drivers.
Quality and image
The quality of the Defender is considerably better in the 2007 model, and although the materials used are not of a premium standard, they do feel robust and well constructed. This extends to the mechanical feel of the Defender, as all the controls operate with reassuring toughness. The image of the Defender is second-to-none, with a reputation for being the toughest and most capable off-roader ever made. The current model builds on this and adds further refinement, giving it an image rivals cannot match.
Accessibility
Access to the front seats is adequate rather than good, as most people will have to climb up into the seat and the door apertures are relatively small. Access to the rear also depends on the body style, as three-door versions require the front seat to be folded while station wagons are much easier. Access to the luggage compartment is via a simple swing door.
Stereo and ICE (In car entertainment)
The standard stereo system in the Defender is a radio/CD unit, although this can be upgraded to an MP3-compatible CD player which also has an auxiliary connection for an MP3 player. The sound quality is good, although it does need to be turned up quite loud at a motorway cruise to overcome road noise.
Colours and trim
The Defender comes in a range of sober, dark colours, which are best suited to its role as a working vehicle. Brighter colours would not suit the squared-off shape. The same goes for the cabin, which uses hard-wearing trim, although leather seats are available.
Parking
The Defender is an easy car to park, thanks to its relatively compact size and square styling, which makes it easy to judge distances. Despite being fitted with power steering, the steering ratio is quite low, which means quite a lot of turning is required to squeeze into smaller spaces.
Spare wheel
Full size spare wheel mounted on the rear door.
Range information
One engine option: 2.4-litre diesel (122bhp) mated to a six-speed manual gearbox as standard. There are no trim levels, but a wide range of bodystyles and wheelbase lengths, referred to as 90, 110 and 130 for the respective lengths in inches.
Alternative cars
Jeep Wrangler Excellent off-road, biased towards leisure pursuits
Nissan Patrol Sturdy and effective workhorse
Mitsubishi L200 Stylish pick-up is good value
Hyundai Terracan Bargain SUV offers some refinement and off-road ability