January 2012
Kia Venga 3 1.6 CRDi
The Venga's good looks are cheeky and yet sharp
January 2012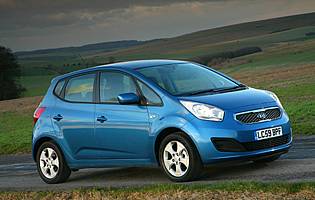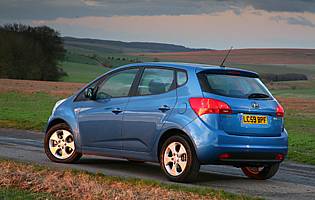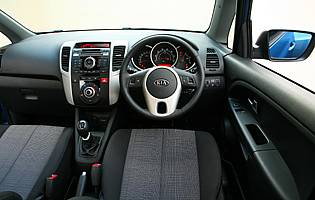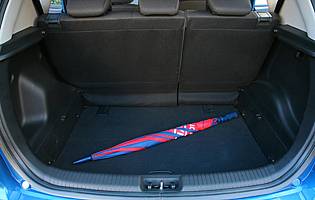 Overall rating

Likes:
Smooth, quiet engines offer good low-speed refinement
Highly styled interior design gives the cabin modern appeal
Lightweight controls provide a relaxing driving experience
High seating position gives a good view of the road
Gripes:
Engines can feel under-powered on faster roads
Interior plastics are hard on all models
No longer a bargain basic proposition price-wise
Value for money element could be better
The Venga is Kia's take on a tall, practical supermini designed for urban use. The Venga's emphasis on practicality stems from a long wheelbase, which allows room for five, along with a high driving position and smooth, economical engines.
Launched in 2010, the Venga was a new model for Kia, offering supermini size with a higher driving position to mimic some successful rival cars already in the marketplace. It follows a prevalent trend in the market for minimising exterior dimensions and maximising internal space, and does so by utilising a relatively long wheelbase.
Pushing the wheels further towards the corners of the car compared to some rivals, the five-door Venga is able to boast a respectable boot and a rear bench seat with enough room for three children, all in a package not much more than four metres long.
Kia has marketed itself as a no-fuss brand, with a long standard warranty, an ever-improving reputation for reliability and welcome simplicity when it comes to choosing a model to fit specific needs. Small car buyers are diverse, and the Venga has as many potential buyers catered for as possible with automatic and manual gearboxes among a range of specification levels.
Style has become much more important to the Kia brand, and both inside and out the Venga is good looking. Although it's not quite up there with the most efficient cars in the class, the Venga offers respectably low running costs. It feels most at home at lower speeds, though, where high fuel economy is easier to achieve.
Our verdict on the Kia Venga 3 1.6 CRDi
The Venga is an appealing car, both on paper and behind the wheel. It's pleasant to drive and to look at, and won't break the bank in running costs. It's not cheap to buy, though, and it faces tough competition for its asking price. Its strengths lie in its style and practicality for young urban and suburban families rather than in luxury or motorway cruising comfort.
Costs
Diesel versions of the Venga, equipped with EcoDynamics fuel-saving technology, are very economical if driven gently. They offer high efficiency potential around town, helped by an engine stop-start system. Low CO2 outputs mean that the EcoDynamics diesels are especially cheap to tax. The petrol versions, however, are much cheaper to buy in the first place. The fleet market is small for this car but it would be very cheap to run, for both the keeper and the company.
Space and practicality
The Venga offers enough boot s pace even considering the reasonable legroom it offers rear seat passengers. It's also partially thanks to the absence of a spare wheel. Storage facilities are excellent in the cabin, with good-sized door pockets suitable for drinks bottles, two extra cup holders and an open-fronted storage bin in front of the gear stick. It's a simple arrangement that works well.
Controls and display
Simple, clear instruments are perfectly functional and easily read at a glance thanks to a relatively bright, high-contrast white-on-black design. There is an LCD display at the top of the centre console as well, and the trip computer information is displayed there. It's not an ideal layout, because checking data on it takes more time and concentration than it could if it were displayed in the main instrument cluster.
Comfort
While it would be unfair to expect the Venga's cabin to be especially quiet, it does a perfectly good job for journeys around town. The engine is not especially muted and there is also some general tyre roar, but at speeds up to 40mph it's easily ignored. For the most part the ride strikes a good balance between comfort and control, and doesn't jolt over bumps. The seats are respectably comfortable, but taller adults will feel cramped in the back.
Car security
Entry-level '1' spec cars have steel wheels, but '2' and '3' models have alloys with locking wheel nuts. An alarm and immobiliser are standard, as well as deadlocks to ensure the doors can't be opened from the inside if a window is smashed. The vehicle's VIN number is visible as well, which helps to protect against theft. A standard luggage net and hooks, in combination with a solid luggage cover, helps keep items secured and safe out of sight.
Car safety
Front, front side and curtain airbags are standard on all models, which is excellent for a small car. Also standard is a function to help prevent the car rolling backwards during hill starts. Electronic Stability Control and Brake Assist System make the most of the grip available in the event of an emergency manoeuvre.
Driver appeal
Typical Venga buyers will be looking for ease of use and fuel economy first of all, and the car delivers both. The controls are delightfully light around town, but not so light as to feel disconnected. Manoeuvring around tricky, narrow streets is easy, aided by excellent visibility, and with light throttle pressure the instant fuel consumption meter gives very positive readouts. Around town it has huge appeal, and on faster roads the 1.6-litre diesel copes well.
Family car appeal
It's best suited to a young family with small children. Three kids can sit across the bench seat comfortably, and the two outer seats have Isofix child seat mounting points. Accessing the rear seats is easy, and child locks on the doors and electric windows prevent any poking fingers doing anything they shouldn't. Young families will also appreciate the style and long warranty the car offers, along with generally low running costs.
First car appeal
The Venga is an ideal first car in many ways, being small enough, sturdy enough and stylish enough. It's also economical, unintimidating to drive and cheap to insure, tax and maintain, with a reassuring amount of safety equipment.
Quality and image
Kia is a brand on the up in terms of its image and quality, and is charging more for its cars accordingly. A seven-year warranty and much-improved looks mean that Kia cars of the Venga's generation are genuinely desirable among the competition. The reality is that interior plastics could be better quality, but they do at least feel well put together. In relation to some rival cars, Kia is still thought of as a cheaper option rather than a better one.
Accessibility
The Venga is just over four metres long, and its doors take up much of that length. They are perfectly designed and hinged so that getting in and out is easy even with minimal room beside the car. The seats are positioned quite high up, which means people looking to avoid stressing their knees will find it a very good choice. It's a little too easy to drag yourself across the outer seat bolster, though, which is best avoided for the sake of the upholstery's longevity.
Stereo and ICE (In car entertainment)
All Venga models have a six-speaker arrangement, fed in basic '1' models by a simple radio and MP3-compatible CD player. There's also a USB input socket to allow MP3 players to plug in. Venga 2 models allow Bluetooth music streaming and provide their own iPod connection cable for extra convenience. Venga 3 and 3 Sat Nav models do not add any extra audio features over the 2, although the Sat Nav model does have a large colour screen.
Colours and trim
Colour choice could be more inspiring, with only a basic range on offer. The Venga suits dark colours better than it does lighter ones. The interior trim is hard, but the design of the dashboard and centre console is much more impressive, using a circular theme to great effect and creating a pleasant environment overall.
Parking
Only the '3' models get rear parking sensors, while the top-spec '3 Sat Nav' derivative gets a reversing camera as well. On lower models the driver must rely on his or her own judgement. Fortunately it's easy to tell where the back of the car is despite a rather chunky rear bumper, and thanks to clever packaging the front is shorter than you might expect. Both parallel and bay parking, thanks as well to relatively narrow proportions, are very easy as a result.
Spare wheel
Emergency tyre repair kit as standard.
Range information
Petrol engine options - 1.4-litre (89bhp); 1.6-litre (123bhp). Diesel engine options - 1.4-litre (89bhp); 1.6-litre (114bhp). Transmission options: five and six-speed manual gearbox depending on model, plus four-speed auto gearbox (available with 1.6-litre petrol only). Trim levels: 1, 2, 3.
Alternative cars
Hyundai ix20 The Kia's sister car shares the same good platform and engines
Vauxhall Meriva More expensive than the Venga, but offers a little more space
Fiat Punto Evo Lower seating position but good value for money
Nissan Note Practical and spacious; closer to Venga than you might think