January 2005
Kia Sportage XS 2.0 CTDi
Sportage's design is contemporary and tidy
January 2005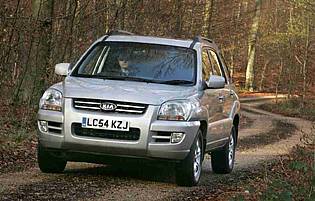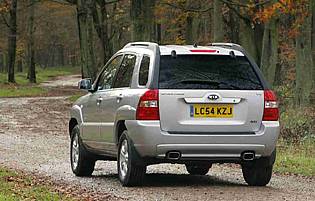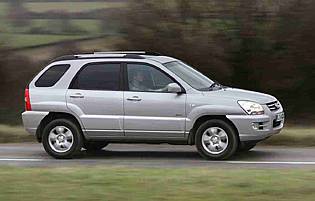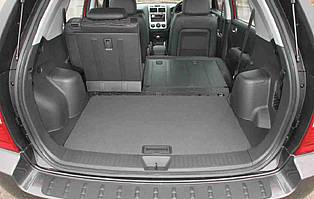 Overall rating

Likes:
Looks stylish and expensive
Cheap asking price, lots of kit
Tasteful upholstery in all models
Full size alloy spare wheel
Gripes:
Warranty shorter than Hyundai Tucson
Chromed plastics not all convincing
V6 very thirsty
Kia brand still suffers due to badge snobbery
It's a company in a hurry to increase sales, so it makes perfect sense for Kia to try to seize a chunk of the lucrative compact SUV market created by the Land Rover Freelander and grown by the Toyota RAV4 and Honda CR-V. The tool to achieve this is the Sportage. It's so good, Kia's resultant chunk should be more of a meaty mouthful than a meagre morsel.
Sharing all of its mechanical components - including engines - with the Hyundai Tucson, you'd expect the Sportage to be a carbon copy. But it's not - it's better. Pinning down exactly why this is can be tricky, but it's largely down to more precise build quality and a tauter, classier feel.
Stylistically, the Sportage borrows shamelessly but effectively from at least two other models - Toyota's RAV4 (at the front) and Volvo's XC90 (round the back). If you squint as it goes past you, the XS badge on the back looks suspiciously like the one on the back of BMW's X5, too...
Though larger than many rivals, the Sportage hides its bulk well thanks to an unfussy, smooth modern design. Having failed to notice its size, it's all the more surprising when you climb inside and discover that there's plenty of room for five.
Anyone worried that Kia interiors are still made from the cheapest plastics selected specially for their greyness will find the Sportage a real eye-opener. Not all of the fake chrome strips are wholly convincing and there are still one or two poor plastics employed for the minor switchgear, but overall the interior and upholstery is excellent. Entry-level XE models have attractively simple black seats with grey piping that makes the polka dots and shadow prints of some rivals look vulgar in the extreme. Choose leather and you'll discover that at long last Kia's seats seem to stitched together by tailors rather than fishermen used to working on nets.
On the road the Sportage makes smooth, swift progress with less road and wind noise than expected. It has a keener edge than its Hyundai twin and could teach the Freelander a thing or two about giving a comfortable ride. Whatever Kia's engineers did that Hyundai's didn't, it worked. It has a modicum of off-road ability, though few owners are likely to have need of it, except for bragging rights with the neighbours.
Our verdict on the Kia Sportage XS 2.0 CTDi
Priced at the bottom of its market sector, the Kia Sportage isn't just for buyers who can't afford anything else. It does everything that could reasonably be expected of it, looks good and should age gracefully. It should be the first test drive booked for anyone thinking of buying a compact SUV - that way at least you'll see how little some other manufacturers offer for a lot more money.
Costs
Kia prices the Sportage aggressively, making a conscious decision to undercut pretty much everyone. If you want a really basic 4x4 there's the cheap and cheerful Suzuki Jimny, but the Sportage offers a much longer specification list, in a larger, more solid-feeling and refined vehicle. Fuel costs are inevitably more expensive than similarly priced small cars, with the V6 petrol a particular offender. It's not hard to see why the 2.0 diesel represents the majority of sales.
Space and practicality
Rear seats fold 60/40 and completely flat with a simple one-touch operation and without the need to remove headrests, leaving a large load area. The front passenger seat can also be flattened to make it possible to carry long loads. Interior space is claimed to be best in class, though it doesn't feel superior to a Honda CR-V. The rear screen even opens independently - furthering the resemblance to the Volvo XC90.
Controls and display
Superior to the mechanically similar Hyundai Tucson by some considerable margin, these are clear, simple and unfussy instruments, if lacking a little design panache. At least Kia has resisted the temptation to indulge in strange typefaces and bizarre backlighting, so often the last refuge of company desperate to seem cutting edge. This sort of simplicity suggests a company confident in its product.
Comfort
One of the Sportage's greatest feats is to be extremely comfortable without seeming soft or wallowy. The steering wheel adjusts for angle only, not reach, and the driver's seat could have a little more travel, so make sure all potential drivers can achieve a sustainable position. Rear leg and headroom is far superior to the Freelander.
Car security
The Sportage comes with a large-capacity lockable glove box, remote central door locking, an electronic engine immobiliser and a perimeter alarm - a package that is hard to criticise at this price. As a result, insurance groupings are competitive.
Car safety
The old Sportage felt a bit tinny and didn't inspire a feeling of safety. The new one is much better with twin front airbags as well as front side and curtain airbags fitted as standard, as are anti-lock brakes with electronic brakeforce distribution, traction control system and three-point rear seatbelts for all passengers. An Electronic Stability Programme (ESP) is standard on XS models only.
Driver appeal
Driving the old Sportage was like riding a tricycle over corrugated iron: noisy, uncomfortable and annoying. This Sportage is completely different, sacrificing ruggedness for smoothness and the steering assistance and accuracy of a sailing dinghy for a precise, effortless tiller. Four wheel drive can be selected permanently but as the car can alter power distribution automatically within milliseconds, the only reason to do so is to flatter the driver into believing he or she is 'off-roading'.
Family car appeal
Volvo's XC90 is widely acknowledged as the best family vehicle money can buy, and a case could almost be made for the Sportage as a smaller-scale alternative for a smaller family, as it only possesses five seats. It's incomparably more stylish than a blobby compact MPV and will allow families to drive right up to the water's edge on trips to the beach.
First car appeal
If a young driver is desperate for a 4x4 and possesses ludicrously indulgent parents, they could do worse than give him or her a Sportage. It looks the part while remaining an easy to drive road car. Then again, young buyers are notoriously badge-biased and would probably demand a Land Rover or Jeep instead.
Quality and image
Saying you owned a Kia used to be akin to admitting you had a large collection of cardigans or a predilection for bingo five nights a week. No longer. Thanks to the funky Picanto and imposing Sorento, Kia has some credibility. Its situation is analogous to Volvo's a decade ago - the ignorant laughed at them but owners knew they were onto a good thing. And what's the trendiest car on the roads today? The XC90, which the Sportage resembles.
Accessibility
All models have five doors and a wide boot, so access is no problem apart from the slight step up required to get in. A grab handle placed on the dash directly in front of the front passenger is more than an attempt to suggest this car can off-road - it is very useful for those who are small of stature or less bendy than they used to be to haul themselves aboard, though it does eat into glovebox space.
Stereo and ICE (In car entertainment)
Stealing a march on all of its rivals, Kia's standard CD audio system comes with an MP3 player, a very useful feature to attract younger buyers. Once you're accustomed to using it, you can bid farewell to dozens of CDs rattling around in the glovebox and getting sat on. Sound quality is good, though operation of some stereo controls is a bit fiddly.
Colours and trim
Entry-level XE model equipment includes air conditioning, electric front and rear windows, roof rails, 16-inch alloy wheels, two power outlets, front fog lamps, and three-point seatbelts for all five occupants. If you just want a family workhorse, it'll do fine. Steeping up to XS specification is sorely tempting though. It offers a comprehensive kit list, significantly upgraded interior and the option of that V6 engine.
Parking
As with any SUV, the Sportage affords the driver an elevated view of the world. This becomes helpful when you have to park the car, and the affordable Kia's lofty driving position gives you a noticeable advantage over regular vehicles. The controls are well-weighted so there's little in chance of you breaking into a sweat. The downside to all this is that you can't zip around a squeeze into spaces like you would in a conventional family car, despite the fact that the Sportage is destines to spend most of its life in town.
Spare wheel
Full size spare wheel located under the boot floor.
Range information
A choice of three engines, two transmissions and two equipment levels, XE and XS. Crucially, there's a 2.0-litre (111bhp) CRDi diesel, a 2.0-litre (140bhp) 16-valve CVVT petrol and a powerful 2.7-litre (173bhp) V6 petrol. All models come with an intelligent 4x4 system, while a five-speed manual and four-speed automatic gearbox with sequential manual mode are on offer.
Alternative cars
Hyundai Tucson Only longer warranty outdoes Sportage
Land Rover Freelander Popular but overpriced and prone to niggles
Toyota RAV4 Ultra-reliable, lacking in charisma
Honda CR-V Now with diesel, a strong proposition