September 2009
Kia ceed 1.6 LS
New look nose helps boost aesthetic appeal
September 2009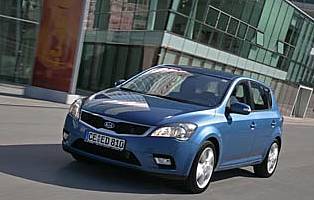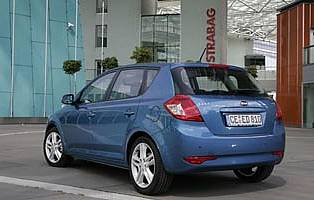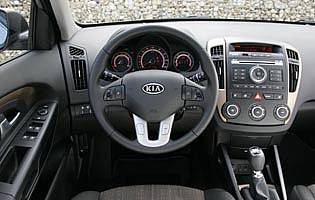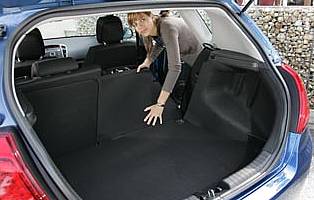 Overall rating

Likes:
Generous, confidence inspiring warranty
Good level of standard equipment despite car's low cost pricing structure
Diesel engine refinement and stop-start system
Spacious and practical cabin
Gripes:
Brand image still lags behind that of its traditional European rivals
Remote driving experience will not impress keen drivers
1.4 petrol engine better suited to urban duties than pounding the motorway
Cabin materials still a step behind those of the established competition
In recent years one brand, Kia, has seen a rapid rise in popularity. Making the conscious decision to design and build cars in Europe for discerning European buyers was a risk but it's one that has paid off in the form of the Cee'd compact hatch.
Conservative but familiar styling greeted the public when Kia's Cee'd first appeared. Forget the unusual name and punctuation for a moment, while Kia played it safe in the looks department the overall package was a groundbreaking one for a car in the compact hatchback market.
Packing solid mechanicals and, most importantly, a seven-year warranty, the Cee'd spoke to potential buyers through their wallets. Fortunately this car was also a solid performer on the road. A mid-life refresh has resulted in the incorporation of Kia's corporate 'nose' and a selection of subtle visual and technical enhancements.
In a bid to lower emissions a stop-start system is an option on selected engines, with the potential for it to be rolled out across the range in the long term. This effort is bolstered by the introduction of a new 1.6-litre diesel unit, which boast improved performance and economy over its predecessor.
On the aesthetic front, new cabin trim colours, trim finishes and upholstery help lift the cabin and impart a higher quality ambience. The new fascia houses an improved instrument design while the central area boasts updated audio and ventilation controls. All-in-all, the changes have resulted in a more polished appearance.
Our verdict on the Kia ceed 1.6 LS
There was nothing inherently wrong with Kia's first generation Cee'd. It was a solid performing car in all areas, although it lacked a certain amount of design flair. That's been remedied with this facelift. Granted, the cosmetic changes inside and out are modest, but the overall result is a welcome polished performance.
Costs
With a low sticker price across the range plus a generous seven year warranty, the Cee'd is predictably being pitched as an affordable family hatchback. Opt for the 1.6-litre diesel variant and, if you travel many miles in a year, you could see significant savings at the pump.
Space and practicality
In five-door hatchback form, the Cee'd offers all the usual amenities. The car's split-fold rear seats unlock valuable extra load space and there are numerous useful oddment storage areas, such as the capacious front armrest and door bins.
Controls and display
The Cee'd isn't a complex car and the various controls and displays are intuitive and clear respectively. The audio unit's display and controls are straightforward, while the car's steering and manual gearshift are both slick and require little effort to operate.
Comfort
Supportive seats fore and aft plus good levels of head, leg and elbow room ensure high levels of comfort in the car's cabin. When on the road, tyre and wind noise have been kept to a pleasingly low level, further enhancing the car's refined cabin ambience.
Car security
Despite the car's modest on paper value, you're not short-changed here. Remote central locking is a standard feature, while the immobiliser package should keep your pride and joy safe when unattended. For added peace of mind you could add a visible steering lock - ideal for deterring the opportunist thief.
Car safety
The Cee'd might cost less than many rivals but Kia hasn't cut corners in the safety department. You get all the airbags you need plus electronic stability control is on hand to help keep you out of trouble.
Driver appeal
Even by Kia's own admission the Cee'd is not going to impress keen drivers. This is a pragmatic assessment not a critical one, as the car's strengths lie in its ability to delivery a refined, quiet and relaxed driving experience. And this it does well; along with a polished selection of engines and gearboxes, the Cee'd is competent and easy to drive.
Family car appeal
For a growing family the Cee'd is both practical and affordable. If budgets are tight, this compact Kia should fit the bill. The cabin looks and feels durable, and should withstand the rigours of family life. The car's boot is a good size for swallowing shopping and family clobber - even more so with the rear seats folded - and the various cabin storage areas are handily located for mobile phones and the like.
First car appeal
There's little wrong with the Cee'd and it's a quirk-free car, making it a smart choice if you need a compact family runabout. With its selection of modest power units and easy to drive character - light steering, slick gearshift plus auto option - the Cee'd is an easy-going experience that's perfectly suited for a novice driver.
Quality and image
Kia's general image has improved greatly since the introduction of the Cee'd. Offering a European designed and built car is a big deal, and has done much to boost consumer confidence - the firm's generous seven year warranty is another obvious plus. Quality has also improved to a level where you no longer have to make excuses for cabin fit and finish.
Accessibility
In real terms the Cee'd offers the same experience as many of its rivals. Being a five-door hatch, front seat occupants benefit the most from the car's wide opening front doors. Naturally the rear doors don't open as wide but access and egress is never a hardship so long as you're fit and agile. At the rear the car's tailgate requires little effort to raise or lower.
Stereo and ICE (In car entertainment)
A good, fully featured system is standard fit on the Cee'd. The easy to read display is supported by logical controls and the ability to connect an MP3 player or iPod. Depending on the model, steering wheel controls make life easier when on the move.
Colours and trim
Bold colours help show off the car's mature styling. Like Kia's Soul, the dark, sombre hues do little to flatter the Cee'd. As an aside, the new family nose does wonders to lift the car and adds some welcome individuality. Inside the efforts made to lift the cabin ambience have largely succeeded but there's still some way to go to match, say, Ford's Focus.
Parking
Not being a particularly large car, the Cee'd is easy to park and manoeuvre at low speed. All-round visibility is good, while the car's steering is light yet direct - ensuring minimal effort is required for even the tightest of spaces.
Spare wheel
Space saver fitted as standard.
Range information
Petrol engine options - 1.4-litre (89bhp); 1.6-litre (124bhp). Diesel engine options - 1.6-litre (89bhp, 113bhp). Transmission options: five and six-speed manual gearbox for petrol and diesel variants respectively, plus four-speed auto gearbox (1.6 petrol only). Trim levels: 1, 2, EcoDynamics, 3.
Alternative cars
Ford Focus Benchmark hatch for ride, handling and performance
Hyundai i30 Direct Cee'd rival - shorter warranty but a little better to drive
Vauxhall Astra Better than before but can't match the Cee'd on price
Peugeot 308 Polished performer but greater emphasis on luxury widens gap to the Cee'd