January 2016
Jeep Wrangler 2dr Overland 3.6 V6
The Wrangler is instantly recognisable from any angle
January 2016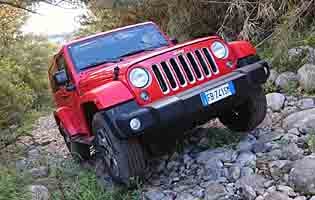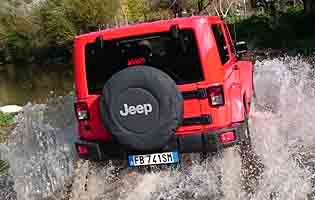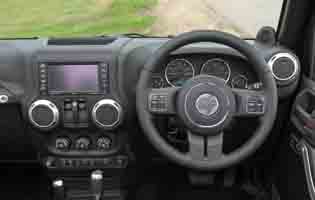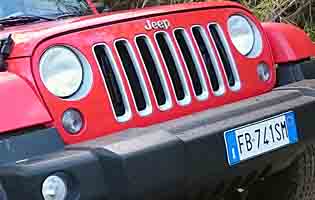 Overall rating

Likes:
Classic looks are enduringly appealing
Off-road ability is deeply impressive when tested
Gruff engine will be seen by some as charming
Removable roof panels add to driving experience
Gripes:
Robust, bouncy ride quality is poorly suited to roads
Fiddly roof panel removal mechanism
Loud cabin on the road
Likely to suffer high depreciation
The Wrangler is one of two classic benchmark off-road cars that have remained little-changed over decades, with the other being the Land Rover Defender. Like the Defender the Wrangler as we know it has to be replaced soon, by something more environmentally conscious, but the enduring legacy of the model is well encapsulated by the Overland model.
Overland is simply a mid-level trim grade that lacks some of the most hardcore off-road equipment seen on the top-spec Rubicon model, but it's more representative of the car's simpler heritage that way. It uses mechanical two- and four-wheel drive configurations that can be switched on the move for ease of use.
As Jeep's standard-bearing off-roader, despite the presence of larger, more luxurious and more expensive models in the range, the Wrangler's focus quite rightly has to be on off-road talent. Dual-purpose tyres are fitted as standard, but while they help a great deal on loose surfaces they are one of many factors that detract from the car's on-road refinement.
This is a car designed for people who place go-anywhere capability and retro looks ahead of interior materials quality or cabin quietness. It sits alongside cars much better tuned for everyday driving, which is why so few are seen serving as daily commuters.
There is a diesel option for those who want extra fuel tank range, but this extra practicality is primarily for treks through uncivilised expanses where fuel stations are too rare to risk the thirsty V6 petrol. The two-door model, however, is petrol-only, and the only transmission option is a sturdy automatic.
Our verdict on the Jeep Wrangler 2dr Overland 3.6 V6
In many ways the Wrangler is an outdated idea; a relic from a bygone age. There are a number of very impressive off-roaders that don't compromise on refinement and comfort in the ways that the Wrangler does. But the Jeep has a charm and ownership satisfaction that can only be matched or bettered by the Land Rover Defender, but the Wrangler's longer heritage carries unique appeal.
Costs
The main problem facing buyers will be fuel costs, bearing in mind the high thirst of the petrol engine. Road tax is also very expensive, though, owing to the high emissions recorded in tests. The iconic status of the Wrangler means that depreciation might not be as steep as it is for other Jeeps, but it will still be significant. Servicing a six-cylinder engine may also be pricey.
Space and practicality
There are obvious practicality advantages in having one of the world's most effective four-wheel drive systems, particularly in wet, wintry or off-road conditions. The leather interior of this model doesn't tally with that, though, and many owners might be reluctant to expose the interior to the same rigours as the exterior. There are several useful interior storage solutions like a central bin between the front seats.
Controls and display
The 6.5-inch main central screen is a good size but could respond to touch inputs quicker and more consistently. The ancillary stalks are cheap-feeling and do their job with the feeling that they could be easily broken. The main instruments are much more modern, integrating a digital display and clear, easy-to-read dials.
Comfort
To sit in a stationary Wrangler is misleading, because at a standstill the car is actually quite comfortable. The seats are nicely shaped to support legs and backs and there is plenty of space for the front two occupants. There won't be enough space in the back of this model to satisfy anyone with a need to carry adult passengers on a regular basis, but it's adequate for most purposes.
Car security
Jeep's 'Sentry Key' theft deterrent system is effectively a basic immobiliser, but it doesn't link to an alarm so thieves may have plenty of time to circumnavigate the system. Off-road vehicles are particularly attractive to thieves looking to acquire a lucrative source of spare parts to sell, which makes the absence of an alarm even more problematic.
Car safety
The Overland has plenty of safety equipment, some of which is designed for off-road use. Hill Descent Control is one example, and an under-body skid plate to protect the transfer case is another. For road use technologies like Hill Start Assist, a 'heavy duty' brake package, stability control and of course the full-size spare wheel make sure the Wrangler is never likely to struggle to cope.
Driver appeal
The appeal for the driver comes chiefly from the character of the gruff V6 petrol engine and knowing how capable a machine it is. On the road it's relatively loud, not as brisk as its power figure might suggest and often uncomfortable over bumpy sections of road. Off the beaten track the Wrangler shines, showing its robustness, sure-footedness and terrain-conquering four-wheel drive.
Family car appeal
This is perhaps the least family-friendly of all Jeeps other than the Wrangler Sahara, which has an open rear passenger area. A four-door version would be much more appropriate and easier to live with for any parent who simply insisted that they had to have a Wrangler.
First car appeal
Perhaps a used, much older Wrangler might make a left-field choice as a first car, but a new one is too expensive. It isn't difficult at all to drive, and this two-door version is short and easy to manage on the road. The engine is more powerful than would be appropriate for the purpose, though, and insurance for off-roaders is notoriously expensive due to their desirability in the eyes of thieves.
Quality and image
While aspects like leather upholstery and silver-coloured trim detailing try to add a greater sense of quality, the Jeep still can't match more road-biased 4x4s in this respect. However, it is the definitive American off-roader with decades of heritage to look back on, and it's this unique appeal that sets it apart from anything else on - or off - the road.
Accessibility
The necessary ground clearance needed by the Wrangler to be so effective off-road means that occupants need to step up into it. There is a plate along the side of the body that serves as an intermediate step if needed. As a two-door this model's rear seats are harder to get to than in the four-door version.
Stereo and ICE (In car entertainment)
The Overland is well equipped in this regard, with a Media Centre unit integrating a touch-screen interface, USB connectivity, sat-nav and an Alpine audio system with a subwoofer. There are audio controls mounted on the steering wheel for ease of use while driving, as well as the familiar Fiat Chrysler Automobiles Uconnect Bluetooth connectivity system.
Colours and trim
White is the free colour choice, but for an extra fee there are red, blue, black and metallic grey. Red is a great choice and the blue looks good too, but it's a shame there's no classic Jeep green. Leather seats inject an initial sense of luxury that belies the Wrangler's utilitarian roots. The dashboard plastics are a step behind other 4x4s in its price bracket but there is a large handgrip in front of the rear passenger that adds some charm.
Parking
There are no electronic parking assists on the Wrangler, and not even rear parking sensors can be found on the specification. In its favour is a flat rear end, upon which the spare wheel is clearly visible. The wheel is the rearmost point of the vehicle, making it easy to judge distances when reversing close to an obstacle. If reverse-parking, the wing mirrors should be used for safety's sake.
Spare wheel
Full-size spare wheel supplied as standard.
Range information
Petrol engine options - 3.6-litre (280bhp). Transmission options: five-speed automatic gearbox only. Trim levels: Sahara, Overland, Rubicon.
Alternative cars
Land Rover Defender Iconic shape and character, and unbeatable off-road
Land Rover Discovery Sport Refined option offers a huge array of talent on all surfaces
Isuzu D-Max Utilitarian pick-up is much cheaper, more economical and very capable
Mercedes-Benz GLC Amazingly capable with optional off-road pack, and great on-road too