December 2015
Jeep Renegade 2.0 MultiJet II 140 4WD Night Eagle
The Renegade has cheeky styling with the trademark seven-section Jeep grille
December 2015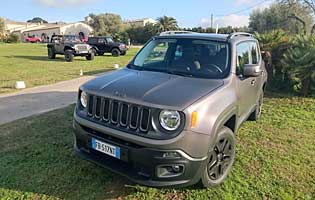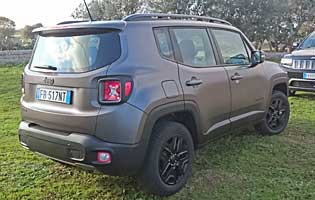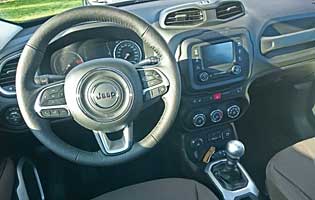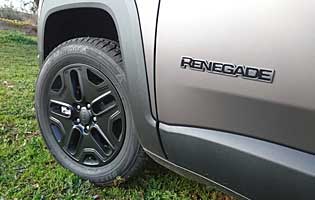 Overall rating

Likes:
Good looks and dark detailing give a purposeful stance
Very capable both on- and off-road
Strong engine has plenty of pulling power
Comfortable front seats
Gripes:
Dark alloy wheels are vulnerable to kerb damage
Offers little of substance to justify higher price
Diesel engine is comparatively noisy and unrefined
Some interior plastics will fall below expectations
Following in the wheel tracks of a similar special edition applied to the Cherokee line, the Renegade Night Eagle comes to Europe with an allocation of just 2,500 units across the whole continent. The UK will see between 300 and 500. The special model is differentiated only by its aesthetic differences rather than anything technical.
The Renegade is Jeep's smallest car and uses off-road technologies suited to its lower size and weight. It is designed to compete in the small SUV segment as opposed to mixing it with compact crossovers, most of which are either front-wheel drive or have four-wheel drive but only light off-road ability due to modest ground clearance.
The Night Eagle is distinguished by its generally dark presence, especially in its special dark grey satin-finish paint. The wheels are black and there is additional dark trim around the body. The interior is more or less standard with a dark design theme.
It is based on the mid-range Longitude specification to make it an affordable offshoot from the range rather than an exclusive range-topper. Standard specification includes the disappointing five-inch Uconnect interface screen, although it does come with satellite navigation. Cruise control, electric driver's lumbar support adjustment and front fog lamps are included too.
But it's the small Jeep's ability to keep up with much more focused off-road vehicles that makes the difference between this and its rivals. Its all-wheel drive system is not permanent but proves very effective when called upon via a rotary driving mode selector that cycles through Mud, Sand, Snow and Auto modes. There are few more effective off-road towing cars in its class.
Our verdict on the Jeep Renegade 2.0 MultiJet II 140 4WD Night Eagle
The Renegade Night Eagle limited edition may only be a styling exercise, but such tactics have been proven to work in the past. If its combination of distinctive looks and decent quota of equipment matches your wishes for true off-road capability either for muddy tracks, trailer-towing on slippery fields or an inclined gravel driveway, there is little else that will be as good at the job as this.
Costs
The Night Eagle's status as a limited edition is not expected to add significantly to its residual value. As a more expensive version of a mid-range model it remains to be seen whether it sells to Jeep's targets or is ignored in favour of an ordinary but higher-spec model. Fuel costs will be reasonable with careful driving, but its blocky aerodynamics mean it can't manage a particularly frugal high-speed cruise.
Space and practicality
A 351-litre boot is good for the size of car and betters even a Ford Focus, but falls behind compact family hatchbacks like the Volkswagen Golf and Kia Cee'd. There is a removable boot shelf that can sit flush with the load bay or be removed or lowered for maximum space. The Renegade platform shuns large storage bins in favour of many small ones, which is a great idea for everyday use.
Controls and display
One of the many 'Easter Egg' design features inserted into the car by Jeep's staff is the 'mud splat' red zone on the rev counter. Inspired by paintball splats on a helmet, it helps give the car character. The controls are sited in familiar places and fall easily to hand. The five-inch Uconnect main screen is a disappointment, though, with too small a screen, too low a resolution and poor contrast against the competition.
Comfort
Drivers will welcome the electrically-adjustable lumbar support for longer trips and for better back posture. There's also plenty of room for four adults, with ample legroom in the back. Occasionally larger bumps send a shudder or a jarring impact through the cabin but most people will find the suspension quite within the acceptable normal boundaries for comfort.
Car security
Jeep offers no details about its security systems other than what can be seen. An alarm and immobiliser are present along with remote central locking with an interior release. The Night Eagle does not have privacy glass as standard, but its dark colours may help it to avoid being noticed.
Car safety
Airbags are installed at the front, front side and side curtain positions in case of a crash. To prevent that happening, though, a traction and stability control system aims to ensure solid, controlled contact between all four tyres and the road. Under emergency braking the car will see that full braking force is applied.
Driver appeal
The diesel engine might be on the noisy side, but it's strong and linear in its delivery. The ride quality is perfectly fine, albeit on Bridgestone Blizzak winter tyres for the test, and the cheeky, tall and chunky feeling absorbed by the driver means the Renegade is genuinely likeable. It doesn't excel in any regard on the road, but nor does it fail.
Family car appeal
This is a good main car for families with older children who no longer need pushchairs and the like. Its boot is too small, really, for large accessories like that. The boot isn't perhaps as long as might be expected, so large dogs will be a fit too tight for comfort, but with cloth upholstery enabling simple clean-ups, a high roof allowing easy child seat fitment and the ability to turn the front passenger airbag off, the Renegade ticks many boxes.
First car appeal
The smallest Jeep would make a stylish and enviable first car, and despite first impressions it's not so big as to be overwhelming as long as the recently-qualified driver was competent. However, even the cheapest Renegade is on the expensive side for a first car and its appeal will reduce accordingly.
Quality and image
Jeep does not have the best reputations for build quality or reliability, and with complex electrics in particular there are some justifiable doubts. During a multi-model test with media in Sicily, a Grand Cherokee's air suspension system failed leaving it stranded in sand. Image, however, is a different story. Persistent marketing of the concepts of freedom and adventure have helped to separate the brand from the crowd and make it one of the most optimistic out there.
Accessibility
The seats here are higher than some people might expect, which will be good for able-bodied drivers but not so much for some older or less sturdy people. The doors are quite short but offer a relatively square aperture for access, and the high roof is very helpful in making it even easier. It should be noted that the tall tailgate needs plenty of space behind the car to open fully.
Stereo and ICE (In car entertainment)
A meagre six speakers are placed inside this model's cabin. Basic models get just four. There are a limited number of internet-connected services available with a compatible smartphone's data service hooked up to the car. FM/AM and DAB radio are available along with Bluetooth audio, and music data can be displayed on the main screen.
Colours and trim
The Night Eagle only comes in dark colours to reflect its name, unlike the rest of the colourful Renegade range where yellow, red, blue and orange, plus two-tone options, are all available. Its interior trim is on a par with typical volume European cars, which is down to the fact that the car is built in a Fiat factory in Italy. Visually it's quite distinctive.
Parking
There are no electronic parking aids on the Longitude model upon which the Night Eagle is based, but the test car did wear sensors at the back, indicating a specification upgrade. The driver has a good view in all directions but the height of he rear window line does mean that sensors are welcome, monitoring the lower zone that the driver can't see.
Spare wheel
Emergency tyre repair kit supplied as standard.
Range information
Petrol engine options - 1.6-litre (108bhp); 1.4-litre turbo (138bhp, 167bhp). Diesel engine options - 1.6-litre (118bhp); 2.0-litre (138bhp, 167bhp). Transmission options: six-speed manual gearbox, plus six-speed dual-clutch auto gearbox (1.4 138bhp petrol only) and nine-speed auto (167bhp engines only). Trim levels: Sport, Longitude, Limited, Night Eagle, Trailhawk.
Alternative cars
Suzuki Vitara Good looks and chunky styling with two- and four-wheel drive options
SsangYong Tivoli Extremely good value for money with a 4x4 model, but lower ground clearance
Skoda Yeti Dual-purpose model is fun to drive and capable for light off-road driving
Vauxhall Mokka Bulbous styling gives impression of size, but not much interior space