April 2015
Jeep Renegade 1.6 MultiJet II 120 Longitude
The Renegade features extremely distinctive styling inspired by classic Jeeps
April 2015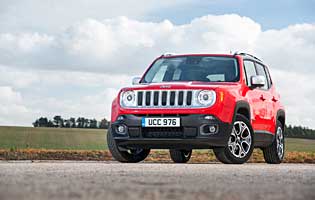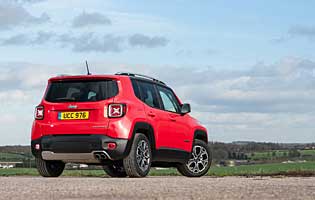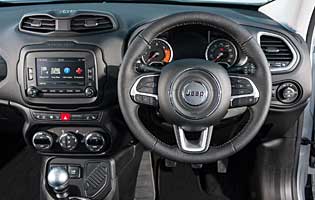 Overall rating

Likes:
SUV looks provide authentic American style
Compact dimensions and high driving position make town driving easy
Stable, relaxed on-road driving manners
Impressive off-road ability despite standard tyres
Gripes:
When revved hard, the engine becomes coarse and less refined
Some will bristle at the thought of a Euro-centric Jeep product
Suspension overwhelmed by larger, sharper hits
No large interior storage spaces
The Renegade is the first Jeep ever to be built in Europe, for Europe. It openly shares a platform with a Fiat cousin - the 500X - but is built to maintain a high degree of genuine off-road ability. It is the model that Jeep hopes will transform European perceptions of the brand by being better to drive on-road.
It may have seemed like a simple solution for Jeep to ask its sister company Fiat to build its European cars for it, but the American brand has, to this point, been staunchly pro-America in every way, from construction methods to engines and from interior materials to where the factories are. At last, though, Jeep has seen the light and allowed some more tailored input.
To simplify the Renegade as a rebadged Fiat, though, would do it a serious disservice. Its approach is quite different and while the metalwork of the chassis is shared, the four-wheel drive system configuration, driving position and instantly recognisable bodywork are straight from the Jeep brand manifesto.
Its positioning encompasses novelty and tradition, which should help it to stand out in the crowded compact SUV segment. The heritage and off-road ability of a classic Jeep is mated to a particularly striking shape that Jeep expects women to like just as much as men. Lifestyle appeal is a big part of what the Renegade's designers wanted to achieve.
As a much more imposing, taller and more authentic-feeling alternative to the best-selling cars in the class, like the Renault Captur, the Renegade will attract buyers who want to make a statement with more than just their colour choice. That fact that the car feels very European and easy to get on with will also help.
Our verdict on the Jeep Renegade 1.6 MultiJet II 120 Longitude
Despite appearances the Renegade is not a large car; indeed it is surprisingly narrow and short in relation to its bulky looks. It successfully combines the refined and efficient diesel engine of a European car with the emotionally appealing styling of a true American off-roader. It's arguably the most distinctive car in its class, and yet in four-wheel drive guise it is also the most capable.
Costs
For a relatively compact car the Jeep looks quite expensive. Mid-range diesel models break a psychological price barrier and at the top of the range the Renegade mingles with premium competitors. It is uncommonly well equipped, though, which will go some way to compensating for the price. Fuel economy will be poor if driven hard, or frequently at high motorway speeds, as these activities are a little outside the Renegade's usual remit.
Space and practicality
A maximum of 351 litres is not bad for a car of the Renegade's length and width, although some compact family hatchbacks have more. An adjustable boot floor can provide either a slightly smaller capacity with a flat load bay for simpler loading and unloading, or the full boot volume. There are no large storage bins in the cabin, with Jeep choosing instead to load the space with numerous small trays and compartments.
Controls and display
From the 'splatter effect' in place of the traditional red zone on the rev counter to the young-feeling off-road-themed graphics on the main colour display, the Renegade emphasises its quirky design cues right where a driver will see them. As such the displays look nothing like anything from any rival car maker - even from sister companies. The touch-screen's main icons are large enough to press accurately even on the move.
Comfort
As might be expected in an American car, the seats are wide and chunky, but after European fashion they are not overly soft. There is a glut of space for the front seat occupants at least, while the rear passengers' happiness will depend largely on how tall and long-legged the person in front of them is. The suspension could be better equipped to deal with sharp bumps at speed, but it handles slow obstacles with control and balance.
Car security
Keyless entry is the most obvious security feature of this model. The key fob can stay tucked away in a bag or pocket while you simply press the black button on the door handle and open the door. It works on the tailgate as well. The driver's door can be opened independently of the rest, as can the tailgate.
Car safety
From the earliest design stage the Renegade has been matched to European safety standards, so it boasts a comprehensive spread of active and passive safety systems without allowing them to become distractions in their own right. Trailer sway damping is standard, while four-wheel drive models can handle some winter situations that two-wheel drive cars can't, which could be a safety benefit in terms of avoiding being stranded.
Driver appeal
There is an instant appeal to the Renegade's driving manners. Thanks to lightly-weighted pedals and its high driving position, from where the driver can see the bulging American-style bonnet, the Jeep feels welcoming, commanding and yet unintimidating. Over normal bumps the ride is slightly jiggly and it rarely truly settles, but such an accusation could be levelled at any competitor in the class. The engine pulls heartily, but becomes coarser beyond 3,000rpm.
Family car appeal
This is precisely the type of car that is finding many buyers across the UK as a second family vehicle, perhaps following an estate or a large saloon. Its boot is probably not big enough for typical families to use the Renegade as their main car, but it does have an appealing character that kids might engage with more than usual, as well as robust interior design and wide-opening doors that allow good space for fitting a child seat. Isofix child seat mounts are fitted to the outer rear seats.
First car appeal
The determined novice driver could just about make a case for the Renegade as a tall, safe and practical everyday car whose running costs could be managed. But the height also counts against it from a new driver's perspective, and it feels extremely different if not necessarily unmanageable. The visual bulkiness of the bonnet and impaired corner visibility might prevent an inexperienced driver from gaining the confidence they need.
Quality and image
The styling is heavily responsible for creating the Jeep image, which from one person to another ranges from politely curious to outright adoration. Its mechanical capability is in no doubt, but this is a new market sector offering and will likely take time to become accepted by the Jeep faithful.
Accessibility
The Renegade does need to be stepped into rather than fallen into, such is its ride height, but an average height person should find the seats pitched at a comfortable height for access and egress. The doors are all relatively short, meaning they will open to a greater extent of their maximum in any given car-side gap, but the rear apertures leave perhaps too little space for larger feet. Plenty of space needs to be left behind the car to allow the tailgate to swing open, too.
Stereo and ICE (In car entertainment)
The six-speaker stereo system delivers surprisingly punchy sound from a choice of audio inputs. There is DAB radio, Bluetooth connectivity, USB and auxiliary input ports as well as a CD player and FM/AM radio. It can all be controlled via a slightly disappointingly low-resolution five-inch touch-screen, which jumps to a much-improved 6.5-inch unit on higher trim grades. The Jeep graphics are distinctive and characterful.
Colours and trim
The Renegade's compact but heavyweight-looking shape looks good in a variety of colours, but it's the brightest; yellow and orange hues, that look the best. They also help to enhance the car's lifestyle appeal. Thanks to Fiat's input on the inside, it melds plenty of fun design cues from Jeep with a European look and feel. The materials, panel fit and general finish is up to the standard you would expect - which is to say it far exceeds that of previous small Jeeps.
Parking
Rearward corner visibility is cut down by styling cues, but the high driver's seat and surprisingly compact dimensions mean that the Renegade seems to shrink around the occupants whenever parking spaces are nearby. An electronic parking brake might not be to all tastes but is rapidly becoming the industry standard. Rear parking sensors are optional on this Longitude model, but aren't especially necessary.
Spare wheel
Spare wheel supplied as standard.
Range information
Petrol engine options - 1.6-litre (108bhp); 1.4-litre turbo (138bhp, 168bhp). Diesel engine options - 1.6-litre (118bhp); 2.0-litre (138bhp). Transmission options: five and six-speed manual gearbox depending on model, plus nine-speed auto gearbox (2.0-litre diesel and 1.4-litre 168bhp only). Trim levels: Sport, Longitude, Trailhawk, Limited, Opening Edition.
Alternative cars
Renault Captur Great variety of colours and two-tone options, but otherwise a sensible choice
Nissan Juke Distinctive looks inside and out, but average for practicality and space
Peugeot 2008 Pretty styling, clever traction-boosting electronics and with lots of headroom
Mazda CX-3 Stunningly good looks with class-leading efficiency from advanced engines