May 2006
Jeep Commander 3.0 CRD Limited
Seven slit grille marks this out as a Jeep
May 2006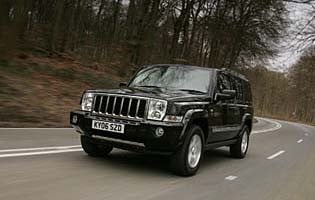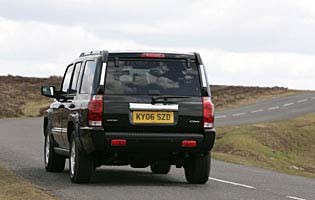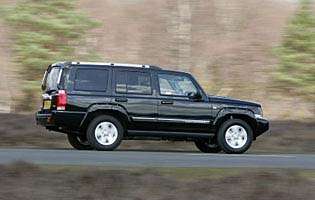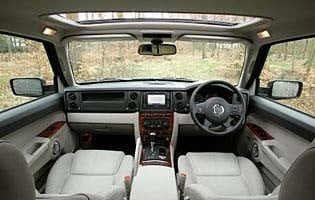 Overall rating

Likes:
Off-road ability as good as anything else you can name
Comprehensive and impressive equipment list
Seven generously proportioned seats
Front and rear parking sensors as standard
Gripes:
V8 petrol model's high carbon dioxide emissions
Some cheap interior plastics
Styling dated compared to many rivals
Optional skylights do not open
Jeep doesn't do soft roaders, so calling the Commander a Sport Utility Vehicle or SUV is something of a misnomer. It is a full-scale, full-on 4x4 with supreme off-roading ability, seeming even tougher than the Grand Cherokee with which it shares its essential architecture.
The theory is that while the Grand Cherokee represents modern Jeep design, the Commander takes a leaf from the Wrangler by sticking with an old-school, off-roader formula. As a result it looks like a set square was used rather more frequently than a set of compasses during its design. Initially you're likely to wonder if the Commander is merely outmoded, but this isn't the case. The design grows on you gradually. That said, it completely lacks the innovation of more forward-thinking treatments.
It's not as crude as it seems though. The cabin is spacious and comes with seven seats, instantly making it a viable alternative to a traditional family MPV. Plus no people carrier could ever dream of possessing the Commander's off-road ability which is comparable to that of a Land Rover Discovery or Toyota Land Cruiser.
In an attempt to lure customers away from the aforementioned vehicles, Jeep provides a genuinely impressive standard specification including many comfort items that would costs thousands as optional extras on rivals. It's possible to upgrade the Commander, too, but doing so largely nullifies the cost savings you may have achieved in the first place. Build quality is okay too, making the Commander seem like more than a workhorse if slightly less than a genuine luxury 4x4.
There is only one Jeep Commander worthy of serious consideration and it's the diesel-powered variant. The larger petrol-engined version is strictly for those looking for a cheap alternative to a Hummer who will not be scared off by poor fuel economy and high CO2 emissions.
Our verdict on the Jeep Commander 3.0 CRD Limited
While the Commander's styling is questionable even when new, it will have instant appeal to anyone fond of 'proper' 4x4s. Off road it is as good as any rival and better than most, while on roads it is competent if unspectacular. A great equipment list should ensure the few examples sent to the UK will sell fast.
Costs
When considering a purchase, buyers need to sit down and do some sums. The list price is competitive, particularly when the long specification list is included. Against that, there is a certain uncertainty over how well the Commander will hold its value and repair work on 4x4s with complex transmissions can be expensive. Insurance will also be above average.
Space and practicality
The second-row 40/20/40 split seats are engineered so the outer sections fold down and tumble forward to allow passengers entry or exit from the third row on either side of the vehicle. All three second-row seatbacks can be folded onto the cushions to form a flat-load area. With seven on board, there is still room for more than 200 litres of luggage. Folding all seats gives nearly 2,000 litres.
Controls and display
Clear and informative, the Commander offers more information than most. It'll even tell you your altitude, compass bearing and the exterior temperature. Cruise control is standard, but it's the US-style stalk-shift variety which takes a little getting used to. Though costly, fitting the rear DVD system with roof-mounted LCD screen may buy you a few minutes' peace.
Comfort
Theatre-style seating makes the most of its three-row, seven-passenger layout. The second-row seats are mounted higher than the front row, and third row seats are higher than the second row to ensure all occupants enjoy an excellent view. There's a heating, ventilation, and air-conditioning system in the third row, a rare feature. When off-roading, you realise that the grab handles are not very well positioned.
Car security
This is a vehicle that attracts considerable attention from friend and foe alike. So it's just as well that a Thatcham 1 alarm and immobiliser is included as standard.
Car safety
Crash protection features available on the Commander include multi-stage front airbags, side curtain airbags for all three rows and seatbelts equipped with pretensioners. The vehicle also features the Electronic Stability Program (ESP) as standard and an electronic rollover system that anticipates critical situations.
Driver appeal
Don't be fooled by the set square design and slab sides. This does not drive like a tank. Indeed, sharing its underpinnings with the Grand Cherokee, the Commander is one of the more responsive large SUVs on the road today, with a decent turn of pace and pleasant steering. Off-road, the Commander excels, and buyers are strongly advised to take advantage of one of Jeep's off-road classes for owners. Not only will instruction show you what the Commander is capable of, it will make you a better driver.
Family car appeal
Seven seats instantly turn the Commander from agricultural musclewagon into a viable family vehicle. Seats are easy to configure and young rear seat passengers will have plenty of room as well as the ability to fiddle with their very own air conditioning controls. With all seats in place there's still enough space for a week's shopping.
First car appeal
Large, fairly thirsty and with a high-cost tax disc, the Commander has little to attract novice drivers beyond its cosmetic appeal. And despite its driver-friendly controls, there's still the fact that it's a big vehicle and will take time to become accustomed to. A Jeep Cherokee would be a more sensible option.
Quality and image
Having been in the SUV market since before there was an SUV market, the Jeep brand has many positive associations. However, it has never really possessed the semi-luxury status of Land Rover. Well-equipped and comfortable though the Commander is, it still lacks the extra precision of fit and finish to rectify this.
Accessibility
The rear window can open independent of the tailgate to drop shopping or clothes in. Some will struggle with the small climb necessary to gain access to the cabin, though the Commander is lower to the ground than you might expect. Significant under-body armour protects it during off-roading rather than relying on a lofty ride height.
Stereo and ICE (In car entertainment)
The standard unit is made by Boston Acoustic. Despite having a single slot CD player, it produces an excellent sound via just six speakers. A luxury entertainment pack can be specified which includes full screen satellite navigation, MP3 compatibility, a six-disc CD changer and rear seat DVD system, but it is an expensive upgrade.
Colours and trim
Most of the choices have already been made for owners, as all Commanders come with a superb kit list. Metallic paint is a cost option on Predator models only, but privacy glass isn't included even on Limited models. Annoyingly, dual skylights can only be added as part of a luxury package with the uprated stereo system.
Parking
Unusually, even in this class of large luxury vehicles, both front and rear parking sensors are included as standard. They are extremely welcome additions, so the Commander is surprisingly easy to park, particularly as it has a commendably small turning circle.
Spare wheel
Full size steel spare carried under the rear of the vehicle.
Range information
Two engine options: 5.7-litre petrol HEMI (322bhp) or 3.0-litre CRD diesel (215bhp). Five-speed automatic transmission only, with low range capability, all wheel drive and electronic limited slip differentials front and rear. Two equipment grades, entry-level Predator and full-spec Limited.
Alternative cars
Land Rover Discovery Fantastic all-rounder. Without doubt the class benchmark
Nissan Pathfinder Tonka toy styling and good value package from recent arrival
Toyota Land Cruiser Hard-won reputation for durability is justified
Volvo XC90 Seven seats plus class-leading safety features make this family-friendly