September 2006
Jaguar XK XKR Coupe
Long bonnet hides a pedestrian protection system
September 2006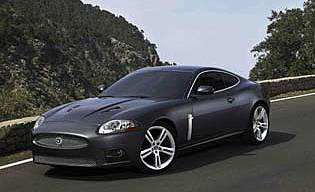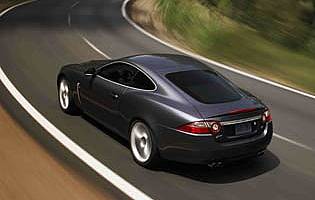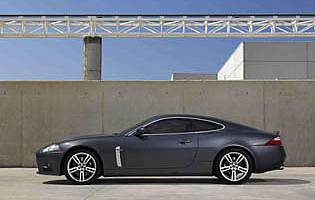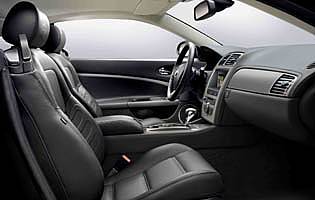 Overall rating

Likes:
Divine whine of exhausts is a rare pleasure
Exceptionally fast without being brutal
Surprisingly practical for daily duties
Attractive, uncluttered interior
Gripes:
Extra styling too subtle for some
Poor fuel economy, high emissions seem out of step with times
Is it really worth the extra compared to regular XK?
Will attract attention of all sorts, so costly to keep and insure
By common consent, Jaguar's latest XK is its best sports coupe since the hallowed E-Type was finally regulated out of existence. The XKR is the very top of the range model, adding a supercharger and more than 100 horsepower to an already potent product.
Indeed the XK is so good itself, that one might ask why an even hotter version was required. The answer is simple: rivals such as BMW and Mercedes offer high-performance variants using their M and AMG badges respectively, and by adding the R to the XK, Jaguar can provide a viable and extremely attractive alternative. Instead of buying an XK and adding options, customers for whom money is plentiful can go straight for the XKR with all the trimmings and still undercut the opposition.
Visually, the XKR is only subtly different to the XK. Bonnet louvers, quad exhaust pipes and a reworked grille are the items to look for, but the changes are perhaps less pronounced than many would wish. With both coupe and convertible versions to choose from, buyers can get first-rate performance with or without wind in their hair. Interior design is essentially the same as the XK, but with range-topping upholstery and equipment as standard.
The XKR's greatest pleasure isn't its elegant design but the incredible noise emanating form its quad exhausts. The supercharger seems to concentrate what was already a terrific wail, adding a delicious rasp that is particularly noticeable when downshifting. Many people rave about the noise Aston Martins make, but the XKR is even more delicious.
It's not all noise and no action, either. The XKR boasts impressive performance figures, yet no matter how enthusiastically it is being driven it retains a languid, effortless character that is at variance with the frantic immediacy of a Porsche 911. This is more of a sporting grand tourer than a hardcore racecar, and all the better for that. It can be driven in a relaxed, almost absent-minded manner as well as with a keen sense of involvement.
Our verdict on the Jaguar XK XKR Coupe
For sheer driving pleasure, the Jaguar XKR is about as sublime as modern motoring gets, combining elegance with power and a good deal of class. Few will be able to realistically afford actual ownership, but those that do will prove themselves to be connoisseurs of the rolling wheel with impeccable taste.
Costs
Jaguar claims the XKR is an XK plus thirty per cent. Luckily, it's not thirty per cent more expensive, but there is still a considerable premium to pay for the privilege of adding the R badge. Buyers should consider carefully whether they really require the XKR's extra performance and running costs when the XK is already excellent. Most won't, but will be monied buyers choosing the XKR for image as much as anything else.
Space and practicality
The elongated bonnet and echoes of the E-Type may suggest that interior space is at a premium, but in fact it is relatively spacious inside the XKR. That's partly because little effort has been made to treat the rear seats seriously. It's certainly a more practical day-to-day vehicle than a Porsche 911.
Controls and display
The traditional Jaguar chronometers are still there, now backed up by a modern central touchscreen system that is easy to master. Locating all but the most essential controls here in electronic format means that conventional switches are not required on the dashboard, resulting in a refreshingly uncluttered cabin.
Comfort
Front passengers enjoy opulent appointments with beautifully shaped seats with a large range of adjustment and decent legroom. Though technically a 2+2 coupe, the rear seats are really little more than large parcel shelves that even children would find a challenge. Quite how a child seat for a ten year old would fit in is anyone's guess.
Car security
Owning such an enjoyable car does come with a downside - it will attract the attention of thieves and vandals. Jaguar provides a comprehensive security package including a cutting-edge alarm system, but a safe garage and a tracking device should be regarded as essential extras.
Car safety
Without making as much of a fuss as, say, Volvo, Jaguar has been one of the leading developers of safety systems for some time. As a result, the XKR boasts numerous safety features. The driver's airbag is controlled by computer and deploys according to how it thinks any crash will develop. Two combined front head and thorax airbags protect occupants in a major impact and the bonnet has a special spring-loaded device to minimise injuries to pedestrians.
Driver appeal
Requiring less technical skill to drive than the rear-engined Porsche 911, the XKR is no less enjoyable. In normal mode it's possible to waft smoothly across vast distances at the legal limit. Selecting Sport mode sharpens responses up, giving a more direct driving experience and even adding a little throttle blip when changing down through the gears. A consummate Grand Tourer.
Family car appeal
High performance sports coupes do not make viable family vehicles. However, should you turn up at the school gates in one of these, expect to become a hero to any small boys in the vicinity.
First car appeal
Unless you happen to be the spoiled son of an oil Sheikh, a Jaguar XKR is unlikely to be a realistic option. And if you are, you're more likely to want a BMW or Mercedes anyway.
Quality and image
Some people love Jags with an almost familial bond, others tend to view them as old men's cars. If any Jaguar will ever get your blood pumping, this is it. The beautiful design is matched by genuine technical and performance prowess that is anything but old-fashioned.
Accessibility
One of the entire XK range's hidden delights is its clever boot. The tailgate encompasses virtually the whole of the back end - on a less streamlined car it might even be described as a hatchback. Consequently, loading up is easy, even is the level of the boot floor is rather high. Access to rear seats is awkward.
Stereo and ICE (In car entertainment)
A top-line sound system comes as standard with the XKR, and it should satisfy all but the most particular audiophile. It's MP3 and Bluetooth compatible, so the CD multichanger may prove to be rather surplus to requirements.
Colours and trim
Sober exterior colours seem to suit the coupe, while the more outgoing convertible takes to brighter hues. Inside, buyers can stick with a traditional Jaguar walnut and wood design or go for a more modern treatment of black leather and aluminium that should prove popular among younger buyers.
Parking
The larger, fatter wheels of the XKR don't help, but with parking sensors fore and aft plus a compact shape and steering that lightens up pleasantly at low speeds, parking this car is only marginally more challenging than a hatchback. An understandable desire not to cause a costly dent causes the driver to act with circumspection.
Spare wheel
Space saver located under rear of the car.
Range information
Just one engine: the same 4.2-litre V8 petrol unit in the regular XK, but supercharged and tuned to produce 420bhp instead of 300bhp. The only transmission available is a six-speed automatic with paddle shift gear levers mounted on the steering wheel.
Alternative cars
BMW M6 Massively expensive and almost too brutal to be practical.
Porsche 911 True sports car that demands a certain amount of skill.
Mercedes-Benz SLK 55 AMG Like XKR, a tourer rather than a sportster.
Maserati Coupe Unusual choice. Don't expect great performance or reliability, though.