February 2006
Jaguar XK 4.2 V8 Coupe
Pictures cannot do the XK's ingenious design justice
February 2006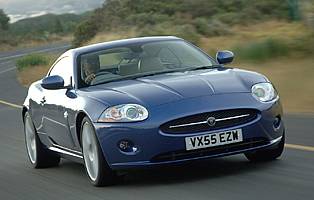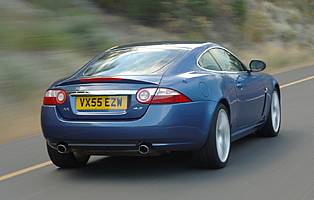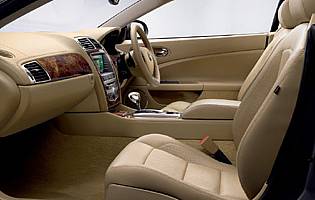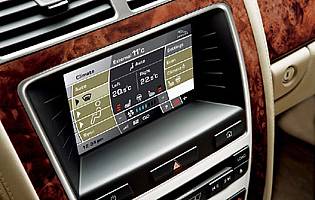 Overall rating

Likes:
Beautiful and clever exterior styling
Simplicity of interior layout
Tremendously evocative exhaust note
Comfortable and confidence-inspiring to drive
Gripes:
More expensive than some rivals
Lacks true sports car performance
May be too feminine for some tastes
Rear seats suitable only for very short journeys
Following up the original 1996 Jaguar XK should be no easy task, but a single glimpse of the 2006 model's elegant lines is enough to indicate that the great British marque seems to have found an ideal replacement. In an era when many sports cars are becoming brutal bruisers, the XK provides a welcome dose of grace and charm.
At the time of its retirement, the old XK still looked prettier than many more recent introductions. Yet compared to the new XK's looks, it seems like an ugly sister. Much credit must go to Jaguar's design boss Ian Callum, who has managed to put together a car containing nods to classic Jags of the past - most notably the iconic E-Type - without the resulting vehicle becoming a retro pastiche.
The car's skin seems to be stretched tight over its frame. The design initially appears to follow a straightforward 2+2 coupe formula, but the longer you look, the more clever little details reveal themselves. There's the ingenious way the small rear window affords a great view, the way the front lights seem to change shape as you walk around the vehicle and the subtle raised rear deck that gives the car its characteristic crouching cat pose.
Underneath the skin is a car of considerable technical achievement. All-aluminium construction keeps weight down and helps to create a car of tangible rigidity. Nimble though it is however, it would be wrong to classify the XK as an out-and-out sports car. It possesses a sporting edge and is genuinely fast when pushed, but somehow always remains a little too relaxed and smooth to get the blood pumping. This is a car designed to glide over long distances rather than race, helter-skelter over short ones. A soft-top convertible model is available for sun worshippers, but the coupe is marginally more attractive and its increased rigidity makes it a sportier proposition.
Inside, Jaguar has happily avoided the temptation to dazzle passengers with an obvious show of the car's equipment. An easily mastered central touch-screen operates air conditioning and radio controls, allowing the bare minimum of buttons and switches to get in the driver's way. Combined with some lovely materials, it all adds to the XK's aura of understated elegance.
Our verdict on the Jaguar XK 4.2 V8 Coupe
The Jaguar XK has all the necessary qualities to make it a potential classic. A clever yet subtle design, a desirable badge and well thought-out engineering all help, but true classics require something else as well - character. The XK has that too, a definite and seductive personality that should guarantee that it becomes one of the most sought-after coupes of current times.
Costs
List prices for the Jaguar XK are not of the sort to make it look like a bargain. Make no mistake, this is an expensive vehicle. However, Jaguar's standard specification is more generous than any of its direct competitors' and when compared to something like the Aston Martin DB9, with which it shares more than a passing resemblance, the XK starts to look like a very reasonable proposition indeed.
Space and practicality
Including an electronic parking brake and a touch-screen main interface liberates a large amount of cabin space, making this XK feel far less cramped than its predecessor. The 'Liftback' rear door is another great feature, providing some of the practicality of a hatchback - without having to call it a hatchback, of course.
Controls and display
Commendably, Jaguar has resisted the temptation to cram more pointless features into the space freed up by the inclusion of a seven-inch centre console touch-screen, so that the interior possesses an almost minimalist feel. While techno-heads may bemoan the lack of buttons with which to play, everyone else will find this arrangement far more attractive. It's easy to use, too, with the first menu level allowing the driver to select between climate, audio, navigation, telephone and vehicle settings. The main instrument binnacle in front of the driver houses two classic round dials.
Comfort
While rear seat passengers are inevitably a little cramped, those occupying the front seats can have no such complaints. Seats are wonderfully comfortable and adjustable in every imaginable direction. Side bolstering is particularly impressive, for once justifying the use of the term 'body hugging'. Use a light right foot and noise completely fails to intrude into the cabin.
Car security
This is likely to be a seriously tempting item to miscreants, so it's reassuring that the XK is fitted with a Thatcham approved alarm system with microwave intrusion sensing, door protection and tilt-sensing to detect the vehicle being opened, jacked up or moved. It features two-stage unlocking, which unlocks the driver's door with one push of the unlock button and the passenger door with a second push. The steering lock is electrically engaged when the car is locked. A smart key system provides keyless start with a push-button starter, and optional keyless entry.
Car safety
The XK's party piece is its pyrotechnic deployable bonnet. If it senses an imminent impact with a pedestrian - and Jaguar insists it can tell the difference between a human and a cone or tree - the bonnet lifts up to provide a cushioning effect to the unfortunate victim. Incidentally, it is also what makes that low front profile possible. The XK also includes the usual number of airbags and stability control electronics.
Driver appeal
While not an out-and-out performance car like the Porsche 911, there's still plenty to enjoy about the XK's driving experience. The light, ultra-stiff all-aluminium monocoque body structure forms a solid basis and combines beautifully with perfectly weighted steering. Traditionalists may baulk at the lack of a conventional manual gearbox, but the automatic - complete with steering wheel-mounted paddles - allows the driver to take charge when in the mood. The Jaguar paddleshift system is far superior to those appearing in Maseratis and Ferraris, providing almost instantaneous changes. And mention must be made of the sublime exhaust note.
Family car appeal
About as far away from a lumpen people carrier as it is possible to imagine, the only way the XK could be described as a family car would be if one sold one's family in order to buy one. Tempting perhaps, but not exactly practical. There is enough boot space for a long weekend away from the kids, though and Isofix fixings are present in both rear seats.
First car appeal
First time drivers need not apply. This is a powerful machine requiring a good deal of road sense to pilot safely, even with the myriad driver aids on board. Even if you are young, loaded and your Daddy owns an insurance company, the Jaguar's subtlety will probably be less appealing to you than a TVR's outrageousness.
Quality and image
The Jaguar name has been under some pressure over recent years. The X-type and S-type were far from perfect and many people find the XK too conservative in looks if not technology. The XK provides reassurance that Jaguar can still do what it became famous for - building beautiful, classy cars that are a pleasure to drive. Hairy-chested Neanderthals might find it a little too feminine, though.
Accessibility
Getting into the front seats, let alone the rear seats of the old XK was always a challenge. The new model is considerably better, largely as a result of increased seat travel, but a good deal of flexibility is still required to get into the back and once there you'll be urging the driver to get your destination as quickly as possible. The aluminium doors are each 6kg lighter than an equivalent steel door yet still close with an enjoyably solid sound. Similarly, the aluminium 'Liftback' rear door is strong, light and simple to operate. Once it has been opened manually, gas struts lift it the rest of the way.
Stereo and ICE (In car entertainment)
Buyers have a choice between high and optional premium-quality audio systems. The standard six-speaker system supports conventional audio CDs as well as discs containing WMA and MP3 digital files, and the single dash-mounted CD slot is actually a six-disc changer. The premium system, by Alpine, has eight speakers, a remote six-channel amplifier, 520 watts output and Surround Sound.
Colours and trim
Darker colours reveal the subtle shadow effects of the bodywork better than lighter hues, though convertible models seem suited to brighter, sunnier colours. Two different combinations of classic Jaguar wood and leather are available for the interior, alongside a long-overdue addition to attract a younger crowd - a black leather and aluminium combination to give a distinctly Germanic feel to the cabin.
Parking
Cars in this class can be a pig to park. Not only is there the fear of denting that precious bodywork but long wheelbases and fat wheels present their own challenges. The XK fares better than most rivals with light steering and remarkably good visibility though a rear screen that is actually just a third of the car's width. Rear parking aids are standard, with four ultrasonic sensors in the rear bumper. The car's touch-screen gives a visual indication of which part of the car is near the object. A front parking aid system is optional.
Spare wheel
A space-saver spare wheel comes as standard, though buyers can opt for runflat tyres.
Range information
4.2 litre V8 engine, developing 300bhp. Sequential shift 6-speed automatic transmission with steering wheel-mounted paddles for manual gear changes. Just one standard trim level.
Alternative cars
BMW 6 Series Cheaper and more powerful but little personality
Maserati Coupe Good looks hampered by dodgy dependability
TVR Tuscan Outrageous styling not to everyone's taste
Mercedes SL-Class Still the default choice for badge-conscious buyers