April 2004
Jaguar X-Type Estate 3.0 V6 SE
Jaguar stylists have done a good job of blending saloon and estate design cues
April 2004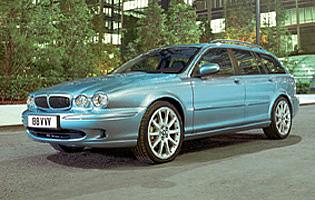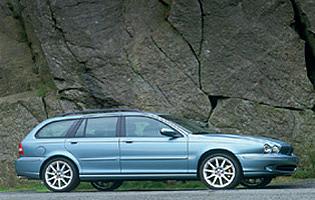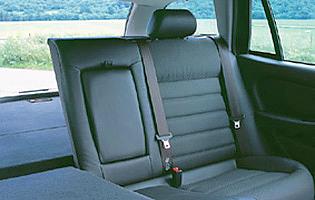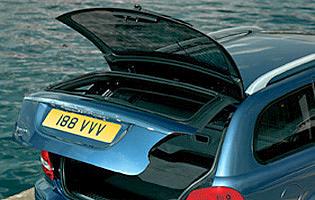 Overall rating

Likes:
Elegant yet contemporary looks
Silky smooth driving experience
Petrol engines provide suitable soundtrack
High specification level as standard
Gripes:
Non all-wheel drive models less fun to drive
Smallish load area with all seats in place
Rear seats do not fold completely flat
Body-coloured grilles of Sport models spoil looks
The first ever Jaguar estate, the X-Type Estate is so accomplished, one could be forgiven for thinking the Coventry firm had been building big-booted cars for decades. If anything, it is even more attractive than the saloon upon which it is based.
Competing against premium estates such as the Audi A4 Avant, BMW 3 Series Touring and Volvo V50, the X-Type Estate certainly needs to be up to speed - and it is.
Designer Ian Callum has performed a masterstroke by turning the gawky-looking X-Type saloon into a balanced, streamlined estate car that successfully straddles the border between classic Jaguar lines and the showy sportiness required to appeal to the 'lifestyle estate' clientele. It's either a high-speed shooting brake or a luxuriously appointed sportwagon, depending upon where you care to place the emphasis.
Everything from the B-pillars back is completely new, including the rear doors and roofline. What also seems to be new is a welcome attention to detail so that even though the interior is nominally the same as earlier X-Types, it feels much more meticulously built.
In all the excitement about the X-Type's new shape, it's easy to forget an equally significant development - the arrival of all-wheel drive on the 2.5 and 3.0 petrol models. The smaller-engined front-wheel drive models are decent enough, but the all-wheel drive variants are pin sharp and worthy rivals to Audi's quattro-equipped cars. Backed up by a sporty but comfortable suspension set-up and engines that deliver plenty of power without becoming overwhelming, this may be the best-driving estate car on the road
Our verdict on the Jaguar X-Type Estate 3.0 V6 SE
Far from being a tentative, forced step into the estate market, the X-Type Estate is the finished article. Jaguar has created a good-looking, great driving vehicle that also rates high for practicality and desirability. Not bad for a first go.
Costs
Nothing with a 'premium' tag comes cheap, and the X-Type Estate requires a reasonable income to be a viable option. It's worth remembering that there are several, mainly Japanese, estates on the market that are cheaper to buy and run, bigger and not far behind in terms of quality either, such as the Mazda 6, Toyota Avensis and Honda Accord. If premium is definitely your thing, the Jag's running and insurance costs compare favourably with its competitors, particularly as it comes with more equipment as standard. The X-Type generally has a good reliability record, though only time will tell whether the extra complexity of the all-wheel drive system has any implications.
Space and practicality
At long last - a practical Jaguar. For a marque that sometimes in the past has had a tendency to view bootspace as an unreasonable demand from buyers, the X-Type Estate's biggest asset isn't hard to figure out. With seats in place the loadspace isn't as large as might be expected, but collapse the rear seats (thankfully you don't even need to remove the headrests to do so) and suddenly the Jag overtakes virtually all of its rivals for usable luggage capacity (1,415 litres). Those rear seats can be configured to fit one, two or three people. Roof rails come as standard, so trendy types can fix their surf/snowboards without too much bother.
Controls and display
Cabin revisions have sharpened the look and operation of numerous controls and displays. Dials are clear, though the numbering may be too small for some eyes. Switches and buttons are well damped with a high-quality feel. The profusion of steering wheel mounted controls will be viewed as a blessing by many, but they can start to become awkward with the wheel turned sharply through corners.
Comfort
With a high standard specification, comfort levels are well up to the usual Jaguar standards. Front seats feature supportive side sections and while rear seats are a little more cramped, they still feel durable. Even entry-level Classic specification features good-quality cloth upholstery, while SE is redolent of classic Jags of the past with its leather and wood touches. Vibration is non-existent. Jaguar has done a great job of managing noise penetration into the cabin so that it is generally quiet but allows the evocative engine note to give plenty of pleasing feedback.
Car security
All the key features one would expect are present, such as dual-stage remote locking, a perimeter alarm and engine immobiliser. The standard luggage cover is useful for keeping items left in the car out of temptation's way for thieves.
Car safety
One of the most comprehensive passive safety packages available in the premium estate market includes occupancy-sensing restraint systems, dual-stage driver and passenger front airbags, front seat-mounted side airbags and side curtain airbags for both front and rear occupants. Oft-overlooked features such as luggage restraints and strong rear seat mountings - invaluable to prevent things crashing through the cabin on impact - are also standard. It feels like a safe and solid vehicle.
Driver appeal
A case could be made that the X-Type Estate actually drives better than the X-Type Saloon. Objectively that may not be the case, but subjectively the car displays a remarkable ability to grip the road, accelerate keenly and generally behave in a manner many executive saloons would envy. It's no exaggeration to say this can claim to be the best-driving estate car on the road today. All-wheel drive models are the most responsive and enthusiastic drivers would do well to select either the 2.5 V6 or 3.0 V6 powerplants which achieve a level of genuine sportiness. The key to this performance is the car's excellent rigidity in all conditions and a perfectly judged compromise between comfort and a firm ride.
Family car appeal
Jaguar has some interesting thoughts about whom the X-Type Estate is likely to appeal to. The core audience is men in their mid thirties who are married but probably don't yet have a family. The good news for them is that when they do get in the family way, they'll have a family-friendly car already on hand to see them through the first few years of sleepness nights and school runs. It'd be a shame to see the beautiful leather upholstery ruined with crayons, though.
First car appeal
Unless you've been headhunted by an investment bank straight from college, you're not likely to have the financial clout to buy one of these cars. Competitively priced for their market sector, they're still well above the average price of a new car in the UK. However trendy sportwagons might be with thirtysomethings, they're still naffwagons to teens.
Quality and image
The X-Type Estate looks as if it will fare better than its saloon counterpart in direct comparisons with rivals. Worries that a Jaguar Estate would look like a desperate measure have proven to be completely unfounded. That modest badge on the grille is still an important asset, and displays a more individualistic character than Audi or BMW. Necessary improvements to build quality have been made. Resale values are likely to stay high for years to come, and the range offers enough variants to appeal to different tastes without losing that essential 'Jag-ness'.
Accessibility
Tailgate opening and closing is helped by a pair of gas-filled struts that make it seem very light. It can easily be opened with one hand thanks to the fob controls and opens through almost 90 degrees to afford excellent access. The rear window can be opened separately and has its own control options. Doors are somewhat heavier but still very easy to pass through. Often, estates feature undersized or clumsily shaped rear doors from the saloon cars they are based upon. This is not the case with the X-Type - the rear doors are entirely new.
Stereo and ICE (In car entertainment)
The standard fit 120-watt Alpine sound system with single slot CD player is impressive enough, but the upgraded 320-watt Premium system is astounding. Slip the Buena Vista Social Club into the slot and you'd swear there were a couple of elderly Cubans in the back seats playing the bongos. Steering wheel mounted controls are standard on all SE and Sport models and optional on others. The steering wheel also carries the cruise control buttons.
Colours and trim
Differences in interior and exterior styling are intended to give the X-Type Estate appeal to different buyers so that, for instance, more traditional buyers will opt for a British Racing Green SE-spec car while younger ones will choose a bright red Sport-badged car. As a result, cars can look quite different to each other both inside and out, though it can be different to tell Sport and Classic cars apart. Restrained colours certainly lend a more sophisticated air to the X-Type Estate and will probably be easier to sell on.
Parking
Only the thick rear pillars impede the view when parking, and for an estate car the X-Type rates quite highly, thanks to its well-weighted steering and clever, compact shape. The responsive nature of the engines means that a light right foot is recommended when manoeuvring into a tight spot. As with all estate cars, rear parking sensors are a sensible investment on the options list, and in crowded car parks the opening rear window really comes into its own.
Spare wheel
A run-flat tyre is supplied as standard, but buyers can choose to upgrade to a full-sized spare as a cost option if they prefer.
Range information
Engine range comprises 2.0 diesel, 2.0 V6 petrol, 2.5-litre V6 petrol and 3.0-litre V6 petrol. Cars are designated as Classic, SE and Sport with Classic providing a 'younger' exterior look than the luxury-focused SE. Sport models are distinguished by their body-coloured grille and larger wheels. Five speed manual or five speed automatic transmissions.
Alternative cars
Volvo V50 Funky looks and almost as good to drive as the Jag
BMW 3 Series Touring A solid rather than inspiring choice
Audi A4 Avant Accomplished, pricey and undoubtedly desirable
Lexus IS300 Sportcross Loads of kit and quality, limited bootspace