Isuzu D-Max Utah
Handsome, rugged car with lots of space
May 2017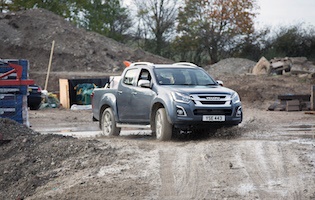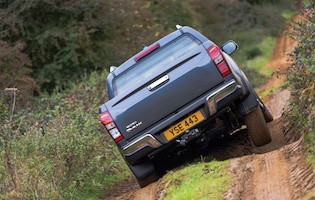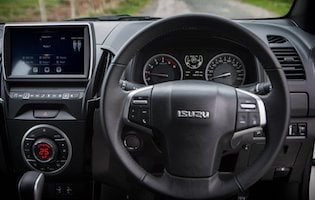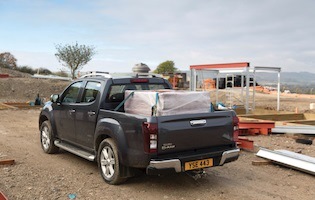 Overall rating

Likes:
Handsome, rugged exterior
Excellent forward visibility
Can tow up to 3.5 tonnes
Plenty of space in the cabin
Gripes:
Large size makes city driving unpleasant
Can be tricky to park at times
Diesel engine rough and unrefined
Skittish ride when load bed is empty
Look familiar? That's probably because, for the most part, the new Isuzu D-Max isn't that different from the old one. There's a slightly revised exterior, but the most important change is under the bonnet, where the previous 2.5-litre diesel engine has been replaced by a more economical 1.9-litre unit.
Don't be tricked into thinking this new unit is any more refined, however. It still has that characteristic diesel engine sound, and under heavy acceleration really makes itself heard. But then again, this isn't a car you buy because it's the last word in refinement, you buy one because it can tow a lot, and can get practically anywhere.
The D-Max is rated to tow as much as 3.5 tonnes, which is the equivalent of a sizeable caravan or a fairly large boat. Those who live on farms or work on construction sites will no doubt find its ability to lug heavy trailers and equipment around an appealing factor.
To drive, the D-Max isn't exactly amazing. Sure it has a commanding presence on the road, but you're constantly aware of its size – which can become tiresome in crowded city environments. Thankfully, the controls are light enough that you won't find it too physically exhausting to drive in busy urban settings.
Just because the D-Max is pitched as a rugged and dependable workhorse, don't expect the cabin to be incredibly spartan. The Utah-specification model we tested came with heated seats, DAB radio, satellite navigations and a number of other comforts that helped make the D-Max a fairly decent place to spend time.
Our verdict on the Isuzu D-Max Utah
So, while the new Isuzu D-Max may not be hugely different from the old one, it still does the job of being a reliable, load-lugging pick-up truck well. There are enough creature comforts in the cabin to make lengthier journeys bearable, and the new 1.9-litre diesel also means it's now cheaper to run as well.
---
Costs
With a claimed combined fuel economy figure of 40.4mpg, the Isuzu D-Max doesn't boast stellar running costs, but considering its heft, that figure could be worse. Prices for the double cab Utah-specification model like we tested start at £28,291 – which is fairly pricey, but it does come with a good amount of equipment as standard, too.
Space and practicality
This is where the D-Max really starts to make sense. Being practical is what it was designed for. The load bed can carry up to a tonnes worth of payload, and it can tow as much as 3.5 tonnes. In the cabin, there are enough seats for five people – which should appeal to families, and there is more than enough head- and legroom throughout the cabin to keep all occupants happy
Controls and display
The D-Max prides function over form – which is the sort of thing you want in a vehicle like this. All major controls are within easy reach, with the air conditioning being controlled from a circular array of buttons on the central console. The satellite navigation and infotainment functions are controlled from the aftermarket seven-inch touchscreen, which is mounted higher up the dash. While this system is easy enough to operate, it does feel a touch slow and unresponsive at times, but this is only a minor issue.
Comfort
If we're honest, it would be rather difficult to recommend the D-Max as a suitable vehicle for a long-distance journey. Sure, the cabin comes with a good amount of equipment – such as heated seats and DAB radio – but the ride misses the mark, and the diesel engine is fairly intrusive when travelling at speed. That said, though, there are't many vehicles out there than have room for the family and can still tow 3.5 tonnes.
Car security
Like most modern cars, the D-Max is fitted with a number of basic security features that will help prevent thieves from breaking in. There's remote central locking, an immobiliser, alarm and security etched glass as well. The only real week point is the load bed – obviously if you plan on keeping any items in the bed you'll need to get a lockable cover, otherwise they will be left open and exposed to anyone who might walk past the pick-up while it was parked.
Car safety
The facelifted version of the Isuzu D-Max has not yet been crash-tested by Euro NCAP, but the older 2012 model has. This scored a total of four stars at the time, with scores of 83 per cent for adult occupant protection, 67 per cent for child occupant protection and 51 per cent for pedestrian protection. Certain aspects of the new D-Max's body work have been redesigned to improve these scores, which should aid its overall rating when it is eventually crash-tested.
Driver appeal
Objectively, the Isuzu – or any car of this size – doesn't really boast much in the way of driving appeal. It's not the sort of car that you would want to take on a fast drive down a twisty back road – it simply isn't cut out for that sort of thing. However, there is a good amount of satisfaction to be had from driving about in a vehicle as large as this – you certainly don't feel as vulnerable as you might in smaller cars, and the visibility out of the cabin is excellent.
Family car appeal
For those people that own a large caravan or boat and frequently find the need for a capable tow vehicle that can also fit the entire family, the D-Max makes a lot of sense. Sure, it might not be the most refined vehicle to drive in over long distances, but it can't be faulted on its load-lugging ability. For those who don't need the massive levels of practicality that a pick-up truck offers, a regular five-seat crossover or estate would likely be a more sensible option.
First car appeal
Younger drivers might certainly find the idea of having a big pick-up truck as their first vehicle an appealing prospect, but in reality this is not a realistic option. It will be too large and too intimidating for inexperienced drivers, and running costs will also be on the pricey side of things. Stick to the likes of a supermini or small hatchback as a first car, not a double cab pick-up truck.
Quality and image
The D-Max's image is one that is built on dependable ruggedness. It doesn't have the same desirable badge that a Volkswagen Amarok or the forthcoming Mercedes-Benz X-Class pick-up might have, but it does instil a sense that it will get you further off-road, and won't break down or get broken in the process. The cabin isn't the nicest place in the world, but it comes across as being built to last – an important feature in a vehicle of this nature.
Accessibility
As you would expect, the D-Max is a rather tall car. For the majority of people, the process of lifting yourself up into the cabin won't pose too much of a problem. However, small children and those who may not be able to move quite as easily as others may find the D-Max a tricky vehicle to get into. There is a helpful step rail, however, which means you don't have to lift yourself the whole way up into the cabin.
Stereo and ICE (In car entertainment)
For a utilitarian workhorse, the D-Max is a rather well-equipped pick-up – at least it was in Utah-specification, anyway. While the systems on board our vehicle did feel a dated and aftermarket, there was still satellite navigation, DAB radio, Apple CarPlay and Android Auto – practically all the mod-cons you need out on the road.
Colours and trim
The Isuzu D-Max is available in all the regular colours you might expect – greys, silvers, white and blacks – as well as a small handful of more colourful shades. There's red and blue, as well as the very smart dark green colour that our test vehicle was painted in. The D-Max comes in five core trim levels: Utility, Eiger, Yukon, Utah and Blade. There's also an Arctic Trucks version for those who need serious off-road prowess.
Parking
There's no getting around it, the D-Max is an absolute beast of a car. For inexperienced drivers, this means they will certainly find it an intimidating vehicle to park. For those with a bit more experience, however, the process of slotting the D-Max into a tight space isn't too stressful. You have a good deal of visibility out of the cabin, and thanks to large wing mirrors you can see the positioning of your wheels – which means you should avoid the kerb. A rear parking camera is also a helpful feature.
Spare wheel
Comes with an alloy spare wheel as standard.
Range information
Diesel engine options: 1.9-litre four-cylinder (162bhp). Transmission options: six-speed manual gearbox depending on model, six-speed automatic gearbox depending on model. Trim levels: Utility, Eiger, Yukon, Utah, Blade, Arctic Trucks.
---
Alternative cars