August 2012
Isuzu D-Max Utah
The D-Max has impressive off-road capabilities even on standard tyres
August 2012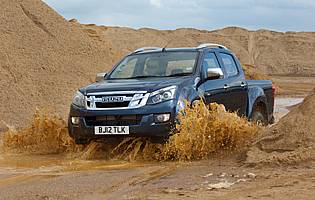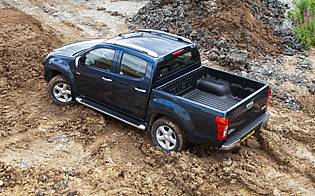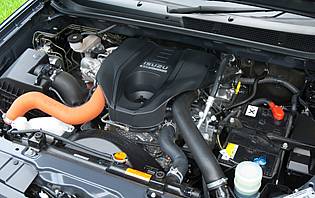 Overall rating

Likes:
Strong and linear engine gives reliable pulling power
Good ride quality for the class when laden
Impressive off-road ability on the standard tyres
Represents excellent value for money in the pick-up sector
Gripes:
Single cab layout only available on entry-level model
Load liner not standard on the lowest, most utilitarian model
Suspension can be too stiff at the back when unladen
Towing capacity left at 3.0 tonnes and not raised to 3.5 tonnes
Isuzu has been plodding along with its faithful Rodeo pick-up for some time, and now it has been replaced by this; the D-Max. Designed to be more modern, tougher, even more reliable and a better all-round working vehicle, there have been improvements made in many areas whether buyers are looking at the functional base car or the luxurious top spec model.
Isuzu makes a strong point of the fact that its dealers only sell commercial vehicles and therefore every one of its salesmen is an expert on what working tradespeople need and want. The dealers have passed a huge amount of customer feedback about the Rodeo on to the firm's headquarters and that has helped shape the D-Max.
There are four trim levels with broad appeal, potentially from old Land Rover Defender customers at the bottom end to road-based pick-up owners at the top. Off-road ability is present and correct in each four-wheel-drive model, but each trim line jump brings more comfort and luxury. The Utah is the range-topping model with leather upholstery and roof bars..
Only one body style and drivetrain layout, double cab and four-wheel-drive, is available on the uppermost three of the four trim levels including Utah. The entry-level D-Max, known only by that name, can be bought in single cab or extended cab versions, the former in two- or four-wheel-drive. The Utah, however, includes a load liner among its perks.
The D-Max makes the acknowledgement that these days working vehicles do need to have a modicum of style and comfort features to match their hardiness, particularly in the upper reaches of the range. It doesn't boast a complex four-wheel-drive system but it's very capable off-road in an old-fashioned way, and there are few real-world scenarios it fails to cope with.
Our verdict on the Isuzu D-Max Utah
A three-tonne towing capacity, the ability to carry more than one tonne's payload and no hesitation in traversing difficult muddy or gravelly terrain makes the D-Max a formidable working partner. Combined with Isuzu's impressive reliability record and a new injection of desirability it's a compelling option. It gets expensive at the top of the range, but offers excellent value for money and should worry the more established pick-up manufacturers.
Costs
Businesses will consider the D-Max's purchase price without VAT, and that is the way it's listed. Against its rivals it isn't that cheap but it competes with them on every level, especially as a true working vehicle. Its running costs are good, with its engine offering a good balance between performance and economy, and most companies will find its benefit-in-kind performance acceptable.
Space and practicality
The available storage spaces are large, with a capacious central bin between the front seats, two glove boxes, generous door pockets and two medium-sized cupholders behind the gear stick. Extra holders pop out of the dashboard at its either end underneath air conditioning vents, and there is a small bin for oddments to the right of the driver's legs. The dashboard slopes down towards the windscreen, though, and pencils can get wedged in making them difficult to retrieve.
Controls and display
Its controls have been designed with chunky fingers and people wearing gloves in mind, because all the key buttons are large and robust. It's difficult to press two at once and aside from a slightly flimsy-feeling turning movement in the centre console control dial all the controls feel substantial and capable of withstanding a hard life, whether from workmen or boisterous children. The central LCD screen for the stereo and the instrument cluster share simple white-on-black designs for maximum clarity.
Comfort
As the top-spec model, the Utah is the most comfortable D-Max. Electrically-adjustable leather seats and climate control are standard, making the cabin more than comfortable enough for long journeys to and from jobs in any weather conditions. The five seats are flat and are on the firm side of medium, which bodes well for longevity but not so well for cosseting comfort. There is notable wind and road noise intrusion at speed, as is normal for the class.
Car security
All models are fitted with an insurance-approved immobiliser and etched glass, but the full gamut of security features is not afforded to the base D-Max. Locking wheel nuts help to prevent wheel theft but are only standard fit on the Utah, Yukon and Eiger trim lines. The three upper trim levels also have a factory-fitted alarm and remote central locking. Open load bays are inherently insecure, though, so valuables must be placed inside.
Car safety
Traction control, electronic stability control and ABS are all standard on every D-Max, so plenty of thought has been given to active safety measures. There are dual front, side-impact and curtain airbags too, boosting passive safety equipment. Height-adjustable seat belts allow safe use of the belts for almost any height of driver, and all double cab models have three three-point seat belts on the rear bench.
Driver appeal
This isn't really too much of a concern for working tradesmen, but the Utah spec D-Max could have appeal to lifestyle customers as well. Either way the Isuzu delivers, with its 2.5-litre diesel producing peak torque from uncommonly low down in the rev range and being extremely civilised on the road for the most part. It's clear that the rear suspension is set up to carry loads, though, and feels more settled with a heavy weight over the rear axle.
Family car appeal
It may be a left-field choice but the D-Max can make a convincing argument for itself as a family car, particularly in Utah spec. It rides high for a commanding view of the road ahead, has masses of luggage space and is comfortable enough over long journeys. Add in an impressive towing capacity for caravan holidays, reliable engineering and the ability to cope with all kinds of weather and surface conditions without becoming stranded, and the D-Max's appeal becomes clear.
First car appeal
There are undoubtedly young drivers out there who are big fans of the pick-up 'look' and would love to own one. Relative to a typical learner-suitable car though, the D-Max drives very differently. It's much bigger, much heavier and steers much more slowly, which is not an ideal combination for someone without much variety or length of time's worth of driving experience. It's also much more costly than a first car needs to be.
Quality and image
Isuzu is a dark horse in the pick-up sector, quietly producing dependable and capable vehicles. Without the marketing budget of the bigger players in the sector, Isuzu can't raise awareness enough and its reputation is limited to word-of-mouth and previous experience, which is generally very positive. The car itself feels substantial, solid and fit for purpose without being overly flashy or softened in any way. It's pitched very well for its audience.
Accessibility
The Utah, like the Yukon and Eiger models beneath it, is only available as a four-door, five-seater double cab. All four doors are plenty large enough to allow quick access, although only Utah and Yukon models have side steps to make it easier still. Obviously there are no issues accessing the open-air load bay, and the tailgate lowers flat to make loading and unloading easier. It's no heavier than other comparable pick-ups' tailgates to return to its upright position.
Stereo and ICE (In car entertainment)
The stereo system follows a traditional layout with volume and tuning dials either side of the relatively basic central LCD screen. The buttons controlling other functions are big and chunky; easy to operate with either chunkier fingers or gloves on. The text on the buttons is also large and easy to read, and the system is enhanced by USB and auxiliary inputs and the use of an 'Exciter' speaker in the roof.
Colours and trim
As one of the upper trim levels, Yukon entitles buyers to choose from a good variety of colours and neutral tones. It looks particularly good in colours, even when very dirty, but white is available as well. The interior is surprisingly stylish for a working vehicle and gives an immediately more car-like feel than it might. The circular control dial in the centre console is a design highlight.
Parking
The Utah is alone in the range in having parking sensors at the rear, which while not necessarily making the D-Max that much easier to park, does at least offer warning in case an obstacle moves into the path of the reversing pick-up without the driver seeing it. A long wheelbase means that its turning circle is relatively ponderous, while typically slow commercial vehicle steering means the wheel must be turned quite a lot, quite quickly in parking scenarios.
Spare wheel
Full-size spare wheel fitted as standard.
Range information
Diesel engine options - 2.5-litre (161bhp). Transmission options: six-speed manual gearbox plus optional automatic (except base model). Trim levels: D-Max, Eiger, Yukon, Utah.
Alternative cars
Nissan Navara Popular and reliable, but feels biased more towards on-road driving
Mitsubishi L200 Capable general workhorse but can only tow up to 2.7 tonnes
Ford Ranger Superior payload and towing capability to the D-Max
Great Wall Steed Offers a great deal of potential for little outlay, but no UK track record